Alabama Football: Nick Saban's 5 Funniest Quotes Ever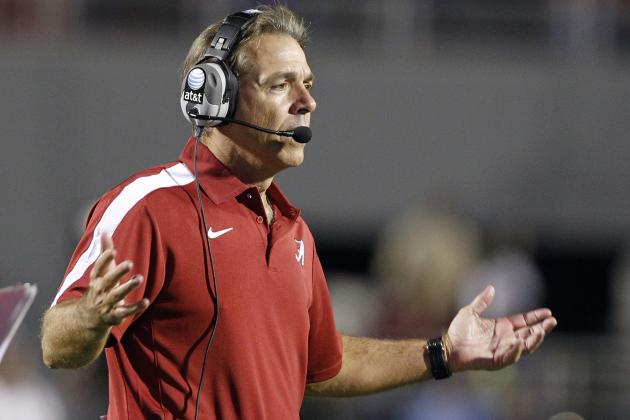 Butch Dill/Getty Images
Known for his constant serious demeanor, Nick Saban has given fans plenty of chuckle-worthy moments
There are a lot of traits that can be associated with Alabama head coach Nick Saban.
Winner. Fiery. Business-like. Disciplinarian.
Those are a few words that come to mind.
Having worked in Alabama with several different media outlets, I have heard stories of Saban's wrath and experienced one of his stare-downs in person.
Humor is the one trait likely to be found on the opposite end of Saban's characteristic spectrum.
Between his flare-ups at the media, and his moments of near combustion on the sidelines, Saban has the perception of being the antithesis of fun.
However, there have been a few moments that he's caught fans and media alike off guard with a quip.
Plus, some of his rants feature considerable comedic value—at least if you are not the intended target of his venom.
Here are the five funniest things Nick Saban has ever said.
Begin Slideshow

»
Saban runs a tight ship in practice, and is especially hands on with his defense.
In a rare practice video made public, his intensity is on full display as he berates various corners and linebackers in drills.
On this particular day, Saban was not happy with the effort given by his team, and he uses a rather humorous correlation to let them know about it.
"If I had a barometer up you're a** to see whether you were giving effort, or not, it was about 50 percent."
Bear Bryant had his famous houndstooth hat. Steve Spurrier wears a visor. Les Miles is the "Mad Hatter."
Nick Saban is famous for wearing a straw hat during practices, and in customary fashion for an intense coach, the hat is often a candidate to get thrown when he gets frustrated.
Saban explained how age has been beneficial to his lid of choice.
"I don't throw it as much, as I get older," Saban said. "That's really what's hard on those straw hats, when you sort of sling them when somebody doesn't do what they are supposed to do."
Football players pride themselves on being tough in a game that is one of the more physically grueling sports.
When Saban had an incident in a 2010 game where he gave quarterback A.J. McCarron a little more than a mouthful, the press greeted him with questions about it in his customary Monday press conference.
Saban mentioned that he was not going to apologize for his actions, and gave some golden advice to anyone who felt his actions were inappropriate.
"If you don't like that (being patted on the a**), then maybe he should watch the Golf Channel."
Every person had something that scared them silly as a child, and in that way, young Nick Saban was no different than the rest of us.
However, his childhood fear was strange because most kids love everything about Christmas time—except young Nick wanted no part of seeing St. Nick.
"I remember how scared to death I was as a little kid of Santa Claus," admitted Saban.
That soundbite is so golden, rival coaches can't even use that quote to negative recruit against him.
Like most in the coaching profession, living by the "one-game-at-a-time" motto is not cliché—it's reality for Nick Saban.
During the media frenzy caused by the rumors abounding from conference expansion, Saban was asked the effects of adding Missouri, and about potentially not playing conference rival Tennessee in the future.
Its clear he didn't think to highly of the idea, but he did offer a glimpse into what he hopes to be doing after his coaching days are over.
"What year are we talking about here, when we are not going to play Tennessee? 2025? I'm just hoping that I can still go to the lake then. (I hope) still I can walk around and go on a pontoon boat ride."