Patriots 2012 Mock Draft: Buying or Selling Matt Miller's Latest Picks
Bob Levey/Getty Images

Mel Kiper, Jr. may have a higher profile, but Bleacher Report's Matt Miller possesses the same breadth and depth of knowledge of the NFL draft as Kiper. Plus, Miller doesn't remind you of a used-car salesman trying to get you into that "pre-owned" Prius like Kiper does.
One could spend an entire day perusing Miller's latest mock draft. However, my interest is focused only on the Patriots.
After digesting Miller's latest opinions on the Pats' picks, I have come up with a few thoughts of my own.
Granted, I'm no Matt Miller, but I know a little bit about the Pats. Therefore, I have added my two cents into the matter and opined on whether his latest picks are a good buy or a quick sell.
Begin Slideshow

»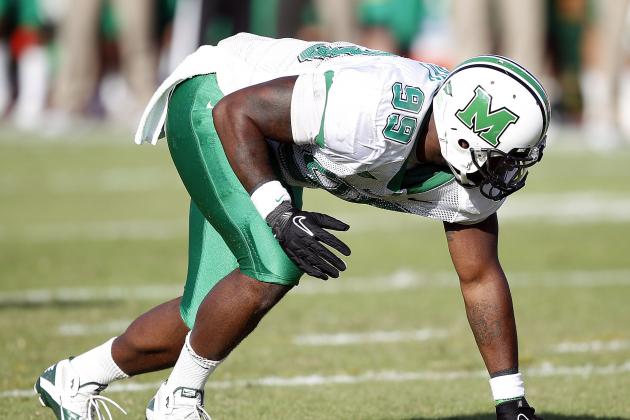 Bob Levey/Getty Images

SELL
Miller thinks that Vinny Curry would be a good match for the Patriots at this spot. While I don't necessarily disagree with him, I don't think that Curry is the guy that the Pats should get here.
This year's draft is deep with pass-rushing defensive ends. Furthermore, while "tweener" guys like Curry can bring high return, they also come with great risk.
Curry overwhelmed at times in college, but the NFL is a completely different animal. Although he has quickness, his technique is somewhat questionable.
Oftentimes, he has a tendency to stand himself upright, which allows lineman to get him off balance, thereby negating his quickness.
If that happens, he becomes a one-trick pony that doesn't have a very effective trick. If he tries to beef up, he will probably lose a step, making him useless.
A better pick here would be center Peter Konz from Wisconsin. Interior lineman are less risky picks in the higher rounds and Konz appears to be a can't-miss. Konz has the versatility to play guard, so the Pats could move him there if they re-sign Dan Koppen.
As Brady nears the end of his career, the Pats will need a center to grow with either Ryan Mallett or whoever is Brady's replacement. Konz is the perfect guy for that role.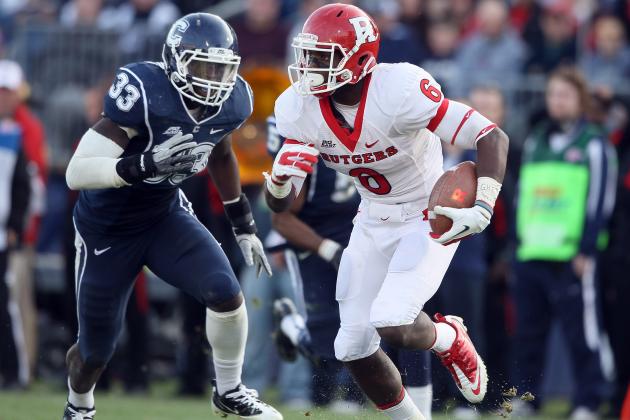 Elsa/Getty Images

SELL
Although not a burner, Mohamed Sanu would be a great pick for the Pats at this spot. He's a physical guy that can separate from someone like Darrelle Revis. Love the pick.
So why am I putting this as a "sell"?
Because I don't believe that the Patriots keep this pick. Remember, we're talking about the Patriots here.
There is no way that they're keeping and paying for two first-round picks, especially when a couple of second and third-round value picks can be snatched up from the Raiders or Redskins.
Not to mention the fact that the Patriots don't have any picks after the fourth round. This is considered heresy inside the hallowed halls of Patriot Place. It's not a true draft unless the Pats have hoarded several late-round picks.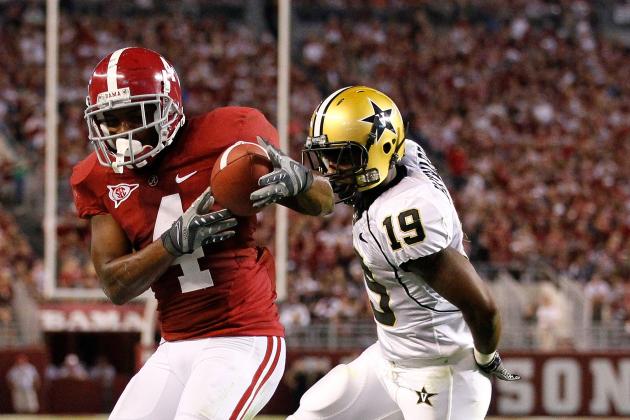 Kevin C. Cox/Getty Images

BUY
Speaking of getting a second-round pick from the Raiders, the Pats got this pick from Oakland. With it, Miller has the Pats picking Vanderbilt's Casey Hayward.
Although I feel that picking Hayward in the second round may be a little high, I like the pick. Hayward fits the Pats' mold.
He might get lost in coverage, but that's not a big deal with the Pats. Hayward works extremely well in a zone scheme, which fits in perfectly with what Belichick wants to do on defense.
Moreover, Hayward has great football intelligence, which is vital for playing the Pats' defense. He reacts to the ball and, most importantly, he can be coached.
Give Belichick a coachable player and the sky is the limit.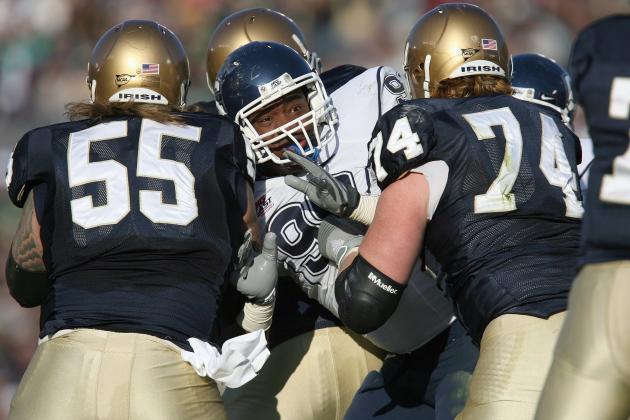 Jonathan Daniel/Getty Images

BUY
UConn's Kendall Reyes would be a great pick here if he is still available. His combine performance may have boosted his stock into the late first round.
Reyes is quick and agile for a man his size (6' 4", 300 lbs). While his 40 time isn't quite in the Dwight Freeney range, it's still sub-5.0. He has great strength and will win most battles in the trenches.
Because he played both tackle and end in college, he is a perfect fit for the Patriots' scheme. Whether the Pats are in a 4-3 or a 3-4, Reyes can be out there without the fear that he'll be either overmatched or too slow.
In some ways, he's a Richard Seymour type. He won't rack up a lot of sacks, but he'll occupy two blockers so that someone else will.
Reyes might need to be coached up a little to polish his technique, but that won't be a problem in New England.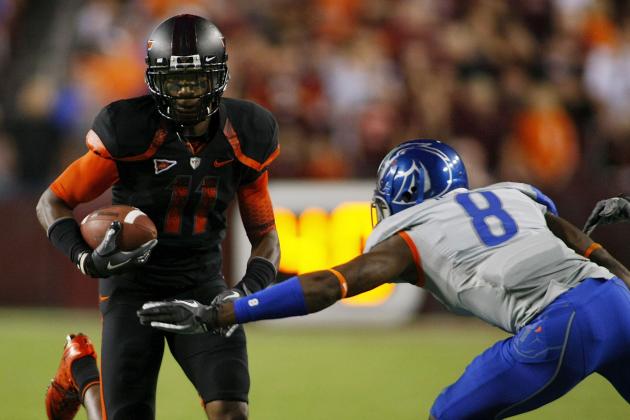 Geoff Burke/Getty Images

BUY
If Boise State's George Iloka is still around at this spot, the Pats should grab him. He is rated as the top free safety in the draft on many boards. He is an imposing figure (6' 4", 225 lbs) and would work well in the Pats' scheme
He has good footwork and has a knack for the ball, two attributes that bode well for his success with the Pats.
My concern is that he's too big. At that size, the NFL game might be a bit overwhelming for him. He wouldn't work well in a defense that requires its free safety to be more active.
However, with the Pats he won't be asked to do that. Honestly, the Patriots had Matthew Slater and Julian Edelman running around back there last season, so Iloka should be able to handle it.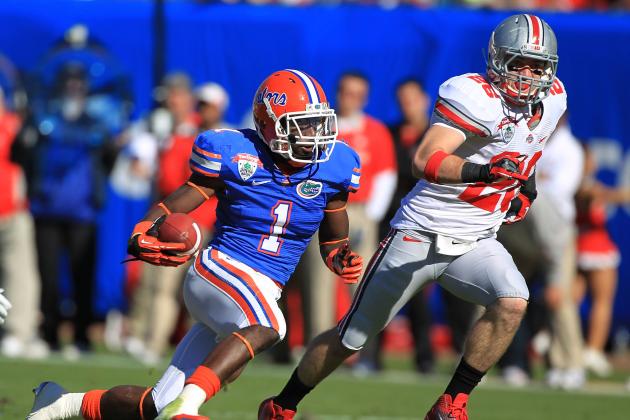 Scott Halleran/Getty Images

BUY
I almost put this as a "sell" just for spite because I didn't think of Chris Rainey first.
I like Miller's thought process here. In his mock draft, he has Rainey listed as a running back/wide receiver and for good reason. Rainey has the versatility to do both.
Essentially, picking Rainey kills two birds with one stone.
First, since it is quite evident that Kevin Faulk is about three years past being over the hill, the Pats need a player to fill the void. Rainey would fill that void perfectly.
In his senior year at Florida, he led the team in rushing yards (861) and receptions (31).
More importantly, Rainey can add the speed threat that the Pats desperately need from their wide receivers. Although he predicted a 4.1 40 at the combine, his official time was 4.45.
Regardless, he has an explosive burst and open-field quickness that the Pats could use to make their high-powered offense more potent.