MLB Free Agency: One Guaranteed Bust Signing/Trade from Every MLB Team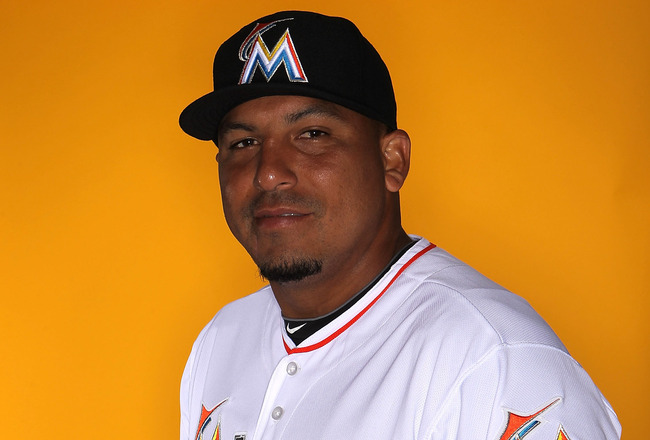 Marc Serota/Getty Images
Not every acquisition that a team makes turns out to be a good one. After this season, there will certainly be teams that wish they did not give out big-money contracts to one of the players they signed.
We have seen it in the past and it will happen again. Jason Bay has been a bust for the New York Mets, and Carl Crawford has been a bust for the Boston Red Sox. Those are just two of the many examples of contracts that teams wish they had back.
Teams can also make trades that look great at the time, but in the end, the deals come back and bite them. There are a few teams that made moves like that this winter, as well.
Arizona Diamondbacks: Jason Kubel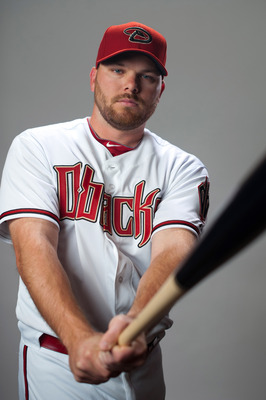 Rob Tringali/Getty Images
The decision that the Arizona Diamondbacks made to sign Jason Kubel was one that made more than a few people scratch their heads. Arizona already had a good outfield, and the move pushed Gold Glover Gerardo Parra to the bench.
Parra may eventually reclaim the starting job, which means that the Diamondbacks may have spent $15 million on a player who will be their fourth outfielder.
Atlanta Braves: Jack Wilson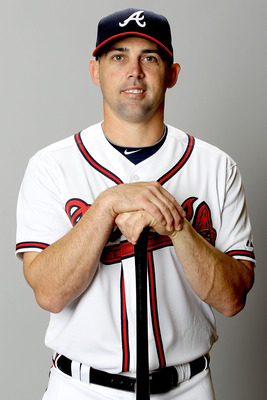 Matthew Stockman/Getty Images
The Atlanta Braves are likely not expecting that much from Jack Wilson, and they really shouldn't base it on what he has done over the past few years.
If Wilson turns out to be a bust, it won't be that much of a loss for the Braves. They are paying him just $1 million this year, and they can keep him in the minors as organizational filler.
Baltimore Orioles: Wei-Yin Chen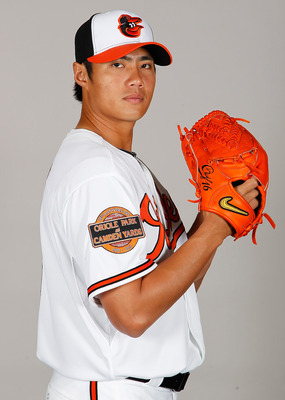 J. Meric/Getty Images
Pitchers that have pitched in Japan have struggled when they have come to the United States, and the Baltimore Orioles made the decision to bring in two this winter.
Wei-Yin Chen will likely be a bust for the Orioles. His strikeout rate has declined every year since 2008, and it was 5.1 K/9 last season in Japan. He could be in for a long year during his rookie season.
Boston Red Sox: Mark Melancon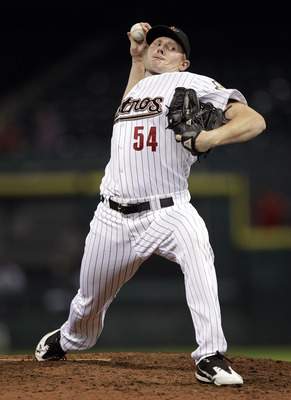 Bob Levey/Getty Images
With Jonathan Papelbon going to the Philadelphia Phillies and Daniel Bard moving to the starting rotation, the Boston Red Sox found themselves in a position where they needed to rebuild their bullpen.
To do so, they acquired Mark Melancon from the Houston Astros for Jed Lowrie and Kyle Weiland. Melancon had a good year in Houston in 2011, but the American League East is a completely different beast compared to the National League Central, and Melancon could struggle this year.
Chicago Cubs: Chris Volstad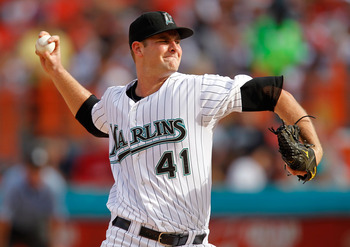 Mike Ehrmann/Getty Images
While the Chicago Cubs would certainly like Chris Volstad to have a good season this year, he has already made a huge contribution to the team. He was the player the Cubs acquired when they finally rid themselves of Carlos Zambrano.
Volstad has a 4.59 ERA for his career, and he has not been productive since his rookie year in 2008.
Chicago White Sox: Kosuke Fukudome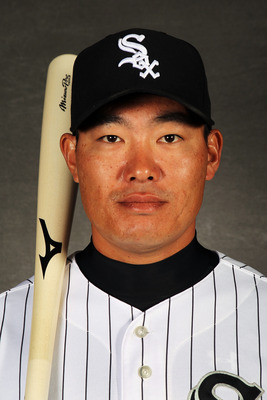 Jamie Squire/Getty Images
Kosuke Fukudome had a decent season during his first year in the major leagues, but he never really lived up to expectations during his time with the Chicago Cubs.
Now, Fukudome has taken a trip downtown after a short stop in Cleveland, and he has joined the Chicago White Sox. Even if Fukudome doesn't pan out, it will be a low-risk signing for the White Sox, since he only cost them $1 million.
Cincinnati Reds: Ryan Ludwick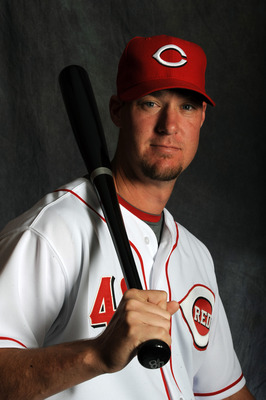 Rich Pilling/Getty Images
Just a few years ago, Ryan Ludwick was looking like a great compliment to Albert Pujols in the St. Louis Cardinals' starting lineup. Now, he finds himself as a member of the Cincinnati Reds.
Ludwick will be a bench player for the Reds. He cost the Reds $2.5 million for the 2012 season, and could be a big bust for the team.
Cleveland Indians: Derek Lowe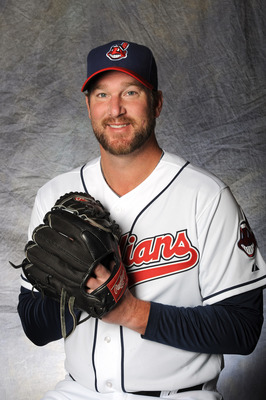 Rich Pilling/Getty Images
The Atlanta Braves were searching for someone to take Derek Lowe off of their hands, and they found a sucker, I mean taker, in the Cleveland Indians.
Lowe did pretty much nothing but struggle when he was with the Braves. It would make sense to expect more of the same now that he is in Cleveland.
Colorado Rockies: Tyler Colvin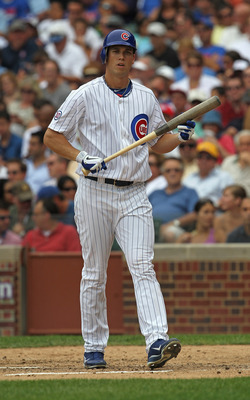 Jonathan Daniel/Getty Images
The Colorado Rockies had a busy winter, as they were wheeling and dealing. One of their trades brought them Tyler Colvin and DJ LeMahieu from the Chicago Cubs.
Colorado has a very crowded outfield, and it seems as if Colvin will begin the year as the team's fourth outfielder. He could slide further down the depth chart or even into the minors if he does not produce and other players such as Tim Wheeler do.
Detroit Tigers: Collin Balester
Elsa/Getty Images
Other than one good year in the major leagues in 2010, Collin Balester has not had that much success in the major leagues.
Balester is still young, which is why the Detroit Tigers had no problem taking a chance on him. He could struggle in Detroit just as he did in Washington.
Houston Astros: Fernando Martinez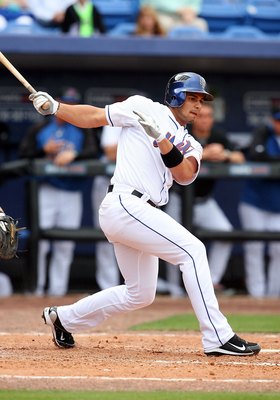 Doug Benc/Getty Images
Fernando Martinez was incredibly hyped up during his time in the New York Mets' farm system, and he was essentially untouchable on the trade market.
The Mets finally let Martinez go, and the Houston Astros gladly picked him up. Martinez has an arthritic knee that kept him from reaching his potential, and it should continue to cause problems for him.
Kansas City Royals: Jonathan Sanchez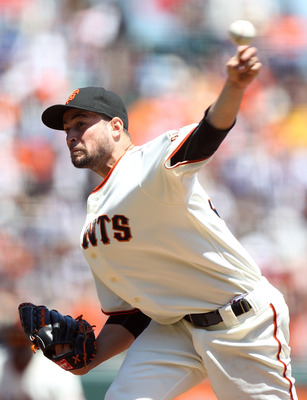 Jed Jacobsohn/Getty Images
The Kansas City Royals took advantage of Melky Cabrera's good season, and they dealt him to the San Francisco Giants for Jonathan Sanchez.
Sanchez has only had one good season in the majors. He has issues with walking batters, and it could be a big problem in Kansas City.
Los Angeles Angels: Brad Mills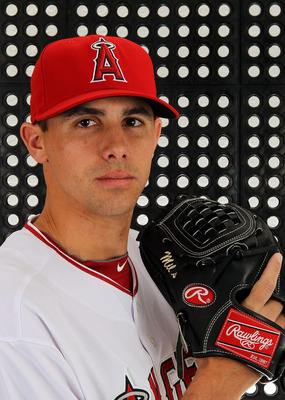 Jamie Squire/Getty Images
The Los Angeles Angels made two of the biggest transactions of the offseason when they signed Albert Pujols and C.J. Wilson. Neither of these players will be busts in 2012.
One player who will likely be a bust for the Angels is Brad Mills. The Angels dealt Jeff Mathis to the Toronto Blue Jays for him.
Los Angeles Dodgers: Aaron Harang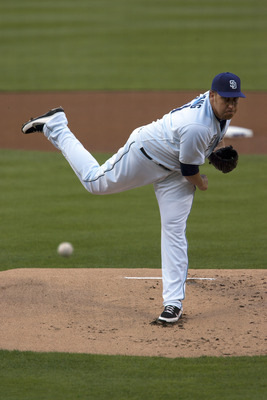 Kent Horner/Getty Images
After a rough season with the Cincinnati Reds in 2010, Aaron Harang turned things around with the San Diego Padres in 2011.
The Los Angeles Dodgers were impressed by Harang's performance and signed him to a two-year deal. Harang will not pitch as well now that he has left the pitcher-friendly confines of Petco Park.
Miami Marlins: Carlos Zambrano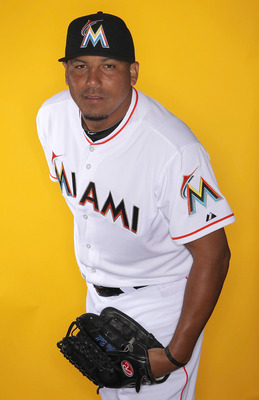 Marc Serota/Getty Images
The Miami Marlins had one of the biggest offseasons in team history, and they brought in a number of players to help make them contenders this year. As long as Jose Reyes stays healthy, he will not be a bust.
One player who is almost guaranteed to be a bust for the Marlins is Carlos Zambrano. He is no longer a very good pitcher, and he is a clubhouse cancer.
Milwaukee Brewers: Alex Gonzalez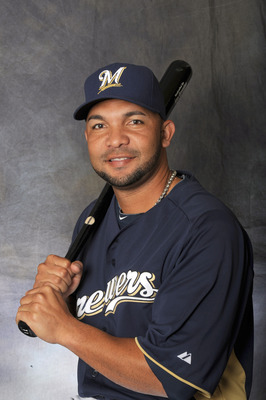 Rich Pilling/Getty Images
There is one thing that Alex Gonzalez does fairly well, and that is about it. He has pretty good power for a shortstop, but not much else.
The Milwaukee Brewers decided to sign Gonzalez this winter, and it may be a decision that they come to regret.
Minnesota Twins: Joel Zumaya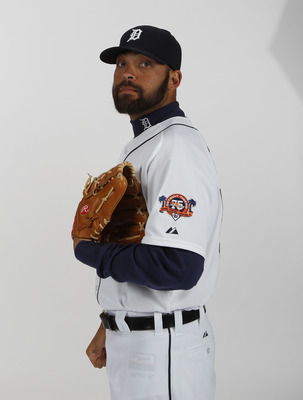 Nick Laham/Getty Images
This one is already in the books. Joel Zumaya will miss the 2012 season, as it was revealed that he has a torn UCL.
The Minnesota Twins signed Zumaya in January, and his comeback attempt was over before it even started.
New York Mets: Andres Torres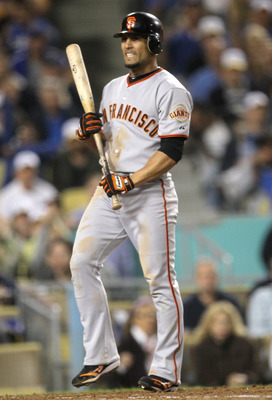 Stephen Dunn/Getty Images
The New York Mets plan to use Andres Torres as their starting center fielder in 2012. There are some people in baseball who don't think that he should be a starter, or even a fourth outfielder.
Jon Heyman of CBS Sports has noted that there are baseball executives who think Torres is a fifth outfielder, and Heyman agrees.
New York Yankees: Michael Pineda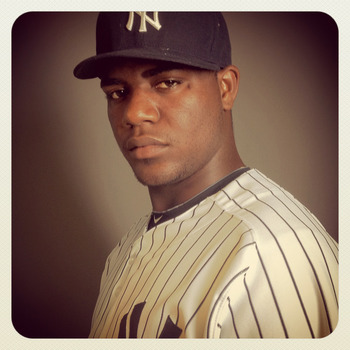 Nick Laham/Getty Images
Michael Pineda was very impressive during his rookie year with the Seattle Mariners. The New York Yankees took notice and they dealt for him.
Pineda will likely have an ERA over 4.00 when he is in New York. He is going to the toughest division in baseball and will have some struggles.
Oakland Athletics: Manny Ramirez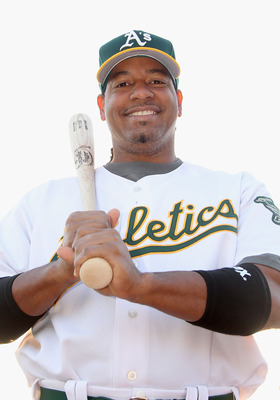 Christian Petersen/Getty Images
Once one of the most feared hitters in baseball, Manny Ramirez has fallen a long way since his glory days with the Boston Red Sox.
The Oakland Athletics took a low-risk move in signing him, but it likely won't pay off. Oakland will need to wait 50 games to see Ramirez in action in the regular season, since he will be serving his suspension from a failed drug test in 2011.
Philadelphia Phillies: Jim Thome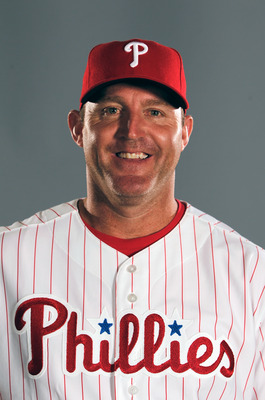 Jonathan Ferrey/Getty Images
Jim Thome will turn 42 years old during this 2012 season and is at the end of what is likely a Hall of Fame career. The Philadelphia Phillies brought him in for what is probably his last season.
Thome is not great defensively anymore, and has been playing as DH for the past few years. Philadelphia might not get much out of Thome this year.
Pittsburgh Pirates: A.J. Burnett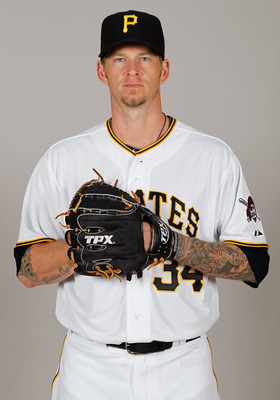 J. Meric/Getty Images
The New York Yankees were looking for someone to trade A.J. Burnett to, and the Pittsburgh Pirates decided to acquire him.
Burnett's tenure with the Pirates has not started off well, as he suffered a broken orbital bone while trying to bunt in practice and will miss two to three months. Burnett likely will not pitch well once he does get back on the field.
San Diego Padres: Andrew Cashner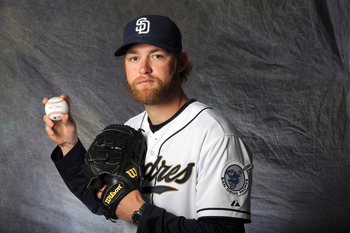 Rich Pilling/Getty Images
After the San Diego Padres acquired Yonder Alonso, they no longer had a need for Anthony Rizzo, so they dealt him to the Chicago Cubs.
One of the players the Padres brought in for Rizzo was Andrew Cashner. He may become the Padres' setup man, but Cashner might not hold onto that role all year.
San Francisco Giants: Guillermo Mota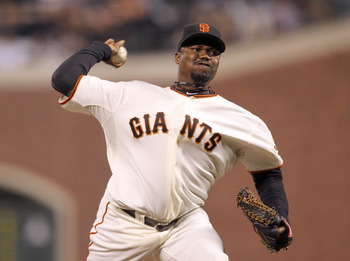 Ezra Shaw/Getty Images
Guillermo Mota has had a few good years during his career as well as a number of poor seasons. The San Francisco Giants are hoping that 2012 is a good year.
Mota will likely not perform at the level the Giants expect him to this season.
Seattle Mariners: Oliver Perez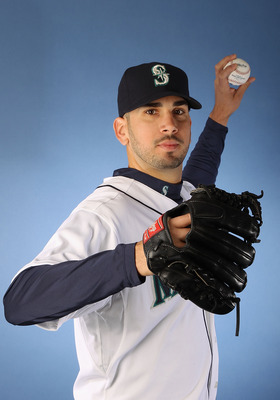 Christian Petersen/Getty Images
This selection may be out on a limb, but Oliver Perez will be a bust for the Seattle Mariners. It seems as if it is almost a guarantee.
The contract that Perez signed with the Mariners was only a minor-league deal, so it should not hurt them when he pitches the way he has for the past few years.
St. Louis Cardinals: Rafael Furcal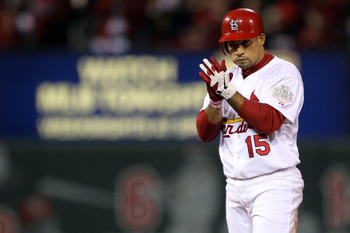 Ezra Shaw/Getty Images
Rafael Furcal is one of those players who has had trouble staying on the field. He has played just 370 games over the past four years.
The St. Louis Cardinals are betting on the fact that he could stay healthy. Even when Furcal has been healthy he has struggled a bit.
Tampa Bay Rays: Luke Scott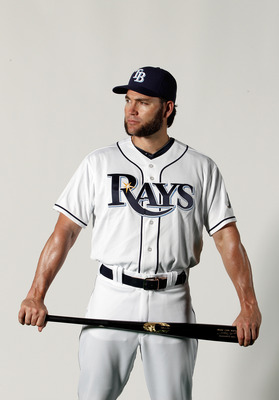 Jonathan Ferrey/Getty Images
Luke Scott had a rough year with the Baltimore Orioles last season, and they decided to non-tender him.
The Tampa Bay Rays decided to pick up Scott. He has the potential to put up pretty good numbers, but he likely will not perform that well in Tampa Bay.
Texas Rangers: Brad Hawpe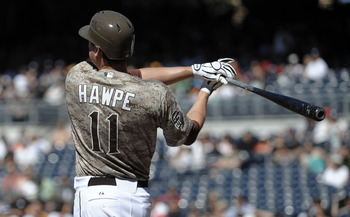 Denis Poroy/Getty Images
From 2006 until 2009, Brad Hawpe hit at least 22 home runs a year. Now, he is just trying to keep his career alive.
The Texas Rangers are hoping that Hawpe can find some of the past magic, but he will likely spend most of the year in the minor leagues.
Toronto Blue Jays: Sergio Santos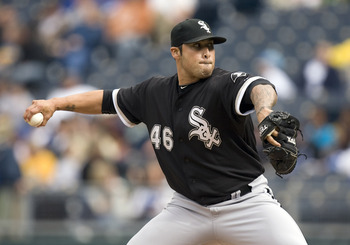 Ed Zurga/Getty Images
The Toronto Blue Jays have a lot of minor-league pitching depth, so they had no problem dealing Nestor Molina for Sergio Santos.

Toronto is expecting Santos to be their closer in 2012. Santos had a 3.55 ERA in 2011, and that number could balloon now that he is pitching in the American League East.
Washington Nationals: Edwin Jackson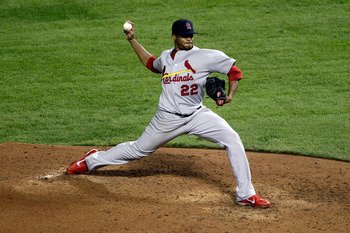 Rob Carr/Getty Images
Last offseason, the Washington Nationals had one of the biggest busts in Jayson Werth. They will have another singing who struggles this year, but they will have spent less money on him.
Edwin Jackson could not get the multi-year deal that he was looking for, so he took a one-year deal with the Nationals. His inconsistency has been fairly frustrating over the years.
Keep Reading