Tottenham vs. Man United: Louis Saha Will No Doubt Be a "Handful"
March 2, 2012

Clive Mason/Getty Images
Tottenham manager Harry Redknapp knew in January what Manchester United manager Sir Alex Ferguson admitted on Thursday afternoon.
According to ESPN, Ferguson said that Tottenham's newest player—striker Louis Saha—will pose a "serious threat" to his club.
"He is a handful, no doubt about that," Ferguson told Inside Manchester. "He's got two great feet, he's quick, he's got a good spring in the air. There's no doubt he is a handful."
For Tottenham, the match is absolutely crucial for them to have any legitimate title hopes.
They're currently third in the league table, and are coming off an embarrassing 5-2 loss to Arsenal. The north London club is eight points behind Manchester United, and a win on Sunday at White Hart Lane would certainly be a huge leap forward.
And the most important person in getting Tottenham there will be Saha.
There's a reason Ferguson used the "serious threat" tag exclusively for Saha.
Anyone could have gotten the praise—Emmanuel Adebayor leads the team in goals and assists, Brad Friedel is playing as good as any goalkeeper in the league and the ever-dangerous Rafael van der Vaart will be back for the first time in over a month.
Could it be a case of Sir Alex playing some mind games with Tottenham, hoping the words go to Saha's head? Probably not.
That could be the case if Saha were 20 and playing his first year in the Premier League, but the Frenchman will be 34 in August and has played 14 full seasons of professional football.
The reason Ferguson called Saha a "serious threat" is—gasp!—Saha is actually a "serious threat" to ruin Manchester United's day.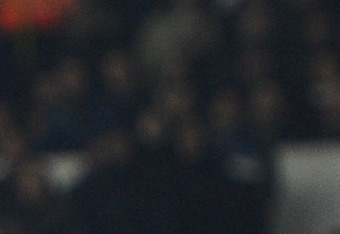 Mike Hewitt/Getty Images
Sir Alex knows that if Saha can score in the first few minutes like he has in Tottenham's last two matches, Manchester United may not be able to counter. So far this season, the Red Devils have never come back and won a game in which their opponents scored first, compiling a 0-3-2 record in five matches where they didn't net the first goal.
In addition to that, Manchester United hasn't been scoring its usual number of goals as of late. Since December 31, the Red Devils have made 12 appearances in a range of competitions—eight league fixtures, two FA Cup matches and a two-legged Europa League contest.
In those 12 matches, Manchester United has scored more than two goals only three times—once in a topsy-turvy match against Chelsea, once in an FA Cup matchup with Manchester City and once against Bolton ('nuff said).
Apart from those three matches, the Red Devils were beaten by relegation candidates Blackburn, shutout by Newcastle United, held to a single goal by Liverpool and Ajax, and averaged a measly 1.5 goals in nine matches.
Those aren't Manchester United numbers. Those are Wigan Athletic numbers.
According to ESPN, Wayne Rooney will be on the pitch after missing the last few matches due to a throat infection. But who else?
Danny Welbeck hasn't scored since the middle of January. Dimitar Berbatov, who also hasn't scored since the middle of January, has seen more of the bench than of the pitch lately.
Javier Hernandez is the only threat outside of Rooney, but he hasn't played all 90 minutes of a league match since December 26 against Wigan Athletic. Against league opponents, Hernandez has no trouble scoring—collecting eight goals so far this season.
Where the Mexican international falls short is earning the starting nod from Ferguson. He might only play 30-40 minutes on Sunday, not the most amount of time to contribute to what could be a big scoreline.
When all is said and done, my guess is that Saha will be the man on whom this game hinges. If he can score an early goal in his third-straight league match, Tottenham could revive their title hopes. 
If he puts Tottenham on the scoreboard first, and puts Manchester United in a hole early, Ferguson could be proven prophetic, and maybe we'd all pay a little more attention when he calls someone a "serious threat."