NFL Combine 2012 Results: Most Disappointing Performances in Indianapolis
March 2, 2012

Christian Petersen/Getty Images
We've seen plenty of NFL prospects fall out of the first round after lackluster combine showings throughout the years.
Inevitably, some prospects disappointed this year, either coming into Indianapolis out of shape or simply not showing the athleticism expected from a potential first-rounder.
Here are the three most disappointing performances of the 2012 NFL Combine. 
3. Michael Brockers, DT, LSU
Michael Brockers headed into the combine as a possible Top-10 pick with loads of potential.
However, despite his play with the Tigers last season, he ran the 40-yard dash in 5.36 seconds (fifth-worst among defensive linemen) and only posted 19 reps in the bench.
There's also the fact that he weighed in at 322 pounds, meaning he gained 16 pounds since he declared for the draft.
Brockers still has a shot at being a Top-10 pick based on his potential (he left LSU after his sophomore season), but his athleticism at the next level must now be questioned.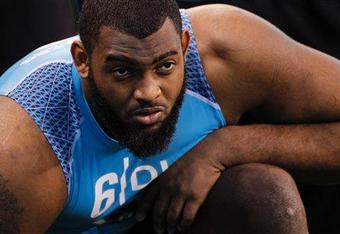 2. Mike Adams, OT, Ohio State
Mike Adams was seen as a riser as recently as the Senior Bowl, when he played well against some of the top prospects in the draft class.
That being said, like Brockers, he managed only 19 reps in the bench press during the combine, and he ran the 40-yard dash in a sluggish 5.40 seconds.
Adams' bench-press numbers are particularly alarming. After all, this kid's 6'7" and 323 pounds, so you'd expect him to show off more strength.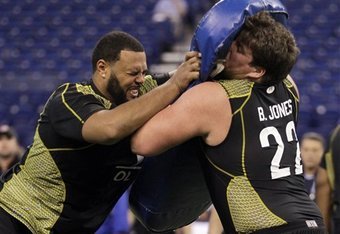 1. Vontaze Burfict, LB, Arizona State
The only thing worse than a prospect with character concerns is a prospect with character concerns who doesn't believe he has character concerns.
In team meetings at the combine, Vontaze Burfict blamed his coaches for his past season, despite his numerous personal-foul penalties that hurt the team.
He also ran the 40-yard dash in 5.09 seconds, which was bested by 36 defensive linemen, including Memphis defensive tackle Dontari Poe, who weighed 100 pounds more.
Burfict not only fueled concerns about his character, he didn't show the explosiveness that made him a potential first-round prospect in the first place.
Some are wondering if he'll even get drafted at this point.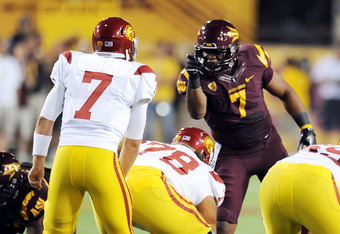 Norm Hall/Getty Images
Follow me on Twitter. We can talk about prospects who perform poorly at NFL combines.