Boston Celtics Trade Rumors: Stephen Curry Not a Long-Term Answer for C's
March 2, 2012

Ezra Shaw/Getty Images
The more you hear, the more it sounds like the key players of the Boston Celtics are about to go their own separate ways.
Exactly which players are on the block varies depending on who you ask, but the one name that has surfaced the most in trade rumors is Rajon Rondo's.
For what it's worth, David Aldridge of TNT passed along this update on Thursday:
C's source, pushing back on Rondo trade rumors: "Teams want him? That's great. He's not going anywhere."

— David Aldridge (@daldridgetnt) March 2, 2012
That source says one thing, and other sources say another thing.
ESPN's Chris Broussard claims sources told him that the Celtics are "aggressively shopping" Rondo. A. Sherrod Blakely of CSNNE.com reported that Ray Allen and Paul Pierce are drawing more interest than Rondo, but he didn't say that Rondo is not drawing interest.
There's one other name that surfaced in both these reports—that of Stephen Curry of the Golden State Warriors.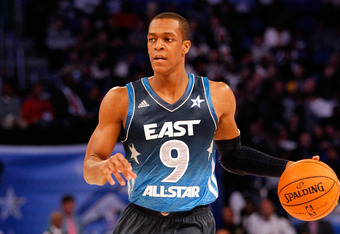 Ronald Martinez/Getty Images
Broussard's sources say a potential Rondo-for-Curry deal is still being discussed among Boston's brain trust. Blakely's sources tell him that the C's are not actively pursuing a trade for Curry, but that they have expressed interest in him.
There's something to the pairing of Rondo and Curry. Per Broussard, the Warriors and Celtics had a Rondo-for-Curry deal on the table before the start of the season. It was ultimately nixed by the Warriors, but the two teams have definitely been down this road before.
The Celtics need to think twice before going down it again.
If the Celtics were to deal Rondo for Curry straight up, the indication would be that they think they stand a better chance of building a contender around Curry than they do around Rondo. Indeed, a big part of the Rondo trade rumors is that the Celtics would rather not build around him. Anybody other than him would be good enough, it seems.
But not Curry. He's a great player, one who I think is better than Rondo on a pure talent basis. But if the Celtics were to trade for him in hopes of building around him, they'd be making a mistake.
The big concern is Curry's health. He's been plagued by ankle injuries early in his career, and they haven't gone away this season. Even offseason surgery meant to strengthen his right ankle didn't do the trick. Curry wasted no time at all spraining that very same ankle before the season even began.
So that's a concern. Another concern is how the Celtics would sell other players on the idea of coming to Boston to play with Curry. After all, they have some pretty big contracts coming off the books in the near future.
Curry wouldn't be able to draw prospective free agents better than Rondo. Curry has talent, but players know Rondo as a guy who's been to two NBA Finals who knows how to play with superstars. He's not a superstar in his own right, but he definitely plays well with superstars.
It's unknown if Curry is that kind of player. Since we're comparing him to Rondo, that's a disadvantage.
I'll maintain that the Celtics' best move is to trade Rondo. His value is high now, and the team would be wise to take advantage of that before Rondo's value plummets. But if Curry is the best deal they can get for him, they're better off keeping Rondo and taking their chances building around him.
This is not a comfortable time for anyone in Celtics-land. The team is a shell of what it used to be, and things are going to get worse before they get better.
All Danny Ainge can do is make sure things will get better sooner rather than later.