2012 NFL Draft Projections: Risers Who Are First-Round Locks
March 2, 2012

Joe Robbins/Getty Images
The NFL Combine is one of the last opportunities for prospects to impress scouts before the draft.
Some prospects take advantage of the combine.
Some don't.
Here's a look at five prospects who elevated their stock considerably in Indianapolis and are sure-fire locks to land in the first round. 
5. Whitney Mercilus, DE/OLB, Illinois
Whitney Mercilus showed off the speed that makes him a top prospect at the combine.
The lengthy, explosive sack artist ran the 40-yard dash in 4.68 seconds, which was tied for 11th among defensive linemen and linebackers.
Mercilus had 16 sacks in 2011 and showed why at the combine.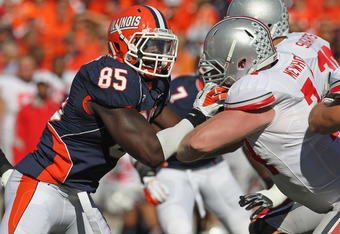 Jonathan Daniel/Getty Images
4. Stephon Gilmore, CB, South Carolina
I've liked Stephon Gilmore for a while now, but his combine performance convinced me he's a sure-fire first-rounder.
Among cornerbacks at the combine, Gilmore finished in the top five in the 40-yard dash, three-cone drill, 20-yard shuttle and 60-yard shuttle. He also finished in the top 10 in the vertical jump and the broad jump.
Yeah, he's kind of a big deal.
Add his all-around abilities on the football field to that and I'd be shocked if he landed outside the first round.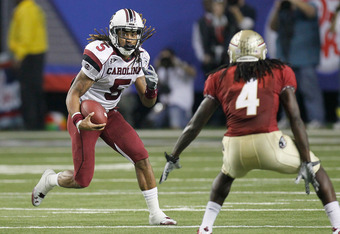 Kevin C. Cox/Getty Images
3. Janoris Jenkins, CB, North Alabama
Janoris Jenkins ran the 40-yard dash in 4.46 seconds and finished fifth among cornerbacks in the 60-yard shuttle, but we all knew he was incredibly fast and fluid.
What impressed me were his interviews.
Jenkins was up front about his arrests for marijuana possession while he was at Florida and appeared to be much more mature. Unlike Vontaze Burfict, he didn't blame his mistakes on others.
Jenkins is a tricky prospect to evaluate, given his character concerns, but I saw enough to make him a first-round pick in 2012.
2. Luke Kuechly, LB, Boston College
I don't know what's happened to Luke Kuechly since he played at Boston College, but he was an absolute freak of nature at the combine.
We all knew of Kuechly's range, instincts and tackling ability headed into the combine, but I was concerned with his strength and size at the middle linebacker position. I'd seen him struggle to get through blocks in the interior at BC.
Well, Kuechly effectively alleviated those concerns of mine. He racked up 27 reps on the bench press and showed up at a respectable 242 pounds. Plus, he was incredibly fast, running the 40-yard dash in 4.58 seconds, third among linebackers.
I'm not going to doubt Kuechly anymore after that.
1. Dontari Poe, DT, Memphis
Dontari Poe was already a legit first-round prospect headed into the combine, but he absolutely blew people away once he arrived in Indianapolis.
Poe racked up 44 reps in the bench press, top among all participants, and ran the 40-yard dash in 4.98 seconds, despite being 346 pounds.
What does concern me is that a player with this kind of athletic ability should have dominated in college, yet Poe didn't shock anyone while at Memphis.
Still, nobody will forget about his combine performance.
Follow me on Twitter. We can talk about NFL draft prospects.