Detroit Tigers: 5 Reasons Why Austin Jackson Will Shine in 2012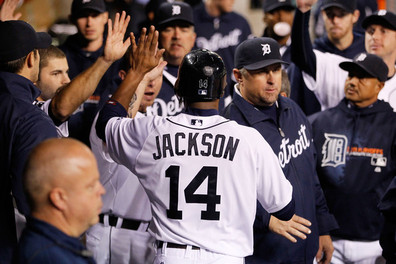 After a sophomore slump in 2011, Austin Jackson is at a crucial point in his young MLB career.
The Tigers traded more than just a center fielder away to the Yankees when fan favorite Curtis Granderson departed in a multi-player deal that landed the yet untested Jackson in Detroit and Granderson in the Bronx.
They traded away a franchise player and many in the Motor City still miss his connection with their hearts. It's good that Tigers fans don't forget their favorites even when they are gone. But before this thing turns south and get all nostalgic, let's talk about the here and now.
Jackson can put Granderson up on a shelf with one good season. With a great season, Granderson can stay there for good.
That's why the time is now for Jackson, and that's why his performance is so crucial this season. He can't afford another sub-par year like his last.
Jackson is a spectacular outfielder that has struggled to fit the traditional role of a leadoff man. Last season he didn't hit for the type of average (.249) one would expect from the guy who is supposed to be a team spark plug.
Just one of many woeful statistics he collected was a .317 OBP, which was nearly 30 points lower than his rookie campaign (.345) when he also hit .293, over 40 points higher than 2011.
Of course for the Tigers, the most painful of all statistics is the fact that he struck out a league leading 170 times in 2010. In 2011, he whiffed 181 times.
You can see how the Tigers are painted in a corner. His rookie season, if nothing else, showed that he has the potential to be the type of player and leader they need.
Can he shake his offensive liability moniker and become a complete player for the Tigers? Here's five reasons why he will.
Begin Slideshow

»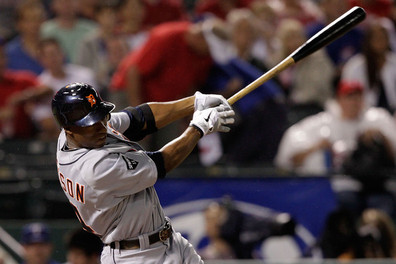 The aforementioned potential is Jackson's greatest asset.
Potential is a scary proposition because it can turn sour in a hurry. Baseball isn't a forgiving game for players that miss the mark on matching product with potential.
Jackson's greatest skills can be found in the glove work and space coverage "show" he puts on defensively in the vast reaches of spacious Comerica Park. Fans have been forgiving of his futility at the plate because of his highlight reel plays in the field.

The Tigers fastest player also has Gold-Glove potential, few baseball analysts would argue the fact that he can cover more ground than anybody in the game. He's scary good defensively and just as good as Curtis Granderson ever was in a Detroit uniform. He makes spectacular plays look almost routine.
Still, his inability to stay away from the high cheese late in the count has been his undoing and at some point will unravel his ability to maintain the No. 1 spot in Jim Leyland's lineup. Yet, his swing isn't so much the question.
For the most part his swing is smooth, other than times when he looks like a different hitter, those ugly times when he has two strikes against himself. He struggles reading pitches away from the plate, and so it could be more his focus than his actual swing.
A swing that's fine with eyes that need adjusting. Another opportunity to turn a negative into a positive—potential to become a more disciplined hitter, or better yet, an opportunity to quit eating that dirty stuff off the floor.
Jackson seems too determined to fail. The kind of player that finds a way to grab potential by the tail and whip it around the world a few times.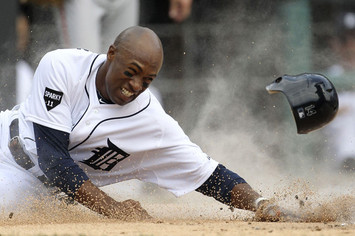 If ever there was a kindred connection between Jackson and Granderson, it might be the mild-mannered, well-spoken, wide-grinned persona that each of them possesses. It is a rarity to not see Jackson with a smile on his face.
Attitude is everything in baseball. Need further explanation, ask the 2011 Boston Red Sox.
Even during his greatest struggles, Jackson has remained relatively calm despite plenty of detractors calling for Leyland to make a change in the order. Leyland has remained steadfast in his belief that the now 25-year-old can get it done. When he announced his pre-season starting lineup there was no less hesitation that Jackson was leading off than Fielder was cleaning up.
He spent nearly a month hitting sub .200 last season, falling as low as .152 and Leyland kept him in the lineup and he continued to battle. The rest of 2011 found him battling his way up to hover between .240 and .260.
Considering the slow start it was better than the alternative, which might have found him leading off in Toledo, not Detroit.
Focus can often be lost on negative attitude. For Jackson and the Tigers, this isn't a concern.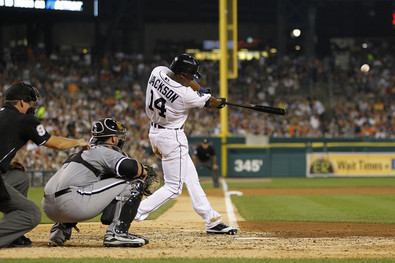 Tigers hitting coach Lloyd McClendon had his work cut out for him this winter. No doubt that his biggest off-season project was fixing Austin Jackson's approach to hitting. Again, not so much his swing, but his approach.
Since coming to Detroit, Jackson has hardly adjusted his swing. Other than switching back and forth between the more powerful high leg kick swing he used in minor league ball and the less noticeable lift and drop that he came to Detroit with.
McClendon has tempered the front leg lift almost to a a mere tap now and the Tigers see this as one of the the most important adjustment Jackson has made this off-season. "What we did," McClendon said, "we gave him a swing where you know you could repeat it time and time again, and there are some mechanisms to do that."
Jackson, who spends his winters in Texas, traveled to Detroit for the Winter Caravan and spent time working on the adjustments to his swing with McClendon. Coming into spring training, he's had the opportunity to test out his new swing during off-season cage sessions.
McClendon also worked at re-appropriating Jackson's focus and approach to hitting. McClendon's approach is pretty simple and straight-forward but could reap complex gains for the Tigers offense.
"I want you to be in a position from a hitting standpoint where you're always confident that you can put the ball in play," McClendon explained last week. "And that's what we're trying to accomplish, give him the confidence to let the ball travel [into the hitting zone]."
Ultimately for Jackson, it is about seeing the ball better. Picking it up out of the pitchers hand and recognizing when to lay off. An approach he seems to have embraced.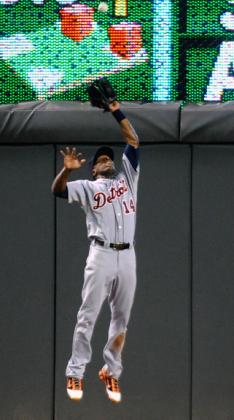 Austin Jackson can flat-out play defense. He can motor to all corners of Comerica Park and fly all 420' of center field when necessary. He is a defensive gem and arguably the best center fielder in the game.
The kid's got skills. All kinds of them. He's a can of skills just waiting to be popped. The truth is, if Jackson does ever hit the gear wear potential meets results, he'll be burning rubber all over the American League.
Jackson is in a class of players that "have another gear." He's quick and then he's fast, a combination not all speedy players have. Often, it's one or the other. Jackson possesses both.

Unfortunately, it hasn't equated to the type of base stealing threat the Tigers would like him to be, but that too is a result of poor hitting and an inability to work his way through the count. What Jackson needs is to walk 100-plus times instead of striking out that many times.
However, Detroit Tigers beat reporter Jason Beck noted, "Though critics cite Jackson's need to walk more often, his walk rate was actually strong for someone who struggled so much to hit. Out of seven Major League hitters with enough plate appearances at the leadoff spot to qualify for a batting title, only Texas' Ian Kinsler drew more walks than Jackson."
After a sophomore year that saw his stats plummet from a 2010 season that almost landed him A.L. Rookie of the Year honors, Jackson has yet to be the type of threat on the base paths that the Tigers can take full advantage of.
He's the type of player, with Boesch hitting behind him, that Leyland should be able to hit and run and push for extra bases with great regularity. When Boesch hits doubles, Jackson should be able to score from first.
Those are the types of skills Jackson has in his bag of tricks.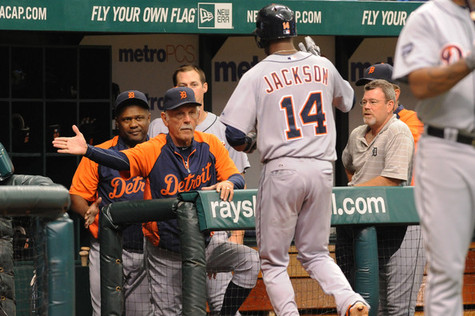 It takes a veteran skipper with great patience to protect young players from critics. Leyland has plenty, so does Jackson. One thing you won't get from Leyland is any doubt about the importance of Jackson and his role to the success of this year's Detroit Tigers.
It is one of the things Leyland is banking on to be an over the top difference maker for an already lethal lineup. He isn't one to give up on players he believes can provide benefit to the club even if it means having the patience of Job.
"I think that's a situation that we really try to need to make work," Leyland said.
With some of Jackson's two-strike swings last season, Leyland's patience must have hit a boiling point.
Leyland also doesn't deny that the transition and expectation for Jackson hasn't been smooth sailing.
"I thought last year at times, particularly early in the game, he took too many pitches," Leyland said. "I think in fairness to this guy, I think there was some confusion, [like], 'Am I supposed to start hitting some home runs at some point? Am I supposed to take a bunch of pitches to get on base as a leadoff guy?' I think there was some confusion there."
Leyland plans to head north with Jackson in tow ready to perform to the potential that made him worthy of being the center piece in the Granderson trade.
Leyland knows how important Jackson is to the lumber that follows him in the order. He could score 150 runs with a great season. Leyland's mantra has long been, "he just kind of makes us go." In coaching jargon that means, "if he's hot, we're hot."
The Tigers will go long with Jackson running ragged over A.L. foes. They also truly believe he can do it. Great managers believe in great players.
*All statistical data provided by baseball-reference.com