New York Yankees: 7 Predictions for Derek Jeter's 2012 Season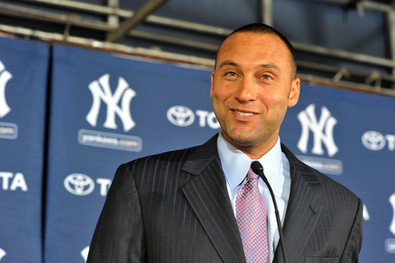 From the months of April to July in 2011, his path to immortality was the underlying backdrop to every New York Yankee game. On a scorching Saturday afternoon in July, his solo home run solidified his eventual entrance into Cooperstown after achieving the 3,000-hit plateau. Of course, Derek Jeter won't need that cute number next to his name to reach the Hall of Fame, but it certainly can't hurt.
This year, the hoopla about hit numbers will sharply regress surrounding the shortstop. Sure, he'll get a few extra microphones stuck in his face when he approaches the figures of Dave Winfield and Tony Gwynn, who are next on the list. But overall, this year's spring training will be business as usual.
There is no denying that all of us are getting older and obviously, Derek Jeter is no exception to the rule. Entering his 18th season in the league, Jeter sports a body that has seen over 37 years of action.
As an athlete creeps closer to twilight of their career, it becomes difficult to accurately predict their on-the-field results. Moving ever so closely towards the age of 40, what exactly can we expect from "The Captain" in 2012?
Begin Slideshow

»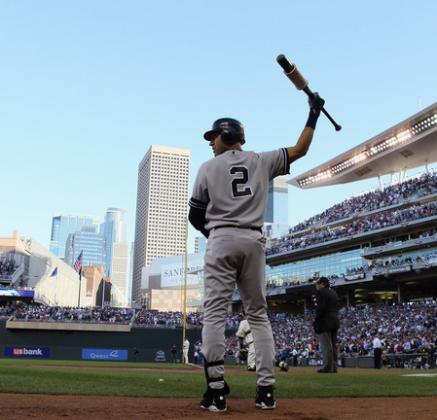 Last year was a resounding step down in many offensive categories for the veteran shortstop.
But his season was sustained after returning from the DL in early July. Whether it was genuine pain from a "strained calf," day-to-day nicks and pains or simply his body getting older, Jeter benefited from the time off and saved a season previously mired in disappointment.
Don't think the Yankees' brass hasn't noticed last year's midseason rejuvenation. Look for the club to cut Jeter's workload in half every once in a while. By utilizing the DH spot as a weigh station for aging players, the Yankees will be able to give the rest where rest is due.
He might not like hearing that he is one of those "aging" players, but even the proudest competitors like Jeter have to reason with reality.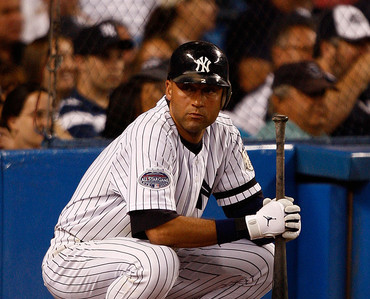 With Jeter struggling mightily to begin the 2011 season, many began calling for a lineup shuffle. Particularly, they were hoping for a card that didn't involve Derek Jeter batting leadoff.
To make matters worse, the team went 10-3 during Jeter's DL visit and did little to quiet the demands for a batting order drop. Who could blame them if the stats were present to back up the petitions?
However, a rich and important stat for the Yankees in 2011 was the number 97. That's how many wins the Yankees were able to post last year. With Jeter's "digression" at the top of the order, the Bombers were able to take the AL East title by six games.
There's no denying that Jeter's .355 OBP was a bit low for a premier leadoff hitter. In fact, on a personal note, it was the second-lowest percentage for Jeter since 2004.
Yet with all that being said, don't plan on seeing Jeter in any other role in 2012.
Only in New York could falling three wins short of 100 be met with cats and dogs living together—mass hysteria!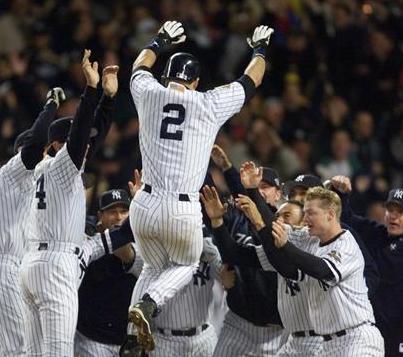 As we waved au revoir to A.J. Burnett, Yankee fans said goodbye to his high-priced pies as well. Have no fear, Bomber brethren, Nick Swisher has been announced as the new "pie guy," and maybe he'll be able to "congratulate" someone A.J. Burnett never could.
Derek Jeter.
Never in Burnett's three-year Yankee stint was Jeter able to deliver that walk-off knockout. The stoic, cliché Captain was never pelted with shaving cream, thus fans were never able to see the veteran's reaction. In fact, to find Jeter's last walk-off hit, we have to go all the way back to the 2001 World Series.
Yes, that's right. When Jeter was dubbed Mr. November in Game 4 of the 2001 Fall Classic, he launched a Yankee celebration with one swing of the bat for the last time, which was 11 years ago.
Obviously, there is no statistical data to back up this prognostication. But this year, Jeter will walk off with a victory in the Bronx and celebrate with 52,235 of his closest friends.
Let's just hope Swisher is ready to deal with the repercussions of the postgame "celebration."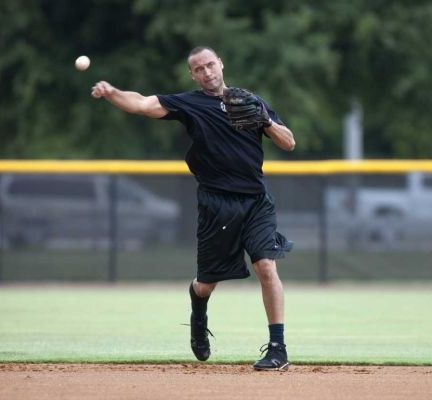 There's no way to sugarcoat some of his stats in 2011. Last year, Jeter recorded career lows in runs scored, doubles, home runs and slugging percentage. Let's not forget he also finished with second-to-last career marks in hits, runs batted in and on-base percentage. Yikes.
All around, it was not a quintessential Jeter-like season.
After spending time on the shelf last year, it's safe to say Jeter has probably realized the limits his body will take him, too. With a few weeks of rest and relaxation, Jeter was able to lift an abomination a of year to a respectable level in October.
If the shortstop can't learn to adapt to his aging body in 2012, last year's stats—or lower—might be what to expect out of the shortstop in the future.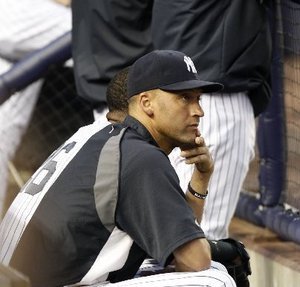 Former Yankee manager Joe Torre always complained about his shortstop's pest-like and annoying behavior on days off. Administering hotfoots, capping epic pranks and overall mischievous, Roger McDowell-like pranks were never Jeter's act of juvenile playfulness.
But for a guy who played in almost 2,500 games, it becomes more than boring sitting on the pine.
Hopefully, Joe Girardi has a lot of patience.
Last year's landing on the disabled list became a blessing in disguise for Jeter. An un-Jeterian-like first half of the season was met with a two-week period on the disabled list before the All-Star break.
But after the Midsummer Classic, Jeter regained his old form and put together a season average that fell just short of .300. He'll have to learn with the rest of us that our bodies aren't what they once were in high school.
If he wants to compete at the highest possible level, his soon-to-be 38-year-old body has to be his highest priority.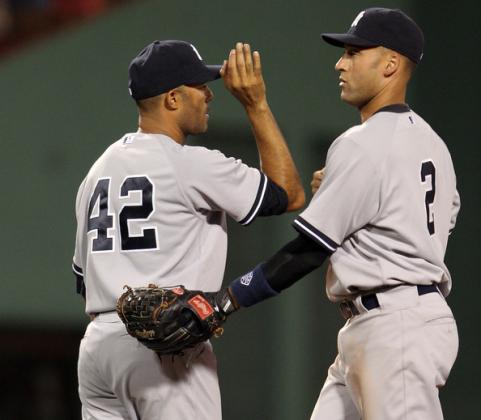 Nothing last forever, even in Yankee Universe.
Last year, the one-time "Core Four" played their first season as "The Three Amigos" after the retirement of lefty Andy Pettitte. In 2012, the esteemed fraternity will be reduced to a "Dynamic Duo" as fiery catcher Jorge Posada trotted off into the sunset. And next year, it's more than plausible that Derek Jeter could be the leader of a one-man band.
With playful jubilance and a coy smile, Mariano revealed nothing to reporters last week regarding his future endeavors. But in admitting that his unannounced decision has been made, he virtually spelled out that 2012 will be his swan song.
While Rivera's decision hasn't been made public to the masses, Jeter has been informed of his next move. The shortstop knows that this year will be the last time he can look up and see a face he came through the minors with. The final chance he can look at a portion of the original brigade he went to baseball war with.
In 2013, he'll represent the last man standing from a once-great Yankee era of the past.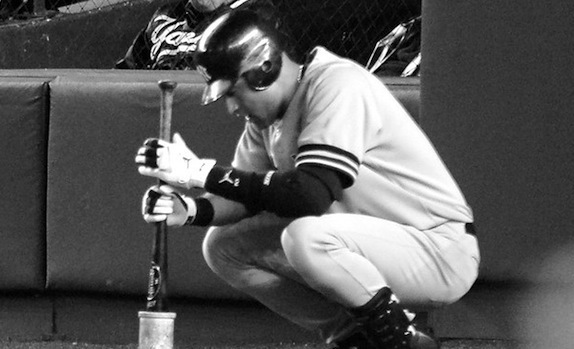 Over the years, all Yankee fans have come to expect exceptional offensive numbers from Derek Jeter. In fact, in his 16 full professional seasons, he has finished batting below .290 just once.
But if his numbers were to continue a somewhat rapid decline, would it be conceivable for "Captain Clutch" to call it a career?
Unbridled enthusiasm for the game has been a staple of Jeter since he strapped on a pro uniform in 1995. Over the years, it appears that the same love and respect for the game hasn't wavered a bit.
At the same time, Jeter appears to possess such an admiration for the game itself that if he can't bring his A-game to the diamond, then he might decide it's time hang up the cleats for good.