2012 NFL Draft: Ranking the Top 10 Running Back Prospects
Ronald Martinez/Getty Images

The 2012 NFL draft running back class is very solid and most of them will go in the middle rounds. The running backs didn't have a great combine overall, but I see a lot of these running backs having solid careers in the NFL.
The value of running backs has gone down recently in terms of draft position. Many NFL teams use two backs and teams are throwing a lot more. The NFL has become a passing league. Running backs who can catch the football and help in pass protection are more of an asset now than a running back who can just run the ball.
A lot of running backs that would have been top-10 picks in previous drafts are now becoming top-25 picks.
Here are my top 10 running backs in the 2012 NFL draft.
Begin Slideshow

»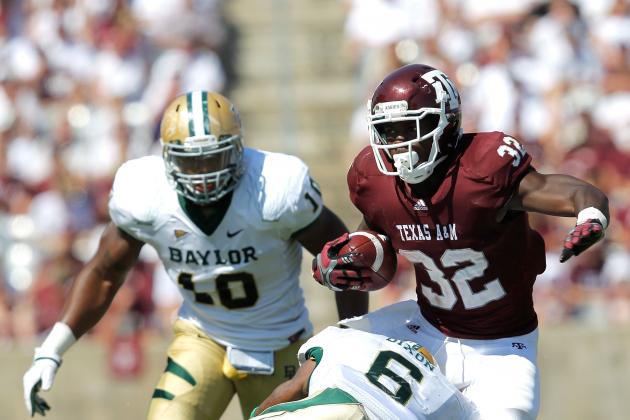 Sarah Glenn/Getty Images

Gray is an intense player who runs with power and elusiveness. He has good speed running a 4.47 at the combine. Gray rushed for over 1,000 yards splitting duties with teammate Christine Michael.
He runs with a low center of gravity and is hard to bring down a lot like Kendall Hunter coming out of the draft last year, who is now with the San Francisco 49ers.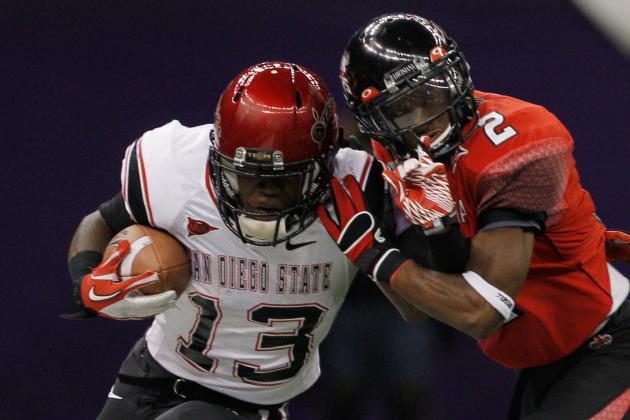 Chris Graythen/Getty Images

Hillman has good upside going into the NFL. He is quick and elusive with good speed (4.45) but not very powerful, as he is a smaller running back. He could add weight to his 5'10'', 190-pound frame.
Hillman had a lot of long runs including a 99-yarder and carried the Aztecs when their quarterback struggled. He ran for over 1,700 yards with a 5.5 yards-per-carry average. Staying in school one more year might have helped his draft stock but shelf life for a running back is short.
With his talent, Hillman will be selected between the third and fifth rounds.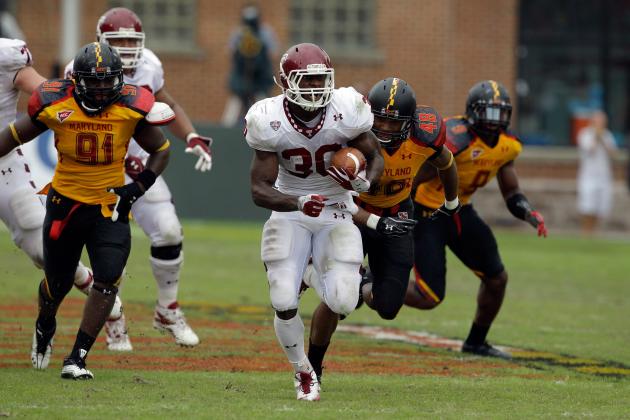 Rob Carr/Getty Images

Pierce is a big and fast running back. He's 6'0'', 220 pounds and ran a 4.49 40 at the combine. He averaged 5.4 yards a carry his junior year and 27 rushing touchdowns. He runs very upright and moves a lot like Kevin Smith of the Detroit Lions.
Pierce won't run over defenders but does have good vision and patience. He is likely to be selected somewhere in the third or fourth round in the NFL draft.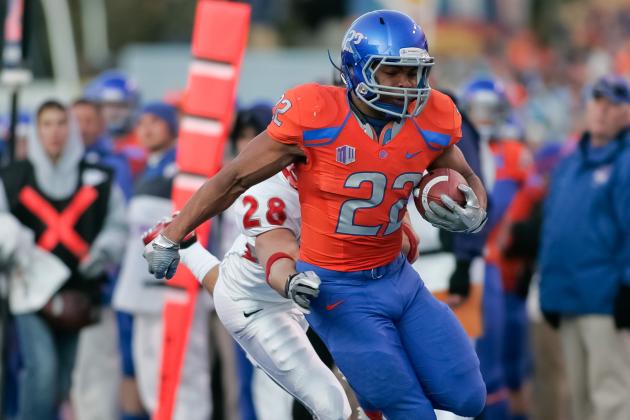 Otto Kitsinger III/Getty Images

Martin destroyed weaker competition, running for 1,299 yards with 4.9 yards per carry. He was shut down by a good defense in Georgia though, only rushing for 57 yards on 24 carries. Martin does about everything well and knows where to go and which hole to hit.
He has some good moves in the open field. He has the size at 5'9'' and 225 pounds to be an every-down running back. He could be selected as high as the second round or as low as the fifth round.
Jared Wickerham/Getty Images

Pead was in an offense very similar to Oregon's where LaMichael James thrived. Pead is an explosive player who is great in the open field in space. He caught the ball out of the backfield really well with the Bearcats, catching 39 passes. He averaged 5.3 yards per carry for a total of 1,259 yards.
Pead isn't a great pass-blocker and did have some fumbling issues that can be corrected. He could be a great complement back in the NFL and will be selected in either the second or third round.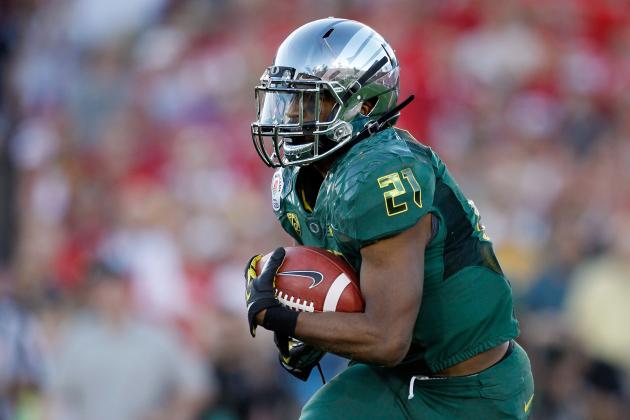 Jeff Gross/Getty Images

James averaged a ridiculous 7.3 yards per carry on his way to 1,805 yards and he even missed two games in 2011 due to injury. Some of it might have to do with Oregon's uptempo offense that tired defenses. James reached the edge of the sidelines and hit it upfield, running a lot of counter zone plays with the Ducks.
He is a very agile and fast running back who would be a great third-down option in the NFL. The elbow injury and fumble issues in college hurt his draft stock but he still should be selected somewhere in the third round of the NFL draft.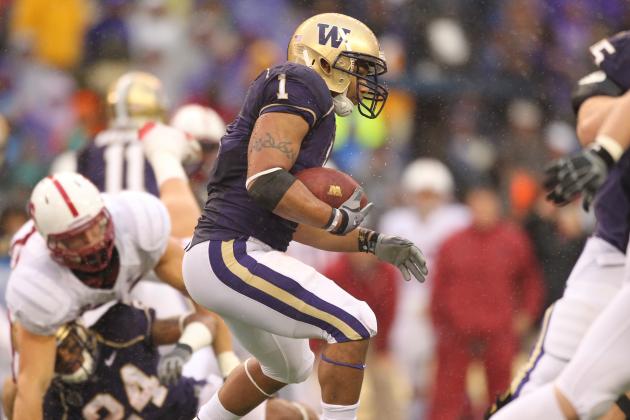 Otto Greule Jr/Getty Images

Polk is an agile back, but won't blow away teams with his speed. He is a patient, hard-nosed runner who goes north and south and gets the yards that he can. He has been consistent at Washington, with over 1,000 yards rushing the past three years.
Polk's numbers probably would have been even better if Washington had a better offensive line. He still averaged 5.1 yards per carry in 2011. He probably will be selected in the late first or early second round.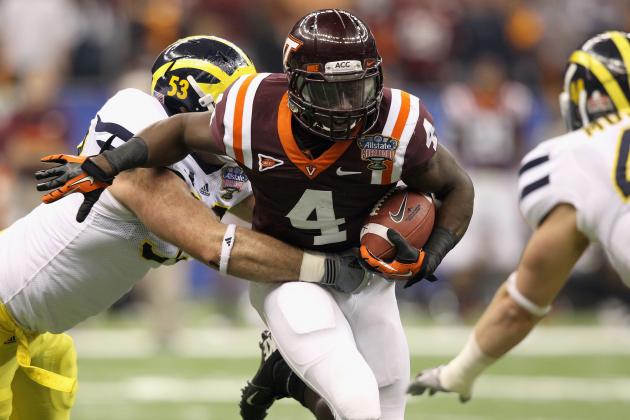 Matthew Stockman/Getty Images

Wilson is a freakish kind of athlete who can make a big-play any time he touches the ball. He does run backwards too much and that usually won't work in the NFL. He does have return ability.
Wilson gets to top speed quickly and is tough to get down because he is so agile and makes defenders miss. He isn't a very patient runner at times, which causes him to miss some holes. At 5'10", 205, he rushed for over 1,700 yards with 5.9 yards per carry. He probably will be selected in the late first or early second round.
Al Messerschmidt/Getty Images

Miller is a complete running back that busted onto the scene last year at the U. He carried the ball 227 times for 1,272 rushing yards to go along with nine touchdowns. He ran the 40-yard dash in 4.4 seconds and hits the hole when it's there.
Miller can make a play out of nothing initially and has great shiftiness. He isn't afraid of contact and also catches the ball out of the backfield well. Miller is capable of being selected in the late first round.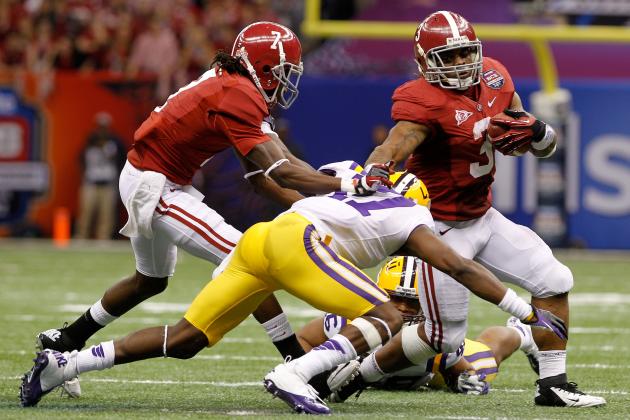 Chris Graythen/Getty Images

During his first two years at Alabama, he shared time with last year's only running back selected in the first round, New Orleans Saints RB Mark Ingram. Richardson had an excellent year being the go-to back on his way to 1,679 yards rushing and averaging 5.9 yards per carry. He is a load to bring down with his 5'9'', 225-pound frame.
Richardson is a workout warrior and has a powerful lower body. He's patient, shows good vision, can make big plays and catch out of the backfield. Richardson could be a top-five pick, but will definitely be selected in the top 20.