Carl Froch vs. Lucian Bute Prediction: Interbox Group Makes a Safe Bet
March 5, 2012

Al Bello/Getty Images
This year, Carl Froch will fight in his hometown for the first time since 2009. The clash is set to be against IBF champion Lucian Bute.  
The Cobra might have the hometown advantage and the experience edge, but I clearly believe that Lucian Bute will win this fight. Actually, I trust Bute's promoters on that one.
Bute and his group can't afford to lose the title and are aiming for more lucrative fights in the near future. If they entered into this fight and have pushed for it for several months, they believe that it is a safe fight, even in this hostile environment.
Showtime Wanted Dirrell

Interbox, Bute's promoting group, decided to dodge Andre Dirrell. Showtime asked Bute to face Dirrell, because they had no interest in televising a Froch vs. Bute duel. Jean Bédard, Interbox president, offered non-convincing reasons to a local media about why they wanted to face Froch instead of Dirrell.
He started by saying that Froch already defeated Dirrell, and thus the best opponent is the Cobra. However, almost everyone in the boxing world knows that Froch won a controversial decision in Nottingham. Actually, few people believe that Froch deserved this win. Dirrell was the best fighter that night. Therefore, this reason has no value. However, the second one is quite worse.
"No one knows him here. This is why we keep talking about Froch", stated Bédard. In summary, Interbox is ready to lose the Showtime revenues to get an opponent known by Quebec people? Could be a valid reason, but who knew Jean-Paul Mendy, Brian Magee, Jesse Brinkley or even Fulgencio Zuniga, four of the past seven challengers?
If we were to take a survey in Quebec, I doubt that more than one percent of the population would know these four fighters. Again, if they want a well-known opponent, why not turn themselves toward Adonis Stevenson or Jean Pascal, two local stars? This excuse doesn't make sense.
If Interbox is ready to lose all the revenues from Showtime, they believe that they will beat Froch. Without a major television network, Bute will get less exposure. Interbox will lose revenues. Why would a promoting group choose to decline a lucrative television offer if they are not 99-percent sure to beat the opponent?
Dirrell is six years younger than Froch and still in his prime. On the other end, the Cobra has shown some rust in his latest fights. It is understandable due to the big fights in which he was involved. Interbox knows all of this and, in my opinion, elected to fight Froch mainly due to these reasons.
Ward Refused to face Bute
Andre Ward doesn't currently feel the need to face Bute. Actually, he doesn't think that the Romanian champion deserves this fight.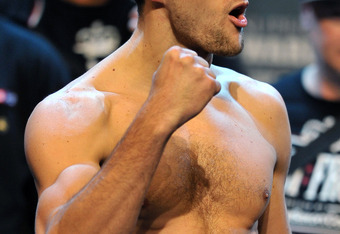 Drew Hallowell/Getty Images
"To be perfectly honest, no disrespect to Bute and his team, but they've sat back and they've fought B-level and C-level guys and he did what he was supposed to do," Ward said.
Actually, the current WBC & WBA champion is totally right. 
Bute might have the same number of fights as Froch, but the quality of opposition is not even close. The Romanian champion defended his title nine times since grabbing it in 2007. He never had a world champion caliber opponent in the ring with him. And please, don't even care to name Glen Johnson as fitting in this category—he isn't.
Don't get me wrong, Bute did win these fights cleanly and clearly (at the exception of the Andrade fight in 2008), but he has never been tested for real.
Let's have a quick look at his four latest opponents: Glen Johnson, Jean-Paul Mendy, Brian Magee and Jesse Brinkley. The age average of his opposition, today, is 38 years old. And these opponents currently have a win percentage of 82-percent, nothing to be impressed about.
"To be perfectly honest, I think Bute has to beat somebody," concluded Ward. "I'm just gonna be frank with you: he has to beat somebody, an A-level guy, to get a shot."
Interbox clearly knows that the most lucrative fight would be against Andre Ward. However, there's no way they will get a shot at it if Bute loses a single fight. If the main goal of Interbox is to unify the titles, they will choose wisely their opposition by taking elite fighters who won't threaten their champion. Carl Froch is one of them.
Lucian Bute will win
I believe in Lucian Bute's talent and determination. He has speed, power, intelligence and the needed physical attributes. However, I trust even more the ability of Interbox to choose carefully their opponent in order to maximize their gains and protect their actual champion, which is their main and only asset. They have done it in the past with previous champions and are doing it again.
Trust me, they know how to handle the career of a fighter and to keep him at the top. They are world class caliber in this aspect.
Interbox is taking a safe and calculated bet with this fight. They have studied Froch and are aware that Bute will get recognition with a win in this favourable matchup. Lucian Bute will beat the Cobra.
It's his time to shine.