WWE: Why Kane's Return Will Continue to Disappoint **WARNING CONTAINS SPOILERS**
March 2, 2012

Towards the end of last year, vignettes began to air regarding the impending return of the Big Red Machine, Kane.
Kane had been kayfabe injured with a fractured fibula late in the summer, after being inducted into the "Hall of Pain" by Mark Henry.
November's promo videos strongly hinted at a return of Kane in his masked form; immediately suggesting a more fearsome and intense incarnation would resurface, as opposed to the previously lacklustre face persona which had been adopted when teaming with the Big Show earlier in 2011.
Kane's return was highly anticipated by many, with a strong suggestion that both he and the Undertaker may return at similar times in order to set up a final Wrestlemania showdown between the Brothers of Destruction. 
Somewhat unexpectedly however, the Big Red Machine would make his eventual return at December's Slammy Awards, flattening John Cena during his match with Mark Henry.
Over subsequent weeks the pair would go on to develop an intense rivalry with Kane attempting to make Cena "embrace the hate"—essentially what would become just another futile attempt at suggesting a heel turn for the Champ.
The feud was extremely disappointing to say the very least, particularly with the bizarre inclusion (and burial) of Zack Ryder during the entire angle, and the beyond-wooden acting of Eve Torres.
Worryingly predictable from the outset, the pair would fight to a no-contest at the Royal Rumble, with Cena eventually going on to (shockingly) triumph in an Ambulance match at the Elimination Chamber PPV in February.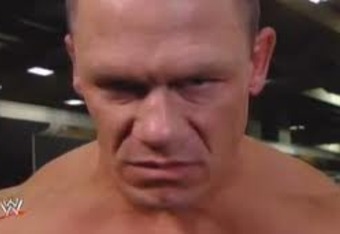 This would signal the end of a feud frought with problems; (Cena will NEVER turn heel no matter how many times it gets teased/how many times he pulls a constipated face on Raw) and would end just in time for Cena to turn his attention to the Rock for their epic Wrestlemania 28 clash.
For Kane, after being carted off in an ambulance at the conclusion of the Elimination Chamber event, many speculated that the Devil's Favourite Demon would become embroiled in a feud with Zack Ryder—a man he had repeatedly decimated since the beginning of January.
With Ryder still out of commission however with his "injuries," Kane would now appear without any real direction or purpose.
This past Monday, Kane made his return to television, randomly attacking the participants of a triple threat Tag Team title match between the Colons, ZigSwag and Air Truth (not official team names but I like them...).
In similarly bizarre circumstances, during this Tuesday's Smackdown tapings, Kane would make reportedly make another impromptu appearance during the main event between Daniel Bryan and Randy Orton, laying out the Viper with a chokeslam.
Since these reports have leaked, speculation is now rife as to whether an impending Orton-Kane feud is on the horizon—with neither currently having a Wrestlemania match booked.
It is my opinion that if this does come to fruition, it will undoubtedly be the worst match on the card for this year's event, and could well be a contender for worst match/feud of the year.
Why WWE Creative insist on bringing back major stars to only waste them with poorly-constructed storylines and rivalries is beyond me, and I will never understand why it is that Kane is now seemingly entering into a second underwhelming feud, where he will be buried by yet another of the company's top babyfaces...
Neither Cena nor Orton need to, nor will, get any more "over" by defeating Kane, and it seems like the veteran is merely being used as a stop-gap until a real nemesis can arrive for the pair (The Rock/Wade Barrett).
At this point in his career, Kane should be used as a means of putting over younger talent—something which may hopefully occur with the eventual return of Zack Ryder.
Whilst he continues to be booked in his current filler role however, the original promise of a more menacing return may continue to fall flat, with fans knowing the WWE's resident Supermen will ultimately "overcome the odds" and crush the Big Red Monster.
I would personally have preferred Kane vs. The Undertaker part 1,793 than Kane vs. Orton to be perfectly honest, and I truly believe that it is this kind of short-sighted booking that has driven so many fans away from the current WWE product.
What do you think? Is Kane vs. Orton a good idea, or will it be a massive flop? Who should Kane feud with in what could be his final run with the company?
Thanks for reading!
Please feel free to leave any opinions or suggestions in the comment section below or Tweet me @richardchriston