NFL Draft 2012: Alabama Defensive Tackle Josh Chapman Is a Player You Want
March 2, 2012

Kevin C. Cox/Getty Images
Josh Chapman is a defensive tackle from the University of Alabama who loves playing football, loves talking about playing football and loved playing at the University of Alabama.  He looks exactly like a defensive tackle should; he is just massive. 
Everything you need to know about Josh Chapman is summed up in this statement.  He played the final eight games of his senior season with a torn ACL and a torn meniscus.  He had surgery in mid-January and will most likely start the 2012 NFL season on the PUP list. 
We sat down for an interview at the 2012 NFL combine and when he shook my hands I was struck by how far his hands went up my arm.  His hands measured in at 11 7/8". 
Think about that for a moment.  Put a piece of regular paper down in front of you, and yes his hands are bigger than that piece of paper.
He was a very nice guy and a very interesting person to interview.  I learned a lot from talking to him and it was striking after the interview just how much I learned.  He is certainly a passionate football player and definitely the kind of player that you want your favorite team to draft.   
I asked him what he thought he could offer to the NFL team that drafts him and he said that "you are going to get a guy that's going to most definitely dominate the run" and a player that could "get an effect on the pass rush" and that he thought he could be "just an all-around player out there."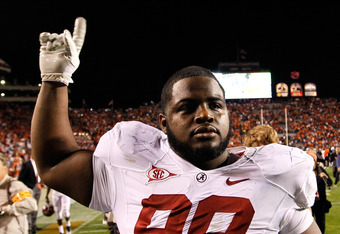 Kevin C. Cox/Getty Images
We talked about the University of Alabama and what it was like to play there.  We discussed the history and the heritage and we talked about the great players that have come and gone from Alabama. 
I asked him what it was like playing at Alabama.  He told me "it was a privilege to play at a University like Alabama and to play for a great coach like Nick Saban."  He also said "it was a fun experience winning two national championships in my years there." 
We talked about the Alabama defense and how strong it was during the 2011 college football season.  We discussed the great players that played on that defense and just how many moments they had as a defense that were special to him. 
I asked him what his favorite moment from college was.  He said "it was the last championship game that he had just won" and "that he had won one before but when you are a senior it means more to you." 
He also talked about the Alabama defense's place in history and what that meant to him.  "Knowing that you're going to be remembered as one of the best defenses in college football is something fun and something you can look back on."  He takes pride in the Alabama defense and its place in history.
Every player has strengths and weaknesses and those are the things that they either use or things they need to work on at the next level.  I asked Chapman what his favorite thing to do on the field was. "Everybody knows Josh Chapman loves to stop the run, that's my glory" but at the same time he talked about his own defensive responsibilities. When talking about those responsibilities he acknowledged his teammates and his trust in them.
I played in a 3-4 defense and my thing is when you got three linemen or two linemen on you it's just like I know that I've got a good group of guys coming through making the play and that's one thing I feed off of. 
He continued to acknowledge his teammates by saying, "I've got great linebackers behind me and a great secondary."  He also mentioned how the Alabama defense and their style of play made offensive lines respect his game.
The SEC conference is a powerhouse of college football and that's where some of the best players in the country play.  One of the things we talked about for a while was playing in the SEC and what that was like on a weekly basis.  He said that playing college football was "hard because you have to respect every opponent" but playing in the SEC was a little different.
Playing in the SEC you are going to get the fastest guys, the strongest guys and were trying to make the SEC the brand of college football and at Alabama we want to make our team the brand of how college football should be played. 
He said that that mentality was what was necessary to "play to our standards."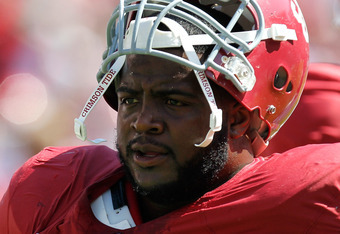 Kevin C. Cox/Getty Images
Alabama has its fair share of very good football players at the top of this year's draft.  There's a bunch of players on the defense that are going to go high in this draft and running back Trent Richardson might be the best running back to come into the draft in four or five years.  I asked him what practice was like with all those guys flying around the field.
He said "we have great guys on our team" both on offense and defense.  He mentioned players along their offensive line and how tough it was to go against them in practice.  He talked about "the great running backs Trent Richardson and Eddie Lacy" and wide receivers "Marquis Maze and Darius Hanks."
"I mean with us going against those guys and them going against us it's hard every day." He then smiled and said "you got Coach Saban on the back end and he's a perfectionist and he sees a play go bad from the back end even when he's not looking." 
Chapman wrapped up by talking about how much better the offense and defense were for going against one another in practice.
Josh Chapman is going to start his NFL career on the PUP list and some might be disappointed that he won't have an impact right away.  One thing I took away from the interview is that when Chapman has the opportunity to make an impact he will, and that impact will be a good one. 
Some team is going to be getting value with him and with good coaching and hard work Chapman could be a very good player in the NFL.
Scott Bischoff is a Contributor for Bleacher Report. Unless otherwise noted, all quotes were obtained first-hand or from official interview materials.