Lakers Start the Second Half with Kobe Bryant Playing
March 1, 2012

Harry How/Getty Images
Kobe Bryant is ridiculous. Seriously. I don't even want to find out if there is an injury he can't come back from. Let's not tempt fate. 
Dwyane Wade breaks Kobe's nose during the All Star game and also gives him a case of whiplash/concussion and three days later Kobe's back out on the floor after passing all the league's new concussion protocols. It's fun to imagine him glaring at the doctor who held his fate in his hands and giving him the patented Kobe scowl. "You're going to clear me to play, right? Right?"  Hee! I'm sure it was all above board.
So sure enough, tip off time rolls around and there's Mamba wearing some kind of futuristic Halloween mask meets Phantom of the Opera head gear. It was kind of jarring. But Kobe can't play his game his way if he has to worry about re-injuring his nose. 
That thing sure didn't look comfortable though. And then I immediately wondered: it doesn't seem like we've made much technological advances on these things since the Rip Hamilton in Detroit days. I think this a part of the Kobe System that Nike has overlooked. Get Phil Knight on the phone pronto!
I mean—isn't there a way to drill some holes in that thing so that it will breathe better without compromising the structural integrity of the mask? I can't wait to see if there are alterations to it when the Lakers play Sacramento. In the meantime, Lakers fans—here is a great post from 2005 talking about the history of these masks that Slate.com reposted today. 
Back to the game.   
What actually happened on the court?  Well, the Lakers caught a break because Kevin Love didn't play. But the Timberwolves didn't fold—they just didn't have enough firepower without Love.  The rested Lakers came out and played hard. Especially on defense. I thought I detected a little bit of "Kobe's carries us so often and now he is injured and still suits up—so we'd better give max effort" kind of a vibe.  Great ball movement and great hustle, all of which are hopeful signs for the second half of the season. Even the bench played well.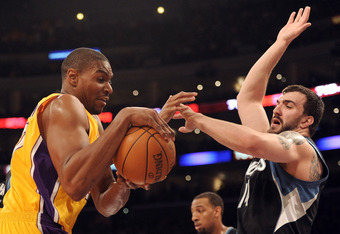 Harry How/Getty Images
I'm glad to see Andrew Goudelock got 15 solid minutes of playing time. Yes he only had two points on 11 shots, but that's ok.  Not every night can be great, but he is still a scoring threat. Teams can't ignore him.  He'll have better outings. (Full disclosure—I'm a big AG fan.)
In fact, the only thing I didn't like was Mike Brown's coaching in the fourth quarter. Six and half to play and you're up 19 and you put the starters back in?!  It reeked of panic and desperation. Yes, the T-Wolves were on a bit of a run, but the bench needs to be able to manage the game in those situations. They need to understand that their job isn't necessarily to rain down baskets, but to burn clock and play solid defense while the starters get some rest. That was an ideal situation for Mike Brown to let them  work on that. Even if he had to use some time outs to call them all over and remind them: Control tempo, play defense and don't turn the ball over. 
Huge missed opportunity if you ask me. Plus it sends the signal that he doesn't have a lot of faith in the bench. It's true that collectively, they are not much of a scoring threat. But there is no excuse on this Lakers team for not playing the kind of defense that keeps teams in check even if you are coming in off the bench.
Panicky coaching moves do not inspire confidence.
Still, all in all, a solid win for the Lakers. There continues to be uncertainty surrounding this squad and not much will be resolved until after the March 15th trade deadline. But every win counts. The Lakers looked refreshed and energized.  And Kobe is still Kobe, mask or not.
Beating Minnesota is a nice way to start the second half.  We'll see what happens this weekend against Sacramento and (especially) Miami.