Duke vs. North Carolina: Why This Matchup Proves Rivalry Is College Hoops' Best
March 3, 2012

Streeter Lecka/Getty Images
Tomorrow night's edition of the Duke-North Carolina rivalry has a familiar prize hanging in the balance: the regular-season ACC crown. It's been nine years since that title hasn't been won or shared by one of these two schools, a streak that will continue after this winner-take-all showdown.
Of course, there's far more in play in any Tar Heels-Blue Devils meeting than just the ACC championship. The rivalry stands above any other that college basketball has to offer, because of:
1. The players
Of the 10 players who will be starting tomorrow night, it's quicker to list the ones who won't be first-round NBA draft picks: Ryan Kelly, Seth Curry and Tyler Thornton of Duke, and Reggie Bullock of UNC. Everyone else—headlined by probable top-five selection Harrison Barnes of the Tar Heels—is a near-certain first-rounder when he enters the draft, a total no other matchup in the country this season could equal.
2. The teams
All that magnificent individual talent has also translated into success in the standings. Both teams have had their moments of mortality, with the Blue Devils falling to Temple and Carolina getting blown out by 33 at Florida State, but they both come in with identical 26-4 records and similarly lofty rankings (Duke at No. 3, UNC at No. 6).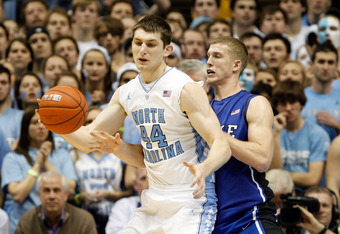 Streeter Lecka/Getty Images
3. The stakes
With both teams tied at 13-2 in ACC play, whoever wins in Durham tomorrow will take the ACC regular-season title, but that's just the beginning. The loser—especially if it's UNC—will be effectively eliminated from a shot at a No. 1 seed in the NCAA tournament, while the winner becomes a front-runner for that distinction thanks to some recent upsets in the Big Ten.
4. The fact that items 1-3 come as no surprise to anyone
The biggest reason that this rivalry is so extraordinary is that all of the best features of tomorrow's game are regular occurrences.
When No. 3 Missouri fell to No. 5 Kansas a week ago, it was a rare occasion for that storied rivalry to have both teams so highly ranked. Duke and UNC do this every couple of years.
Similarly, the NBA talent on these two rosters is no fluke. There are literally entire teams' worth of players from these schools in the NBA right now: 16 Blue Devils and 12 Tar Heels.
And of course, having a No. 1 seed in play when these two meet is another routine occurrence. The Tar Heels have received 13 No. 1 seeds all-time (or about once every three years), the Blue Devils 12.
There's no matchup anywhere in college basketball that can equal that level of competition. Regardless of an individual fan's allegiance, there's no better-played rivalry in the sport.