How Robert Griffin III Compares to Other Big 12 Quarterbacks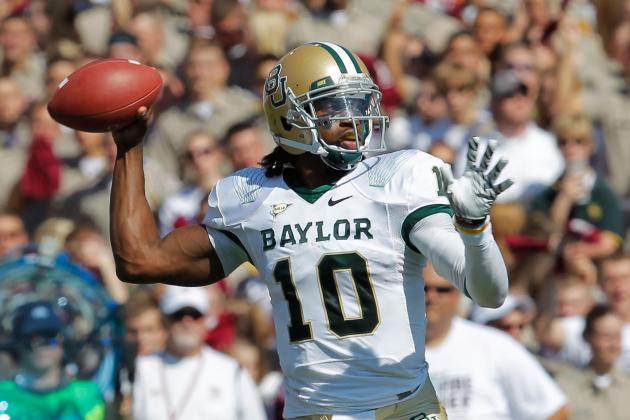 Sarah Glenn/Getty Images
Robert Griffin III: Will he be the second pick in the 2012 NFL draft?
If everything goes as everybody thinks it will, Andrew Luck will be chosen by the Colts with the top pick in April's NFL draft.
This will leave teams trying to trade with the St. Louis Rams for the second pick. It is widely speculated that the pick will be Baylor quarterback Robert Griffin III.
Earlier I wrote an article regarding if the Browns or others should beware of Griffin, since he played college football in the defensive deficient Big 12 Conference. Check it out.

This is a follow-up to that article, to give a comparison of Griffin to other Big 12 quarterbacks of recent years.
Since they all didn't play the same number of years of college football, which would make their stats vary, I used their final seasons of college football to make the comparison.
In the case of Sam Bradford, I used his 2008 season, since his final season in 2009 was cut short by injury.
Begin Slideshow

»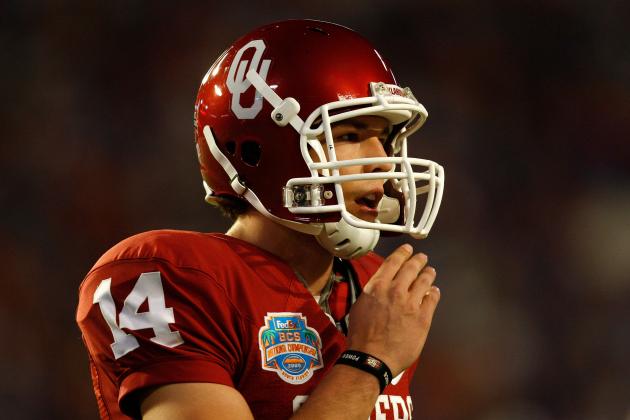 Marc Serota/Getty Images
Sam Bradford threw for 50 touchdowns in 2008.
Sam Bradford had maybe the best season of any Big 12 quarterback in recent memory in 2008.
He threw 50 touchdown passes, only eight interceptions and had 4,721 passing yards. He led Oklahoma to the BCS Championship game, and won the Heisman Trophy.
In his rookie NFL season, he was offensive Rookie of the Year. He completed 60 percent of his passes for 3,512 yards and 18 touchdowns.
He missed six games due to a high ankle sprain in 2011.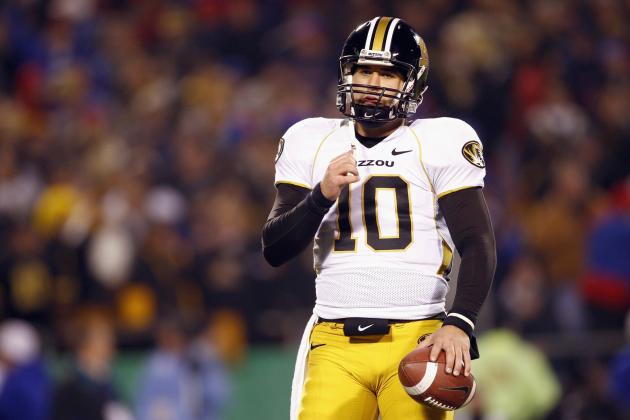 Jamie Squire/Getty Images
Chase Daniel has logged very little NFL playing time.
Chase Daniel completed 72.9 percent of his passes in the 2008 season.
He passed for 4,335 yards, with 39 touchdowns and 18 interceptions.
He led the Missouri Tigers to the North Division title.
Undrafted out of college, he is currently a backup with the New Orleans Saints.
For his NFL career, he has thrown eight passes, completing six, for 45 yards.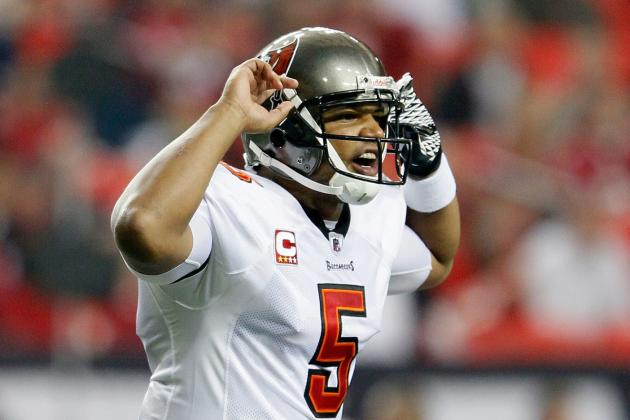 Kevin C. Cox/Getty Images
Josh Freeman has had an up-and-down career in Tampa.
Josh Freeman's final college season was not as good as most of the others in this comparison.
His completion percentage was only 58.9, he threw for less yardage—2,945—than the others.
He did have 20 touchdown passes and only eight interceptions.
He was a first-round pick of former Bucs coach Raheem Morris. Morris had been on the staff of Kansas State during Freeman's time there.
In 2010 he had 25 touchdown passes and only six interceptions.
He took a step back in 2011, throwing only 16 touchdown passes with 22 interceptions.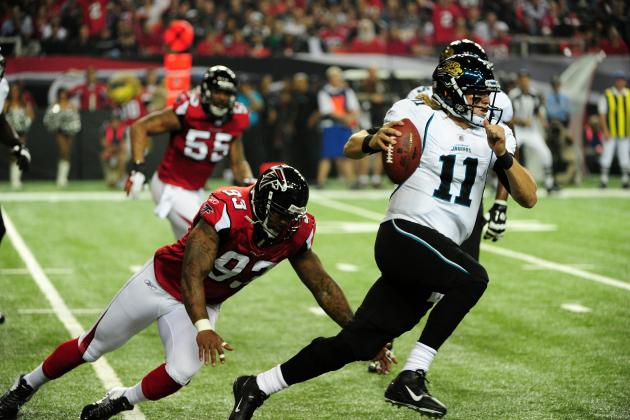 Scott Cunningham/Getty Images
Blaine Gabbert spent most of his rookie NFL season on the run.
Blaine Gabbert had a modest final season of college football.
His 2010 season at Missouri totaled 3,186 passing yards, 16 touchdowns and nine interceptions.
He was the 10th pick of last year's NFL draft by the Jacksonville Jaguars.
The wisdom of that pick is now questionable. It probably got ex-coach Jack Del Rio fired.
Gabbert looked totally unprepared for the NFL. The only quarterback with a lower completion percentage was Tim Tebow.
He was also the lowest rated among NFL starters.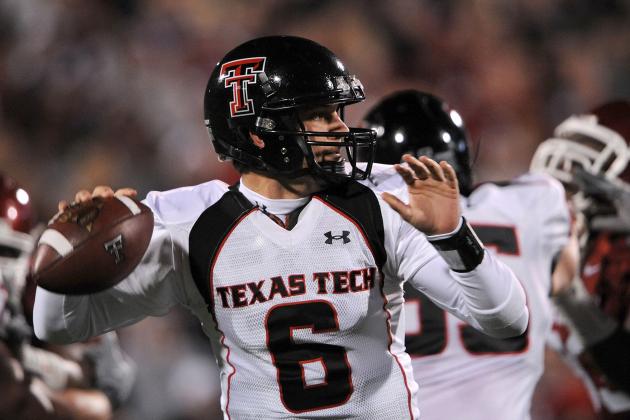 Ronald Martinez/Getty Images
Graham Harrell had a great season in 2008.
Graham Harrell had a fantastic final season at Texas Tech in 2008.
Under the pass-happy offense of head coach Mike Leach, he threw 626 passes, completing 442 for 5,111 yards and 45 touchdowns. His nine interceptions were incredibly low for someone who passed so many times.
Apparently, NFL scouts weren't impressed.
He was not drafted, and has spent the past two seasons with the Green Bay Packers as a practice squad player, or as a third-string quarterback.
He has not taken a snap in a regular season NFL game.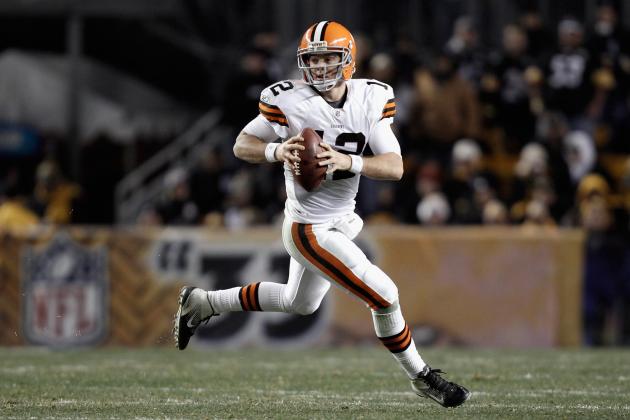 Jared Wickerham/Getty Images
Colt McCoy has struggled as Browns quarterback.
Colt McCoy led the Texas Longhorns to a Big 12 title, and into the BCS title game in 2009.
He completed 70.6 percent of his passes for 3,521 yards, with 27 touchdowns and 12 interceptions.
However, he was hurt in the BCS title game, which could have caused him to fall in the 2010 NFL draft.
In his NFL career, he has as many touchdowns as interceptions—20.
He might be best remembered in 2011 for being hit by Steeler James Harrison and suffering a concussion.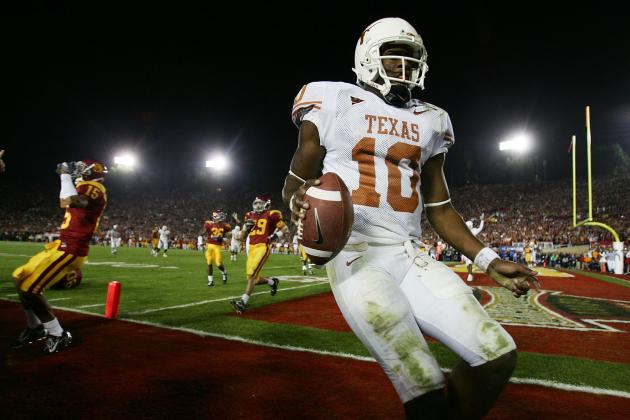 Donald Miralle/Getty Images
Vince Young led Texas to the 2005 National Championship.
Vince Young had a final college season to remember.
In his 2005 season he was 212 for 325 passing, totaling 3,036 yards, with 26 touchdowns and 10 interceptions.
He capped off his college career with a spectacular game against USC to win the National Championship.
He was the Tennessee Titans' first-round pick in 2006, being drafted with the third pick.
His NFL troubles have been well documented, so I won't go into all that.
He spent 2011 as Michael Vick's backup in Philadelphia.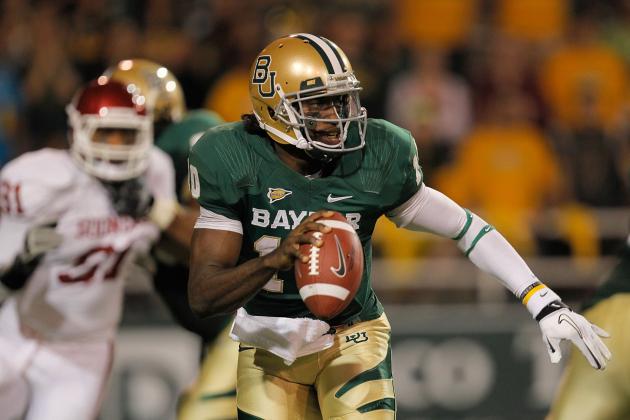 Sarah Glenn/Getty Images
Robert Griffin III won the Heisman Trophy in 2011.
In Griffin's Heisman Trophy winning season, he was 267 of 369 passing, a completion rate of 72.4 percent.
He had 3,998 yards, 36 touchdowns and only six interceptions.
So, is he worth the second pick or is he another Big 12 quarterback who piled up gaudy numbers against teams that can't play defense?
Only time will answer that question.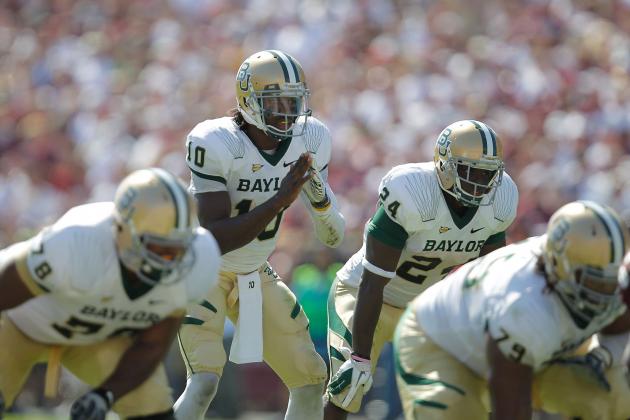 Sarah Glenn/Getty Images
Robert Griffin III is worthy of the second pick in the NFL draft.
Griffin's six interceptions in 2011 were less than any other. His completion percentage of 72.4 was second to Chase Daniel's 72.9 percent.
Bradford, Daniel and Harrell all threw for more yards and touchdowns, however they threw significantly more passes than Griffin did in his final college season.
Griffin is a better prospect than any of these, except maybe Bradford—and he was a No. 1 pick.
So, while the Browns, or anyone else, should consider the troubles of Big 12 quarterbacks in the NFL, would they be foolish to let the opportunity pass?