Brandon Roy: Why He Should Make His Comeback with the Chicago Bulls
March 11, 2012

Jonathan Ferrey/Getty Images
The recently retired Brandon Roy is already considering making a comeback.
Roy had this to say to Eurobasket.com during the All-Star break, "It's hard being away from the game. Don't be surprised if you see Brandon Roy make his way back to the court." 
He also hinted that his retirement was not completely health related.
If Roy does attempt a comeback, he will be unable to do it with his former team the Portland Trail Blazers. Under the new CBA, he would not be allowed to rejoin the Blazers until his contract expired, which is after the 2014-2015 season. The reason for this is because Portland used their amnesty clause on Roy.
Roy cleared waivers after being released and before retiring, so if he did come back he would be an unrestricted free agent.
So what team would be a good landing spot for the 27-year-old guard?
I'm sure several teams would be interested in the former All-Star, but how about the Chicago Bulls?
I think the Bulls would be an ideal place for Roy to prove he is healthy and ready to continue his career. 
Adding Roy could be the piece that pushes the Bulls past the Miami Heat.
In Chicago he would be joining a very deep team that would not need to rely on him to play heavy minutes. The Bulls have a great starting five and a very good bench but Roy could provide that special piece to the bench, which they currently lack.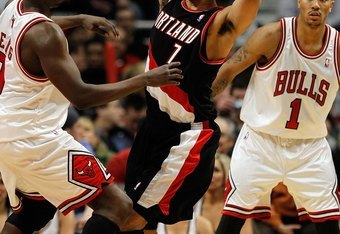 Jonathan Daniel/Getty Images
Not only could Roy help the Bulls this year but in the future as well.
Chicago signed Richard Hamilton this offseason to be their starting shooting guard, inking him to a three-year deal with the third year being a team option. So far that signing hasn't paid off as Hamilton has only appeared in 16 games this season.
With Hamilton being banged up it has left the Bulls extremely thin in the backcourt. They have had to start Ronnie Brewer leaving Kyle Korver the sole backup for both the SG and SF spots.
Roy's ability to handle the ball as well as play off it makes him an ideal backcourt mate for Rose. His size and ball-handling ability make him extremely versatile which is something this team lacks.
This current Bulls team lacks that jack-of-all-trades player on the bench. For example, during the last three-peat, Phil Jackson was able to use Toni Kukoc in numerous ways. Kukoc could line up anywhere from point guard to center.
While Roy probably won't be lining up at power forward or center, he can play any of the three wing positions.
Back in 2006, I desperately wanted John Paxson to draft Roy. I thought he would be the perfect fit alongside Kirk Hinrich and Ben Gordon that could have formed maybe the best three-guard combo in the league. 
Instead they ended up with Tyrus Thomas and we all know how that went.
Bringing in Roy makes just as much sense now as it did in 2006, so if he does attempt a comeback, I would expect the Bulls to be one of his suitors.
Now the question of if he will attempt a comeback is one only Roy can answer himself. However, if he does, I wish him nothing but the best wherever he ends up playing, but I'll be hoping it's with the Bulls.
Make sure to follow me on Twitter @dachicagofan, and check out my weekly Bullspodcast every Wednesday on my site, The MG Experience.