New England Patriots Free Agency: Must Re-Sign Rob Gronkowski, Aaron Hernandez
March 4, 2012

Rich Schultz/Getty Images
The New England Patriots head into the NFL free-agency period starting March 13 with approximately $20 million of salary cap space, based on 2011 totals.
That figure will be made official in the coming days, as the 2012 ceiling is rumored to come in around the $123 million mark per team. Regardless of the final figure, the Patriots have enough breathing space to move in any number of directions to solidify the roster.
The Wes Welker contract negotiations have dominated the offseason headlines, and assuming a deal can be struck, an additional $6 to $7 million of cap space will be used on the veteran wideout next season.
That still leaves enough freedom for Bill Belichick to make a position upgrade or two on the open market, with names such as Mario Williams, Mike Wallace and Marques Colston on the fans' wish list in Patriots Nation.
As much as a sexy free-agent acquisition gives the Patriots hope for a swift return to the Super Bowl—and let's not forget, the Tom Brady window is closing as he approaches 35—the long-term interests of the team still need to be balanced against a "win now" mentality.
Tempting as a free-agency splash may be, a bigger problem looms on the horizon.
Tight ends Rob Gronkowski and Aaron Hernandez are signed to cheap rookie contracts through 2014, but they have developed at such a rate that not only have they outplayed their deals by a distance, but the cost of re-signing either of the prolific duo goes up with each touchdown catch.
To recap the importance of their production to the Patriots offense in 2011, the "Boston TE Party" combined for 2,237 yards, or 43 percent of all Tom Brady's passing yardage.
Gronk and Hernandez also scored 24 of the team's 39 passing touchdowns, or 62 percent, highlighting their contribution to the fourth-best red-zone offense in the league.
The NFL cliche "matchup nightmare" is used to describe a number of qualities, but the two Patriots tight ends combine to have it all. Speed, power, height, hands and elusiveness. With both on the field, you have to pick your poison—commit to stopping one, and the other will get you.
All this, for base salaries of $540,000 and $490,000 next season.
Allowing both Gronk and Hernandez to play out their rookie deals presents two problems. First, you have two unhappy players in the locker room, who deserve far greater rewards for their contribution.
Second, you can't afford to keep both—Gronkowski just broke all single-season tight end receiving records, and Hernandez plays like a slot receiver, and will expect to get paid like one. Both players will set a new bar in the market for their position in 2014.
Sign them now however, and the Patriots have some leverage in keeping the overall costs down. They get paid two years early, and are better guaranteed for injury. Such goodwill will bring their agents to the table in a receptive mood.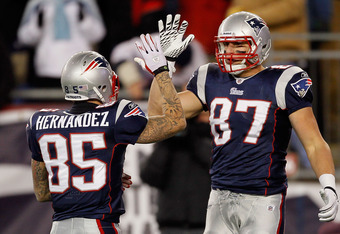 Jim Rogash/Getty Images
So, what will it take to get both deals done this offseason?
For Gronkowski, who has redefined the position, a contract in the realm of Jason Witten's extension in 2011 is a sensible starting point. A five-year, $38 million deal with $20 million guaranteed, might be enough to secure his signature.
Hernandez didn't quite scale the heights of his partner in 2011, but remains a vital cog in the open field, making players miss with his speed and change of direction.
Five years, $30 million with $15 million guaranteed doesn't compare to what other teams would offer him on the open market in 2014, but the opportunity to earn a $6 million average per year right now could clinch it.
The thinking from the Patriots' standpoint is simple. By locking up the pieces to their prolific passing attack now, they can maintain a top-five offense for the next few years, keeping Brady's favorite targets in Patriot's uniforms until the day the quarterback finally retires.
As one of the most effective managers of the salary cap in the NFL, the Patriots will find a way to avoid the mistakes of teams such as the Pittsburgh Steelers, whose offseason has already resulted in some deep cuts.
And as the move to tie up Jerod Mayo to a five-year extension last year shows, they are willing to pay their core contributors, sending a positive message to the rest of the locker room that the organization rewards on merit.
So if the Patriots don't make any eye-catching moves on March 13, try not to worry. Belichick could be working on keeping the "TE Party" in Boston a little while longer.
Follow Nick on Twitter @nickbutterworth