100 Steamiest Swimsuit Pics in Sports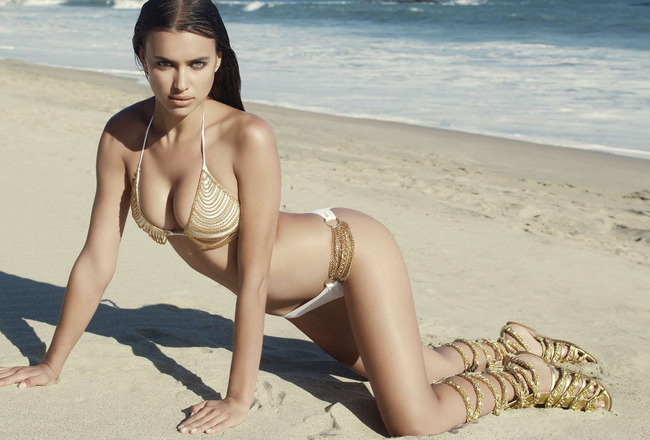 Sweaty determination, daunting focus and an affinity for sand. The essentials for dominating any beach photo shoot.
But while many women in the sports world continue to scratch and claw for that extra bit of steam in each pic, only some truly grasp the art of seduction.
From naturally basking in a sunny ambiance to attacking their salt-watered environment with a passionate aggression, these beauties have become the perfect compliments to rough surroundings.
Let's take a look at the steamiest swimsuit pictures in sports.
If times get tough, just remember, Margaret Thatcher naked on a cold day.
100. Shannan Click Becomes Her Character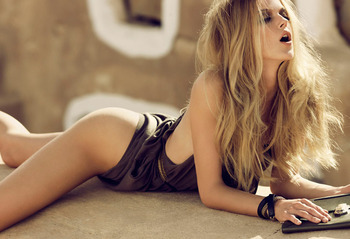 Quite the entrance. She's such a tease.
99. Gisele Bundchen Sparks Controversy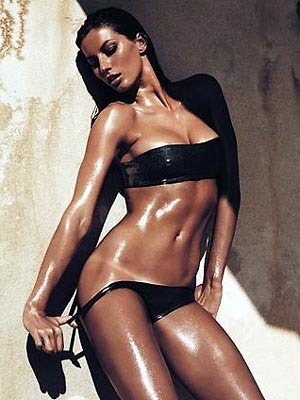 Well that explains the dropped passes.
98. Elin Nordegren Is Still a Legend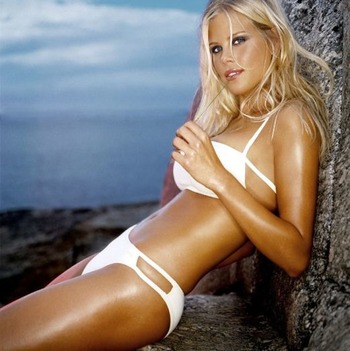 Grab some clubs, hire a proven trainer with the divorce settlement earnings and get the ultimate revenge on your ex. Dominate those 18 holes like he once did.
97. Anastasia Ashley Takes a Breather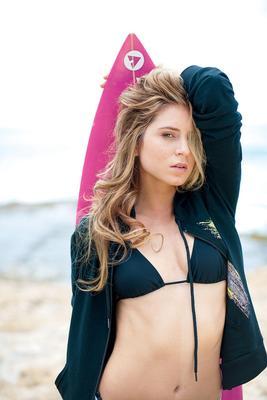 Just another day at the office for sexy surfers.
96. Lauryn Eagle Takes a Dip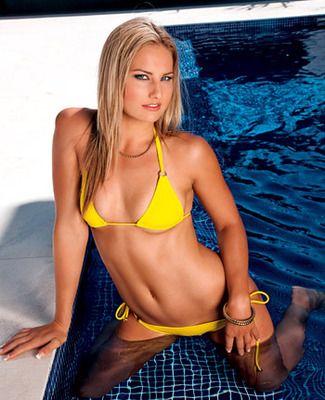 A hot tub would be a slight, but necessary improvement.
95. Kelli Hutcherson Keeps It Real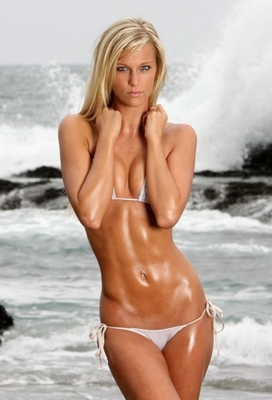 Always forgetting her ring card.
94. Michelle Waterson Always Dominates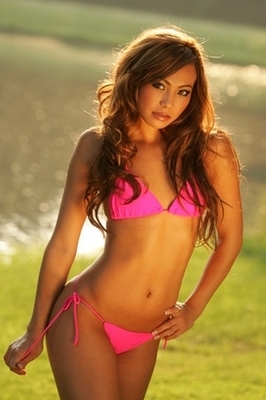 The Karate Hottie is clearly a Zen master.
93. Anna Kournikova Is Her Own Backup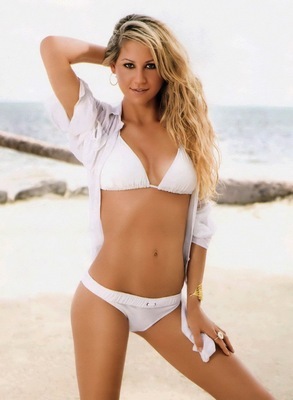 A legend in the beauty business.
92. Danica Patrick Enjoys the Sun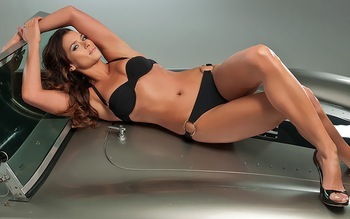 Clearly a beach for drivers.
91. Niki Gudex Pedals to Victory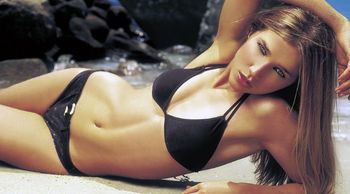 Always practicing her craft.
90. Ashley Constantini Destroys Cities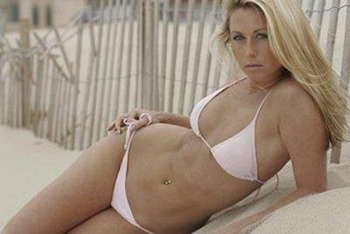 She's easily winning this staring contest.
89. Yesica Toscanini Makes Her Move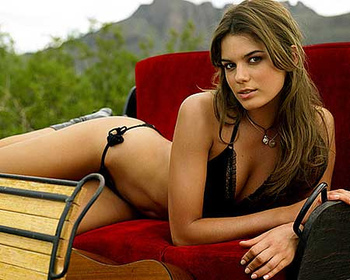 Always surprising her audience with a slight smile.
88. Alyssa Miller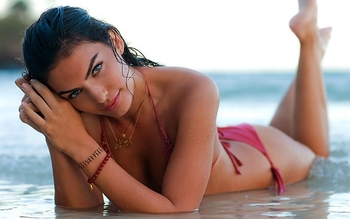 87. Alana Blanchard Lives the Dream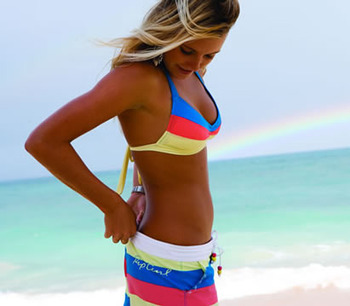 Can someone help her out, please.
86. Anna Semenovich Turns Back the Clock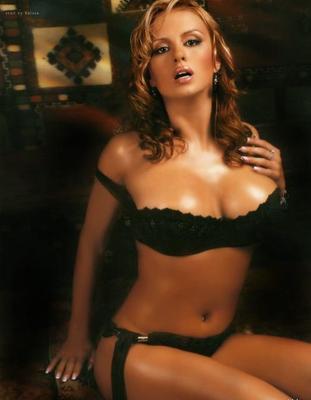 That looks enough like a bathing suit.
85. Cheering for Sunlight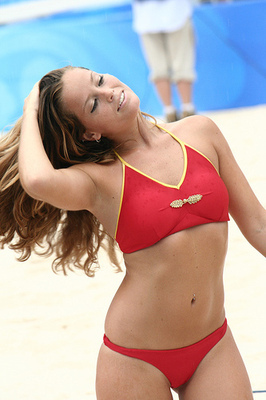 Just a slight tilt of the head sparks chaos.
84. Sylvie Van Der Vaart Embraces the Crowd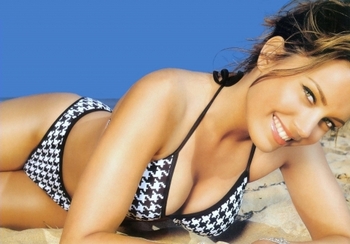 Her magnetic eyes are impossible to ignore.
83. The Feres Twins Tempt the Fates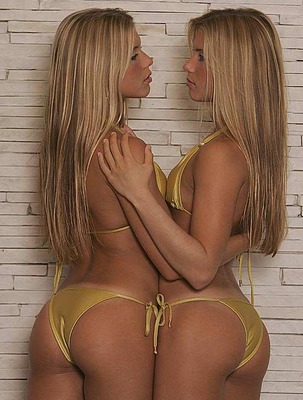 Comeback player(s) of the year award goes to...
82. Ashley Russell on the Prowl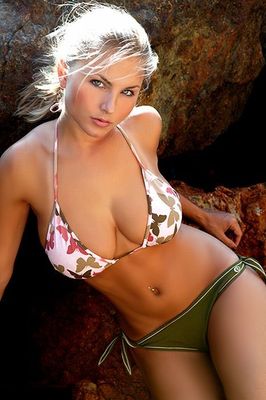 She must not have any snare in her headphones.
81. We're Desperate for Eva Longoria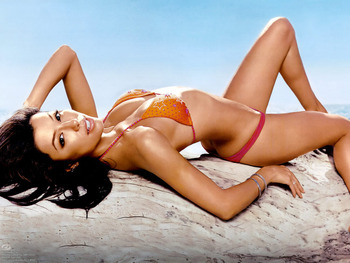 We'd like Tony Parker to quietly retire now after what he did to this goddess.
80. Jenn Sterger Looks Back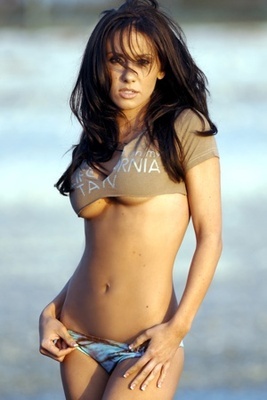 Seductive, possibly vindictive and eager for the spotlight, she can't possibly be forgotten.
79. Katelin Swift Reeks of Promise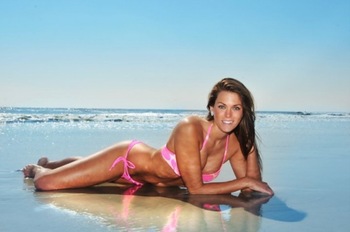 Despite graduating in '10, we're still stuck on the sexy UNF footballer-turned model.
78. Bar Refaeli Sparkles in the Limelight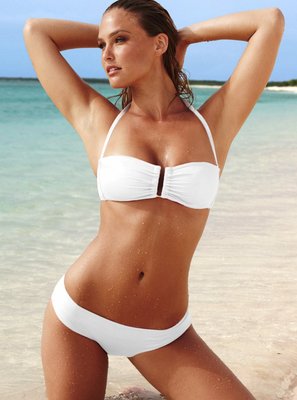 A sandbar never looked so good.
77. Checking into the Past of Carmen Electra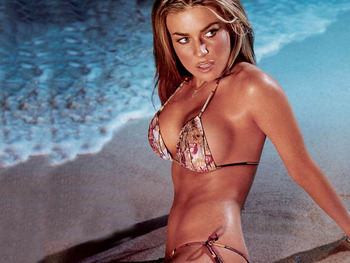 Thank you, Dennis Rodman.
76. Amanda Beard Tests the Waters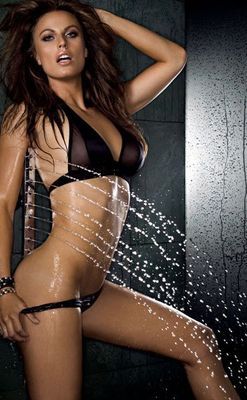 Just getting her feet wet, as usual.
75. A New Update from Carrie Milbank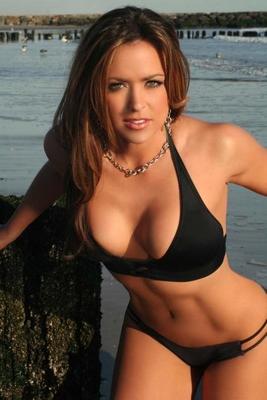 Boating accidents were surely up that day, and don't call her Shirley.
74. Christa Alves Cements Her Name
A natural ability to shine.
73. Blair O'Neal Is Here to Stay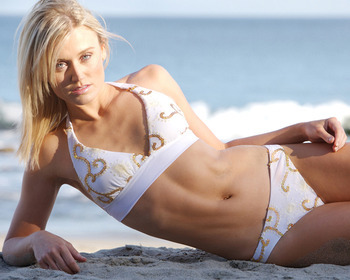 Remaining a mystery with her angry eyes and subtly seductive smile.
72. Lorena Bernal Attacks the Lenses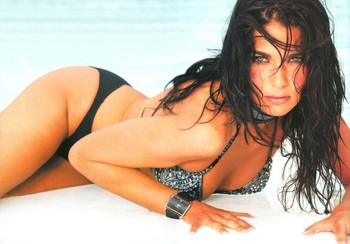 Relax now, these cameramen can only withstand so much seduction.
71. Dallas Friday Takes the Weekend off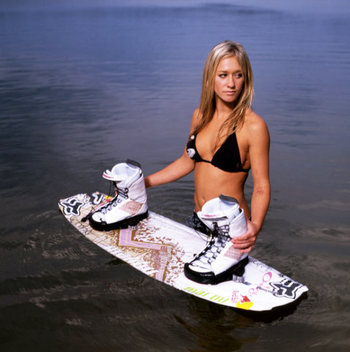 Perfectly surrounded by serenity.
70. Danielle Lloyd Changes It Up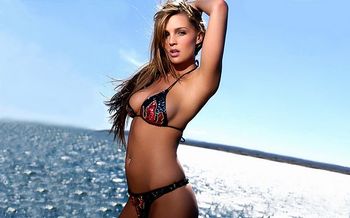 Another unstable camera crew. Or perhaps their version of modern art.
69. Selita Ebanks Pulls out All the Tricks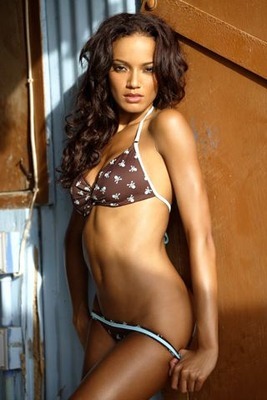 She's always been a crafty veteran.
68. Lacy Schnoor Makes the Descent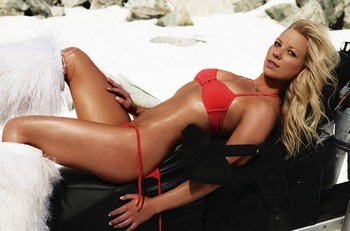 The slopes are looking mighty fine this morning. Dress code negotiable.
67. Emily Kuchar Climbs the Charts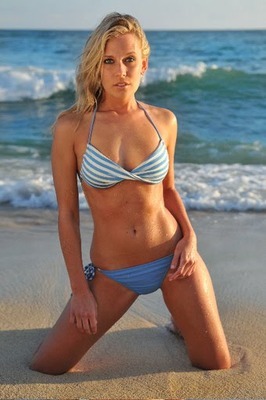 The future looks bright for the budding Brewers.
66. Ana Ivanovic Paints a Masterpiece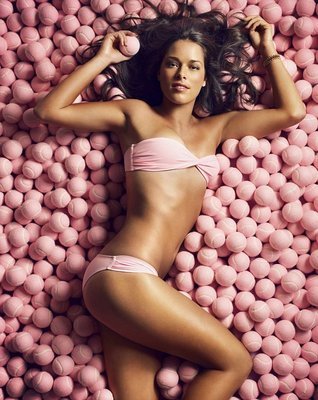 65. Two-a-Days with Niki Ghazian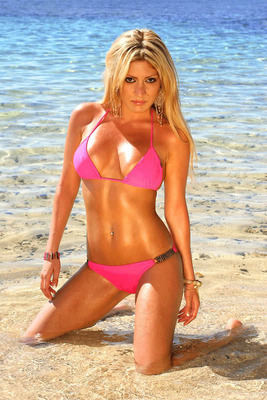 Always getting straight to the point...perhaps more vicious away from the gridiron.
64. Liv Boeree Shows Her Hand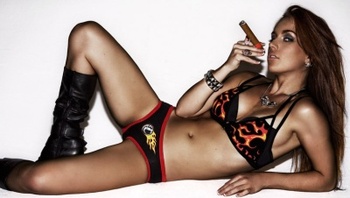 Violent swimsuit, hefty cigar and the best poker face in town...we're quite entertained.
63. Fabiana Semprebom Takes a Peek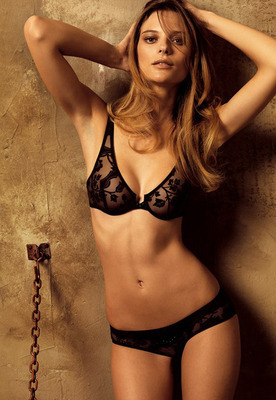 Guillermo Canas likes to play on all surfaces.
62. Trophy Day for Reby Sky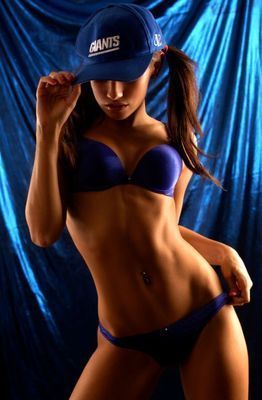 Clutch moments met with clutch plays.
61. All-Star Weekend for Hilary Rhoda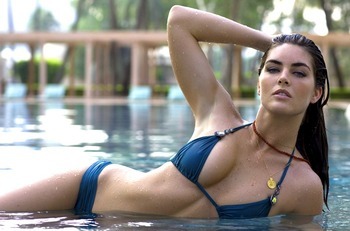 Mark Sanchez needs to take his talents to the gridiron.
60. A Bright Past for Daniela Hantuchova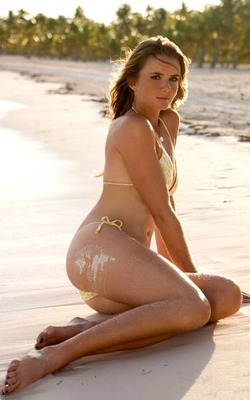 A racket and tennis court seem unnecessary.
59. Stacy Keibler Brings the Goods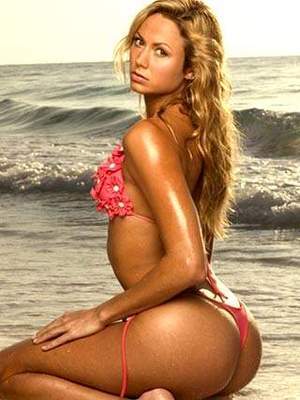 Not like the similarly-named elf.
58. Veronica Varekova Preys on Viewers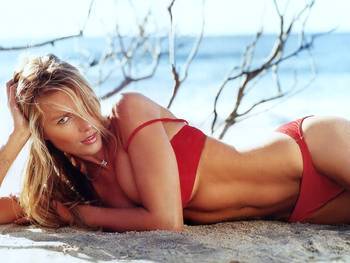 An established veteran of the swimsuit industry.
57. Anastasia Ashley Stays Relevant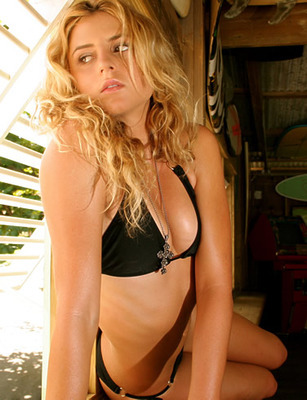 56. Izabel Goulart Slams Cities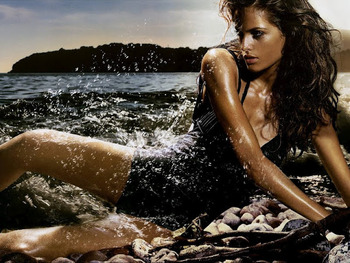 Just clashing those Titans.
55. A Visit from Jessica Burciaga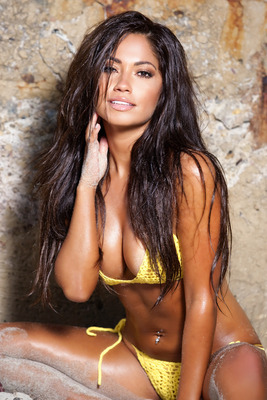 54. Jenn Brown Sets Her Sights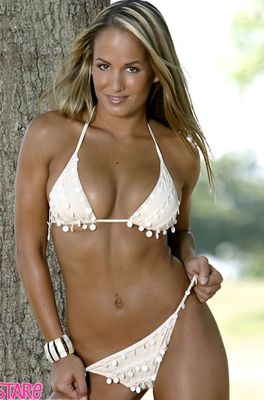 Typical dress code for a Tuesday morning.
53. Searching for Marikym Hervieux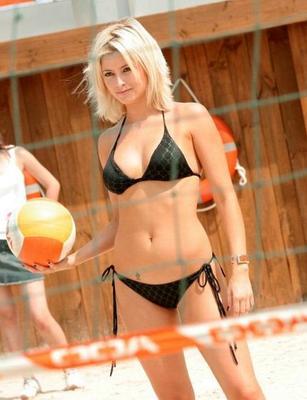 Thin netting can't possibly stop us.
52. Texans Counting on Kisha for Support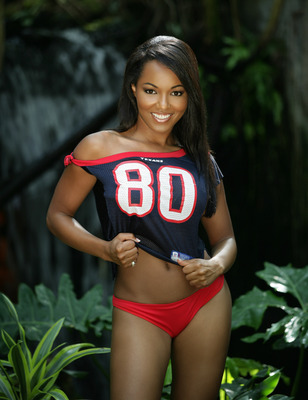 So much young talent in Houston.
51. Carrie Prejean Hits the Gridiron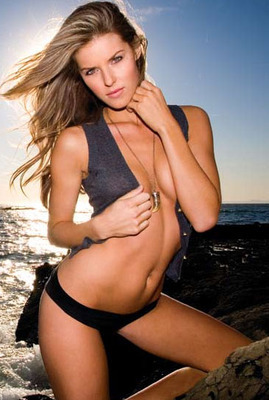 Tossing better spirals than her husband, like usual.
50. Halftime: Time for a Sauna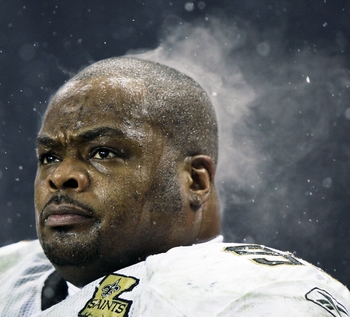 Perhaps steamier than most swimsuit pics, a two-piece seems like overkill.
49. Elsa Benitez Comes out a Winner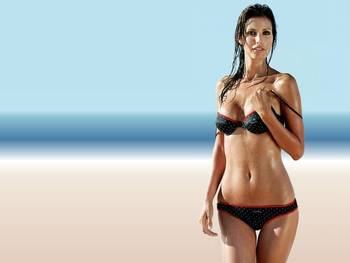 Dripping with potential at the start of the second half.
48. Damaris Lewis Gets Involved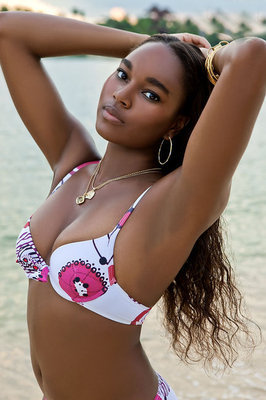 47. Kristi Leskinen Keeps Breaking Records
Background heat, a soft terrain and eager cameramen...yeah, sounds like a beach.
46. Shanelle Loraine Calls the Shots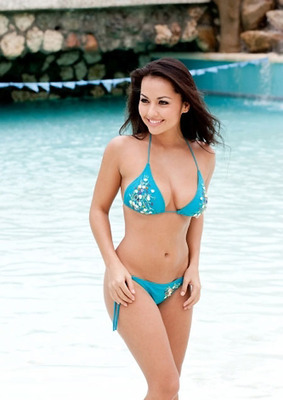 Cue sports have never quite been this sexy.
45. Back to the Drawing Board for Lara Dutta
Her creativity can't possibly be stifled any longer.
44. Lindsey Vonn Intrigues Us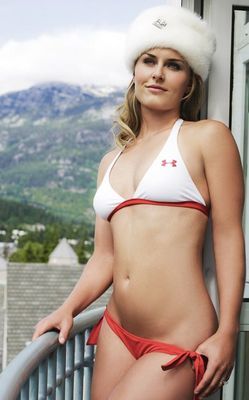 Mesmerizing eyes, perfectly placed advertisements and a quiet smile...we can't ignore the warming aura.
43. Lisa Dergan Podsednik Keeps Stealing Bases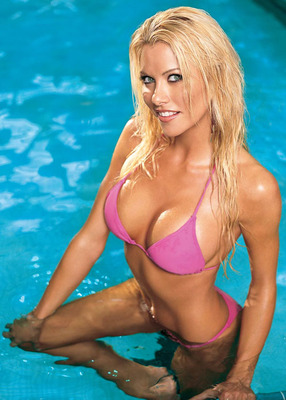 The devilish grin makes us a bit suspicious of her intentions.
42. Studying Maria Kanellis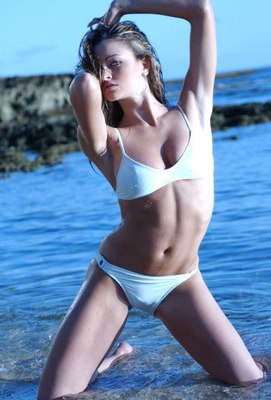 The melancholy blue backdrop hints at a violent nature.
41. Luli Fernandez Maintains Tradition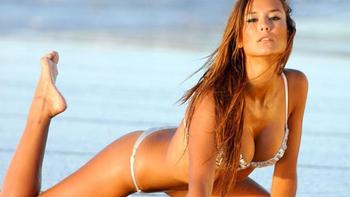 Each football WAG more exotic than the last.
40. Leeann Tweeden Lurks in the Darkness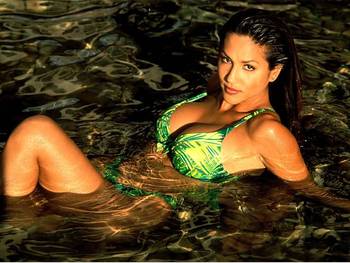 Poisonous, lethal and seductive...a potent combination.
39. Carrie Milbank Shocks the World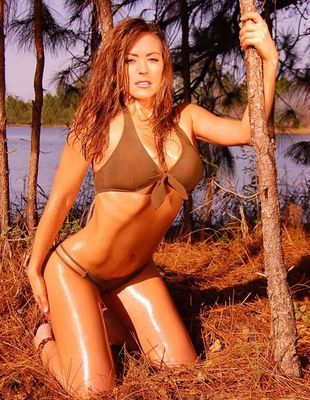 Authenticity of her beauty obviously in doubt. Just kidding, Carrie, you're all real.
38. A Morning Chat with Jessica Gomes
Only if you're a cameraman, though.
37. Maria Sharapova Watches the Time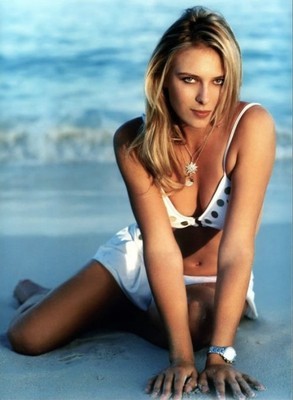 At least she won't be late to her fifth photo shoot of the morning.
36. Mercedes Terrell Tarnishes Her Surroundings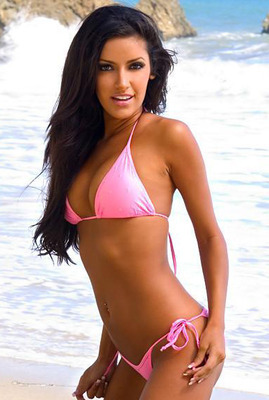 Waves crashing behind, electronic equipment shattering straight ahead...just another routine photo shoot for this '89 Bordeaux.
35. Melanie Collins Brings Back the Silent Film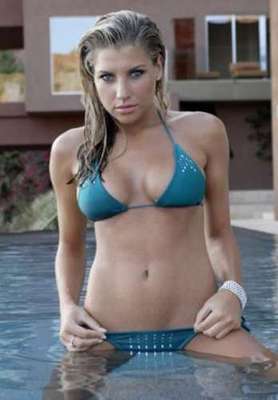 While certainly a stout journalist, the spoken word seems unnecessary for Melanie Collins.
34. Michelle Waterson Is the Bait and Tackle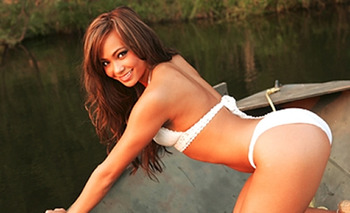 The ideal way to improve any routine fishing trip.
33. A Day in the Life of Melissa Satta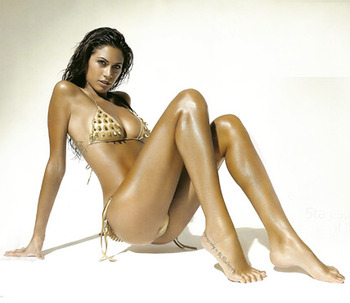 Perhaps the most memorable legs in Italian WAG history.
32. Kate Upton Becomes Upscale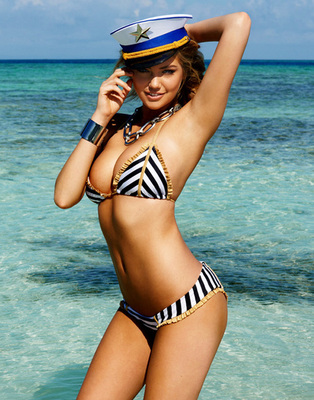 "It's not a boat, it's a yacht."
- Reese Feldman from Starsky & Hutch
31. Noemie Lenoir Meets Her Match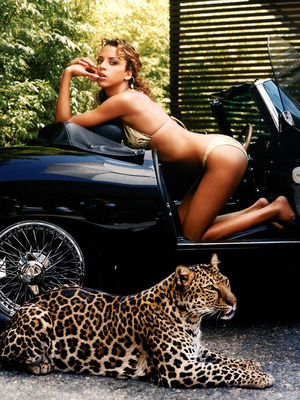 Sexiest tiger known to man.
30. Reby Sky High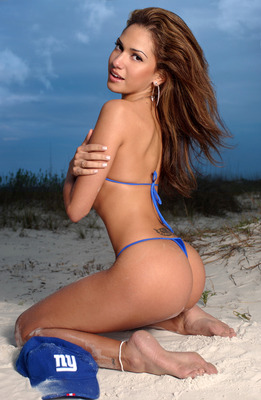 Few fans produce such masterpieces for their teams, just saying.
29. Falcon Punch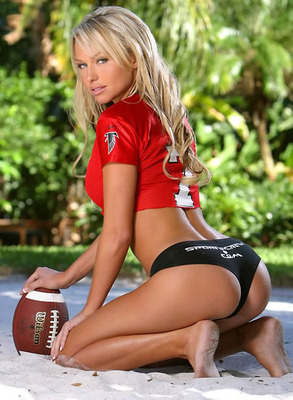 The enthusiastic Atlanta diehards.
28. Sara Tommasi Meets Nature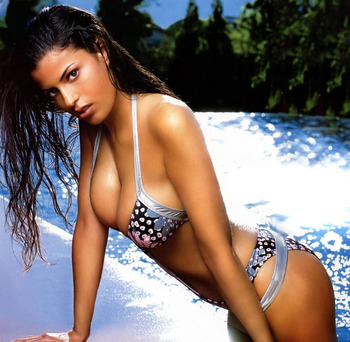 Strange and sexy wilderness.
27. Kelly Brook Joins the Scrum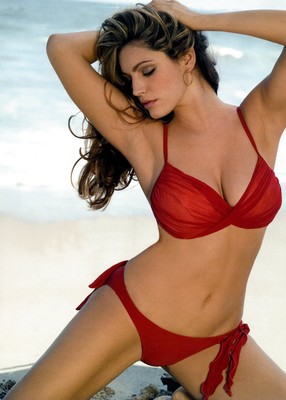 She was once the only way to stop Jason Statham.
26. Training Session with Federica Ridolfi
This is likely before the workout even started.
25. Genevieve Morton Leans Towards Vintage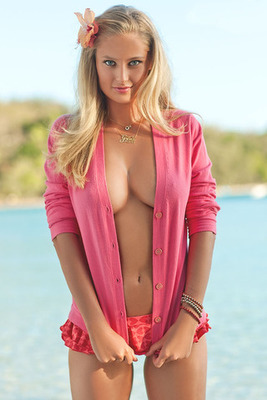 24. Arianny Celeste Escapes the Shadows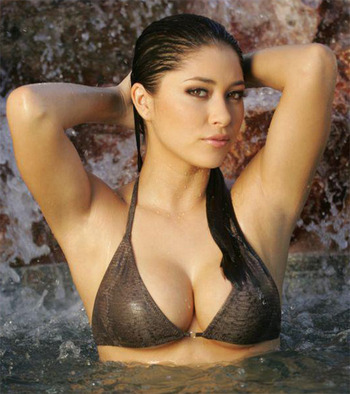 Not like she ever truly lacked enthusiastic paparazzi.
23. Brittney Palmer Hones Her Skills
One magical photo shoot away from greatness...oh wait.
22. Malia Jones Checks in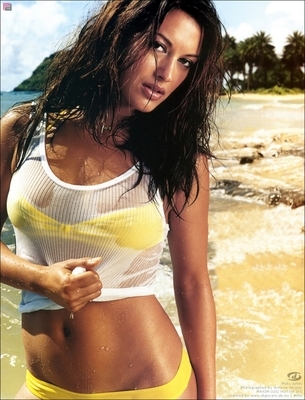 Surfing through the minds of fans and cameramen.
21. Brooklyn Decker Rises Above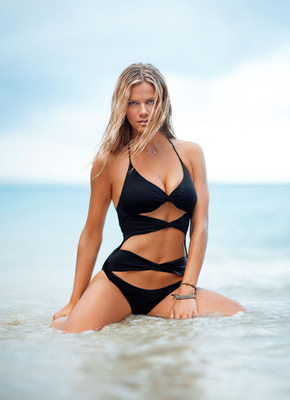 The only way to sedate Andy Roddick.
20. Kim Glass Shatters the Competition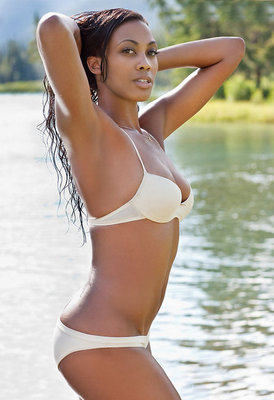 Pottery smashing, riots aplenty, Tyra Banks likely scheming somewhere in the distance...the life of Kim Glass.
19. Ashton Torres Steams the Castle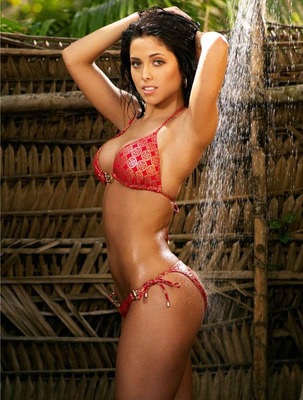 A solid reason to despise the Cowboys.
18. Mercedes Terrell Prepares for Battle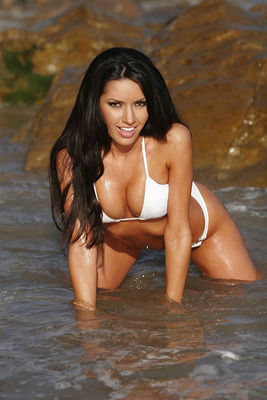 We can't keep our eyes off the sexiest part of the Bellator Fighting Championships.
17. Ana Ivanovic Stays Aggressive
Success far beyond the tennis court.
16. Carmella DeCesare Remains Supreme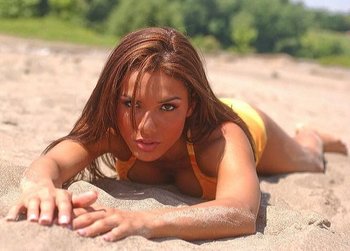 15. Arianny Celeste Chills out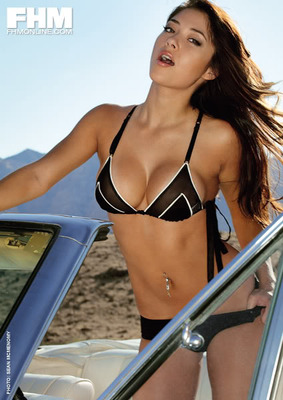 A sweet road for the lovely Octagon Girl.
14. Jessica White Draws a Dream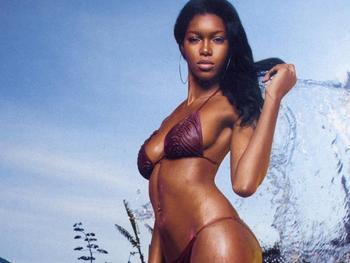 13. Esti Ginzburg Maintains Tradition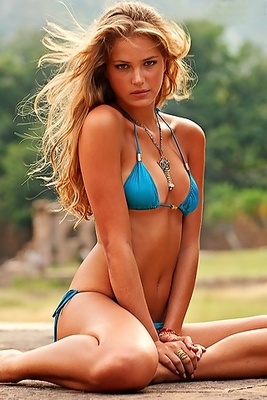 Keeping true to her roots.
12. Aida Yespica Dreams Big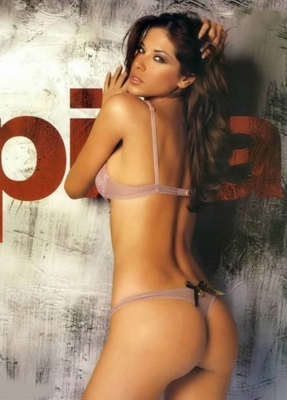 Just another routine outfit.
11. Joanna Krupa Dances with the Stars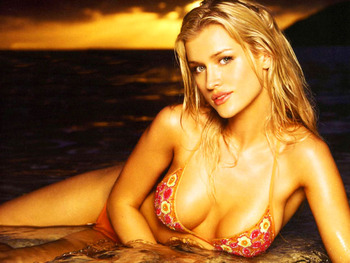 Radiant, persuasive, fearless. We'd expect nothing less from a two-time Playboy cover girl.
10. The Gaseous Phase of Water
9. Marisa Miller Basks in the Ambiance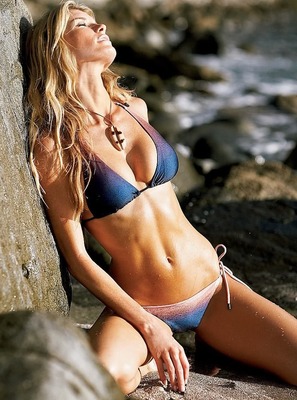 Luckily a cameraman is often posted up nearby.
8. Alana Blanchard Returns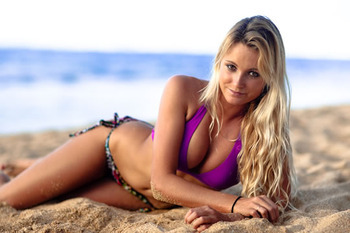 Most sequels fail mightily, but not this one.
7. Bar Refaeli Feat. Sunset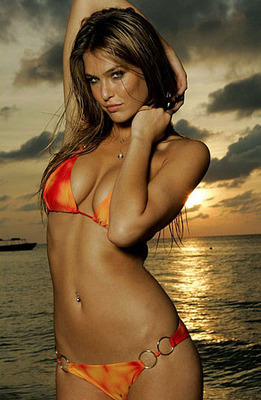 6. Adriana Lima Remaining Mysterious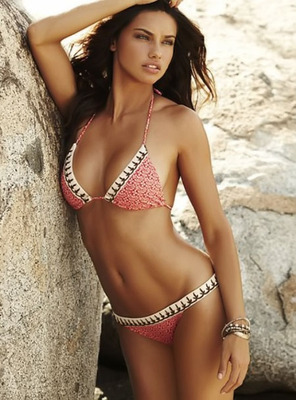 5. Zach Galifianakis Is a Marvel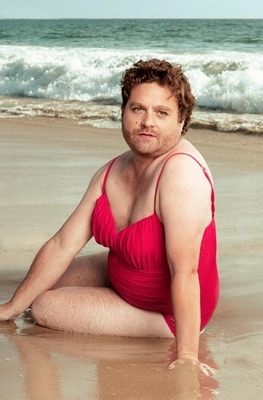 4. Irina Shayk Captures All Angles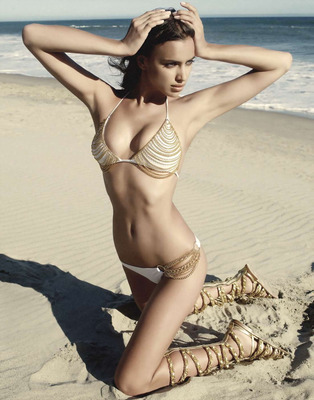 3. Leryn Franco Finds Tranquility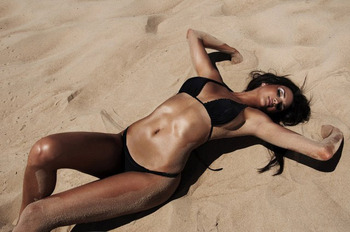 Always working on her prolific javelin toss.
2. Abbey Clancy Mixes Colors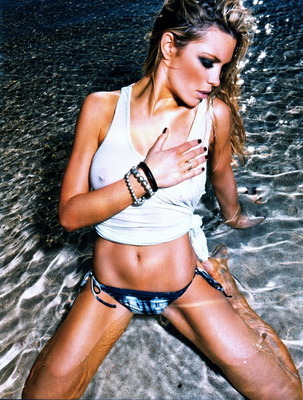 No love for Peter Crouch here.
1. Niki Gudex Continues Her Reign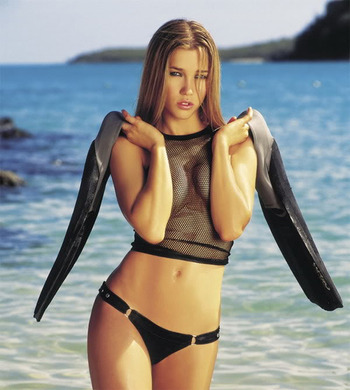 Keep Reading