Turning the San Antonio Spurs into a Dynasty Again with Dwight Howard or $48 Mil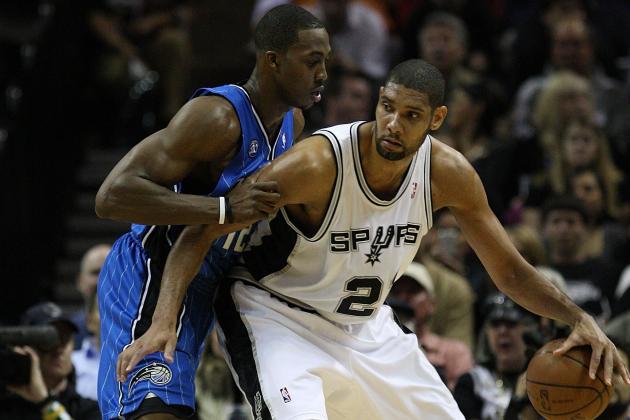 Ronald Martinez/Getty Images

The San Antonio Spurs are done, Texas Toast, done!
Please allow me to preface this article by saying that I despise the San Antonio Spurs. As a Lakers fan (due to the signing of Shaquille O'Neal and drafting of Kobe Bryant, my two favorite players of all time) since the summer of 1996, I can do no other.
However, I also consider myself to be an armchair General Manager. And I take as much joy in concocting trade proposals and figuring out ways to rebuild and strengthen each and every NBA franchise as most fans do in watching their favorite team stomp their rivals to dust in a playoff game; strange but true. I have had a gift for numbers since childhood and could almost instantaneously memorize the stats of every player on an NBA team at a very young age. Today I have committed the salary of every player on entire team rosters to memory … for fun. Yes, I'm a 6'3", 250lb, Che Guevara look-a-like "numbers geek".
I also have no qualms admitting that the San Antonio Spurs have been one of the most magnificently managed teams in professional sports over the past two decades, that they are a team worthy of respect and admiration … and that they are team on the decline who's future is anything but clear, let alone bright.
All of the above said, this article is dedicated to proposing just one simple 4-step plan that could return the Spurs to their former glory, close out Tim Duncan's career with another title or three and give the Spurs fan-base a future to be excited about.
Here are the four steps to the "San Antonio Spurs Dynasty Plan":
Begin Slideshow

»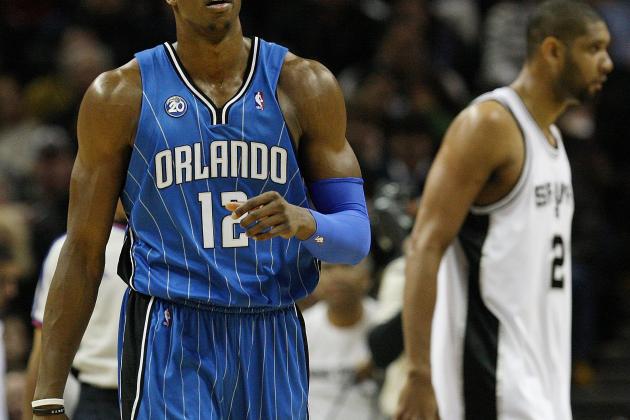 Ronald Martinez/Getty Images

Step One: Make a Major Play to Acquire Dwight Howard from the Orlando Magic
Spurs Trade: Tony Parker, Manu Ginobili, Tiago Splitter, Matt Bonner, Picks and Cash
Magic Trades: Dwight Howard, Jameer Nelson and Von Wafer
TNT talking head Charles Barkley declared the Spurs the best team in the Western Conference. Which is the equivalent of Barkley's past prediction that Kobe Bryant wasn't capable of ever averaging 30 points per game in a mere 7 game playoff series. That is to say, a ridiculously insane prediction.
The only chance the Spurs, as constructed, have to win the NBA title this season is if the opposing team's superstar in each playoff round they advance to is injured, period. The Spurs could indeed beat the Lakers sans Kobe Bryant, Thunder sans Kevin Durant, Heat sans Lebron James or Bulls sans Derrick Rose. But if any of those four players are healthy, the Spurs have no chance beating their respective teams in a 7 game playoff series, no chance at all. Despite Charles Barkley's declaration of Spurs dominance, the fact is, the Spurs as constructed are done being an elite team.
However, with a Dwight Howard and Tim Duncan pairing, the Spurs would at least present matchup problems for every team in the league. And if the Spurs happen to avoid the Lakers in the playoffs, they just might find themselves in the hunt for a championship.
Before we consider why the Spurs would propose such a trade and what their ultimate goal would be in doing so, it would be wise to consider whether the Orlando front office would agree to such a proposal. I believe they would and my reasoning is as follows:
Orlando Magic owner Richard DeVoss, Sr. has made it clear that he wants the Magic to compete for and win an NBA championship during his lifetime (he will turn 86 years of age around the trading deadline this season) and that he has no interest in trading Dwight Howard to begin a massive rebuilding program or youth movement. He wants to win, now! This said, while most talking heads feel the Magic will demand Hedo Turkoglu be a part of any Howard trade in order to shed his salary from their books. But unless the Magic can get a quality starting small forward in return, this writer does not believe including Turkoglu is a "must" for the Magic or their owner.
If DeVoss truly wants to win now, trading Howard, the little used Von Wafer and a point guard who seems likely to opt out of his contract next season and leave the Magic with nothing anyways, (as in Jameer Nelson), for a package including All-Star point guard Tony Parker, Argentinian legend and shooting guard Manu Ginobili, future star center Tiago Splitter, a quality locker room presence and "stretch 4" in Matt Bonner, a bevy of picks and $3 million in cash would be quite a windfall for the Magic's tortured franchise.
It is being reported that the Magic are trying to do everything they can to bring in another star to play alongside Dwight Howard, in hopes they can convince him to sign a long-term extension. However, what is not being reported is that Orlando has perhaps the worst financial roster in the entire league and the only player with any real trade value to speak of other than Howard is Ryan Anderson, a player the Magic would like to hold onto.
Monta Ellis is not headed to Orlando for a garbage package of Jameer Nelson and JJ Redick. Steve Nash is not headed to Orlando for the same package, mostly due to the financial ramifications Phoenix would face. Joe Johnson is the one star player I do believe the Magic could land with a trade package of Nelson, Redick, Earl Clark and Von Wafer for Johnson and former Magic Tracy McGrady. However, I doubt such a deal happens either as even super-spender Magic GM Otis Smith may balk at taking on Joe Johnson's massive salary.
What I believe will happen with Dwight Howard is that he will play out the year with the Magic and then leave with nothing in the offseason while signing with the Nets or Mavs. It will be the Shaquille O'Neal summer horror of 96' all over again for Orlando ... unless they trade Howard before this year's trade deadline on March 15th!
The above said, if Magic GM Otis Smith is smart, he will trade Howard for the best package he can get. With Howard reportedly refusing to sign an extension with teams such as the Lakers and Warriors, the Magic may need to accept a lesser package from a team willing to take a risk on trading for a half-season rental of Dwight Howard, and hoping to convince him to sign in the offseason. The San Antonio Spurs should be such a team.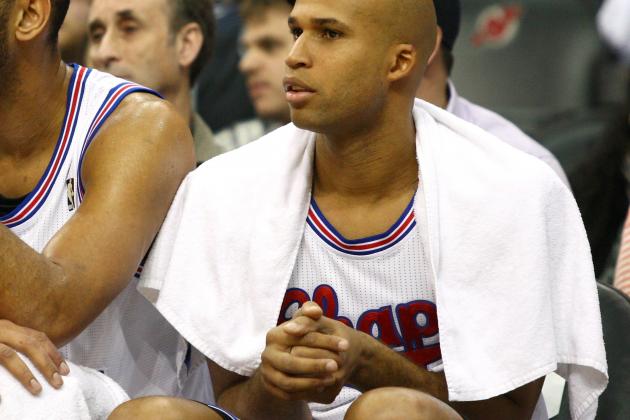 Chris Chambers/Getty Images

Richard Jefferson was one player nearly all NBA fans thought would be amnestied before the start of this season after the new CBA (Collective Bargaining Agreement) was signed. However the Spurs were wise not to amnesty him immediately; as there was not a better option available to who could replace Jefferson at the small forward spot. Had the Spurs cut Jefferson before the start of this season they may currently be struggling to even make the playoffs. But with him they are one of the deeper teams in the league and currently the No. 2 seed in the Western Conference.
The above said, the fact of the matter is that Richard Jefferson is little more than a slightly above average small forward with a horribly expensive contract who should be amnestied before the start of next season.
If the Spurs manage to pull off "Step One" and land Dwight Howard, Jameer Nelson and Von Wafer from the Magic in a trade, sign Howard to an extension and then amnesty Richard Jefferson, they would have only around $32 million dollars of salary and six players under contract for the 2012-13 season: Dwight Howard, Jameer Nelson, DeJuan Blair, Kawhi Leonard, Von Wafer and Corey Joseph.
It has been reported that the salary cap for the 2012-13 season will be around $61 million which would mean the Spurs would have upwards of $29 million to spend on free agents and bringing back the face of the franchise: Tim Duncan! The worst case scenario for the Spurs is still far superior than the current status quo in San Antonio as well. The worst case scenario would be the Spurs pull off this trade with Orlando but cannot convince Dwight Howard to sign an extension with them. If such happens, while they would not have Howard they would indeed have, not $29 million under the cap to spend in free agency, but around $48 million to spend!
Dynasty here we come!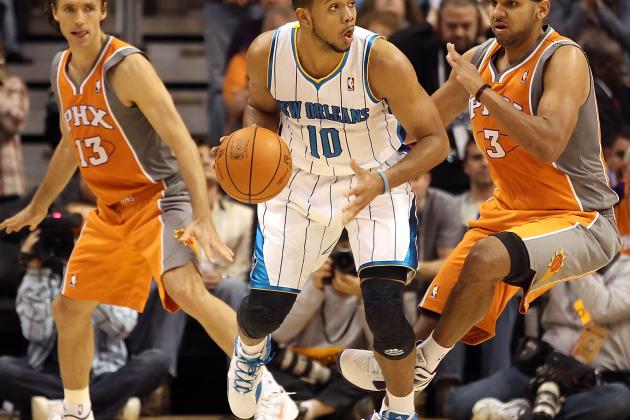 Christian Petersen/Getty Images

With Dwight Howard on board and $29 million in cap space next season, the Spurs would be in prime position to offer large contracts to acquire both a starting shooting guard and small forward. Without Dwight Howard on board and $48 million in cap space the Spurs could also add a quality starting center and an additional point or combo guard to the roster, perhaps even another power forward for additional depth.
Point guards such as Deron Williams, Steve Nash, Raymond Felton, Chauncey Billups and others will be available.
Shooting guards such as Eric Gordon, OJ Mayo and Ray Allen will be available and there is a possibility that the ultra-talented J.R. Smith will be on the market as well.
Small forwards such as Portland Trail Blazers teammates Nic Batum and Gerald Wallace may be available as well as the vastly underrated but extremely solid Wilson Chandler.
Power forwards such as Kevin Garnett, Kris Humphries, Michael Beasley and Antawn Jamison should all be available.
Centers such as Roy Hibbert, Brook Lopez, Chris Kaman and Marcus Camby should all be available as well.
If the Spurs use wisdom to complete "Step Three" in the "Dynasty Plan" they will be able to sit back and enjoy the rewards that come with dominating the 2012-13 NBA season.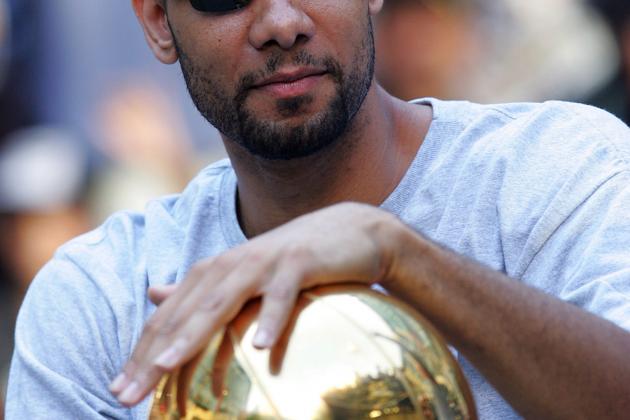 Ronald Martinez/Getty Images

With Dwight Howard on board, the Spurs would have the financial ability to sign an Eric Gordon and Wilson Chandler combo. They could also sign a solid backup center like Marcus Camby, re-sign Tim Duncan for a year or three (so he can finish his career in style as a champion), and even bring back solid role players such as Gary Neal, Danny Green and James Anderson.
If the Spurs complete the first three steps of the "Dynasty Plan" and re-sign Howard, there 2012-13 Roster could look as follows:
PG: Jameer Nelson / Corey Joseph
SG: Eric Gordon / Gary Neal / James Anderson
SF: Wilson Chandler (or Nic Batum or Gerald Wallace) / Kawhi Leonard / Danny Green
PF: Tim Duncan / Dejuan Blair
C: Dwight Howard / Marcus Camby
If the Spurs complete the first three steps of the "Dynasty Plan" but cannot re-sign Howard and instead have an extra $19 million or so, their 2012-13 Roster could look as follows:
PG: Raymond Felton /Jameer Nelson / Corey Joseph
SG: Eric Gordon / Gary Neal / James Anderson
SF: Wilson Chandler / Kawhi Leonard / Danny Green
PF: Tim Duncan / Dejuan Blair
C: Brook Lopez / Marcus Camby
Enjoy the new dynasty Spurs fans!