2012 Projections for the Detroit Tigers Line Up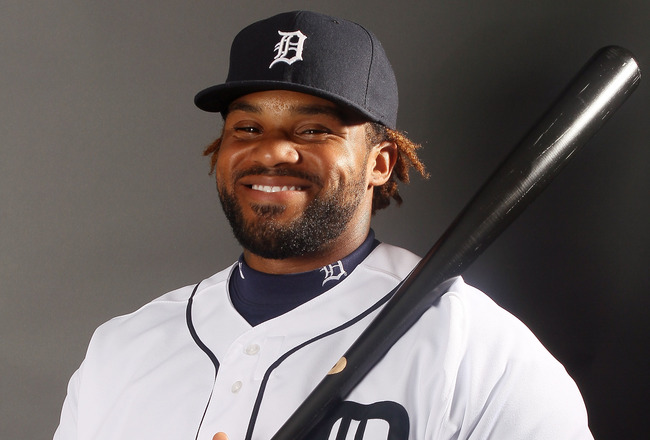 Elsa/Getty Images
The Detroit Tigers went out and made a big splash signing slugger Prince fielder to a princely contract this offseason. The Tigers potentially boast the best three-four punch in all of baseball, and a lineup that can make up for a pitcher who is having an off day.
Despite all the excitement about the lineup, there are a number of questions as well. Will Fielder be able to put up similar numbers in Detroit as he did in the smaller Miller Park?
Will shifting to third cause Miguel Cabrera difficulties at the plate?
Who exactly is playing second?
Will the real Austin Jackson please stand up?
Can Brennan Boesch continue to be the hitter he was before a torn ligament in his thumb ended his season?
Let's explore the Tigers lineup and see what to expect from each of the hitters.
Batting Lead off and Playing Center Field: Austin Jackson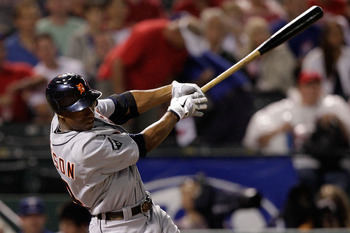 Bob Levey/Getty Images
We know Austin Jackson is an excellent defender. What we don't know is how good his bat is capable of being.
As a rookie, Jackson hit .293 with a respectable .345 OBP.
Two numbers improved in 2011 for Jackson, he gained nine walks, but also added 11 more strikeouts. The other number that stands out is his home run total. Jackson hit 10 home runs compared with four his rookie season.
Was the increased effort to hit home runs the reason is batting average dropped? Possibly.
Jackson has been working with Tigers hitting coach Lloyd McClendon to shorten his swing and remove his high leg kick. I think the real Austin Jackson is somewhere between his 2010 and 2011 numbers.
Stats
2011: .249 BA, .317 OBP, .690 OPS, 147 hits, 22 doubles, 11 triples, 10 home runs, 45 RBI's, 90 runs, 22 steals, 56 walks and 181 strikeouts.
Projected 2012. .270 BA, .330 OBP, .700 OPS, 170 hits, 25 doubles, 15 triples, 10 home runs, 50 RBI's, 105 runs, 30 steals, 60 walks, and 140 strikeouts.
Batting Second and Playing Right Field: Brennan Boesch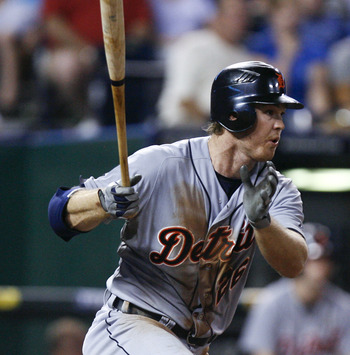 Ed Zurga/Getty Images
Right fielder Brennan Boesch has had to endure major questions the past two spring trainings. Last year it was which half was the real Brennan Boesch: the one that hit .342 with 12 home runs and 49 RBI, or the one who hit .163 with two home runs and 18 RBI?
Boesch answered that question last year and was on his way to putting up a way solid year at the plate, when a torn thumb ligament ended his season.
This year the question is, is he healthy? So far the answer is: completely.
While Boesch can't hit the ball quite as hard or as far as Prince Fielder, he has hit his share of mammoth home runs during batting practice thus far. Boesch has shown a decent amount of speed and ability to get on base, which will be really important hitting in front of Fielder and Miguel Cabrera.
Stats
2011: .283 BA, .330 OBP, .458 SLG, .799 OPS, 75 runs, 121 hits, 25 doubles, one triple, 16 home runs, and 54 RBI's.
Projected 2012: .290 BA, .360 OBP, .490 SLG, .850 OPS, 100 runs, 160 hits, 30 doubles, 24 home runs, and 75 RBI's.
Batting Third and Playing Third: Miguel Cabrera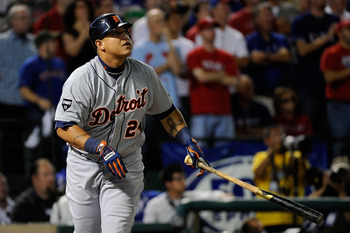 Kevork Djansezian/Getty Images
There has been a lot of extra scrutiny on Miguel Cabrera, but not concerning his bat or any off-the-field issues. Rather it's about his shift to the hot corner.
Cabrera is a team player; he wants to do what is best for the team. Apparently, that is why he didn't complain when they shifted him to first, even though he still wanted to play third.
The other element we know about Cabrera, is the man can hit. He might be equal with Albert Pujols as being the best right-handed hitter in baseball.
M-Cab finished fifth in the MVP voting and may have finished much higher if it hadn't been for the otherworldly performance by Justin Verlander.
Cabrera won the 2011 batting title, and with a talented and dangerous (to opposing pitchers and fans not paying attention) hitters behind him, there is no reason to assume his bat will cool off in 2012.
Stats
2011: .344 BA, .448 OBP, .586 SLG, 1.033 OPS, 111 runs, 197 hits, 48 doubles, 30 home runs, and 105 RBI's.
Projected 2012: .335 BA, .440 OBP, .590 SLG, 1.030 OPS, 120 runs, 200 hits, 50 doubles, 35 home runs, 115 RBI's.
Batting Fourth and Playing First Base: Prince Fielder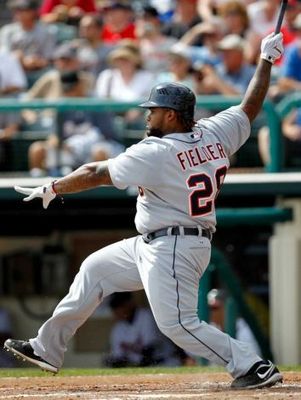 Julio Cortez/AP
The Tigers shocked the baseball world when the announced they had signed the son of former Tigers slugger Cecil Fielder to a nine year, 214 million-dollar contract. Fielder takes over the job of protecting Miguel Cabrera in the Tigers line up.
Fielder also gives the Tigers perhaps the best duo of sluggers in all of baseball.
Fielder is more than just protection for Cabrera; he is a bona fide star and a powerful left-handed hitter. While Fielder's power numbers will probably dip a little bit at Comerica Park, it's safe to bet he'll still hit better than 30 home runs.
Fielder is also very good at pitch selection and has a solid career batting average.
Stats:
2011: .299 BA, .415 OBP, .566 SLG, .981 OPS, 95 runs, 170 hits, 36 doubles, 38 home runs, and 120 RBI's.
Projected 2012: .285 BA, .410 OBP, .570 SLG, .980 OPS, 105 runs, 180 hits, 40 doubles, 35 home runs, and 130 RBI's.
Batting Fifth and Playing Left Field: Delmon Young
Harry How/Getty Images
Young struggled through the first part of 2011 with injuries and he struggled in the second round of the playoffs. However, when he was healthy, he was a stick of dynamite in the middle of the Tigers batting order.
Last year he batted third, but with the addition of Prince Fielder he will be batting fifth this year.
The big question is exactly how many games Young will play in left field. Jim Leyland has said the Tigers will not have a full-time DH in 2012, but it seems safe to bet Young will get the most DH at-bats, as his defense in left is suspect.
Stats: Played 84 games with the Twins and 40 games with the Tigers, numbers with Tigers are in parenthesis.
2011: .268 (.274) BA, .302 (.298) OBP, .393 (.458) SLG, .695 (.756) OPS, 54 (28) runs, 127 (46) hits, 21 (5) doubles, 12 (8) home runs, 64 (32) RBI's.
Projected 2012: .280 BA, .300 OBP, .400 SLG, .700 OPS, 60 runs, 140 hits, 28 doubles, 20 home runs, and 90 RBI's.
Batting Sixth and Catching: Alex Avila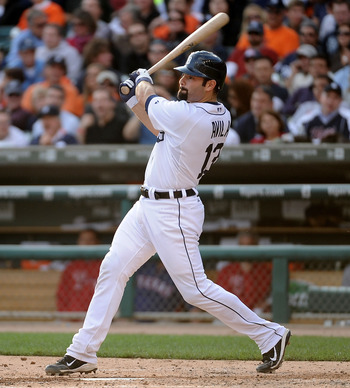 Harry How/Getty Images
Alex Avila wore down as the season progressed, especially after an injury ended Victor Martinez's ability to play catcher.
Avila got stronger this off season, and even before the injury which ended Martinez's season, the Tigers added backup catcher Gerald Laird to give Avila rest and allow him to be more healthy at the end of the season.
At this point, it seems safe to bet Avila will play around 125-130 games behind the plate. Without a full-time DH, he might get a couple of games there, as well. Avila improved his batting stroke last year, and provided more power than was expected.
I expect similar numbers in 2012 for Avila.
Stats
2011: .295 BA, .389 OBP, .506 SLG, .895 OPS, 63 runs, 137 hits, 33 doubles, four triples, 19 home runs, and 82 RBI's.
Projected 2012: .290 BA, .390 OBP, .510 SLG, .900 OPS, 65 runs, 140 hits, 35 doubles, four triples, 20 home runs, 85 RBI's.
Batting Seventh and Playing Shortstop: Jhonny Peralta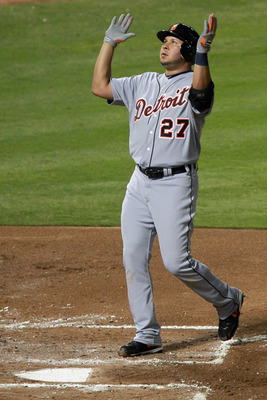 Ronald Martinez/Getty Images
Jhonny Peralta had a career year in 2011.
His defense is underrated, he has an excellent arm, and he has very good hands. The knock on his defense is his range. His bat has been a big plus since the trade that brought him over to the Tigers from the Cleveland Indians.
Peralta gives the Tigers a very good bat in the bottom third of the lineup. While it's doubtful Peralta will hit close to .300 again or hit 21 home runs, I think he will be a very serviceable shortstop for the Tigers in 2012.
Stats
2011: .299 BA .345 OBP, .478 SLG, .824 OPS, 68 runs, 157 hits, 25 doubles, three triples, 21 home runs, and 86 RBI's.
Projected 2012: .280 BA, .340 OBP, .460 SLG, .800 OPS, 65 runs, 150 hits, 25 doubles, three triples, 16 home runs, and 80 RBI's.
Batting Eighth and DHing: Ryan Raburn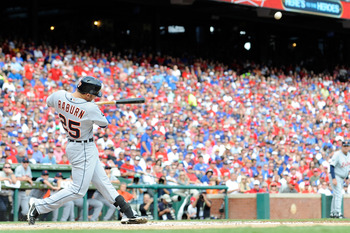 Kevork Djansezian/Getty Images
There is major competition for the last spot on the Tigers bench and for who is going to get the most time at second base.
Ryan Raburn is in the competition for second base duties with Brandon Inge and Ramon Santiago. Raburn will never be a Gold Glove-caliber defender, but he can play a decent outfield and is tolerable at times playing second.
If Raburn is able to shake off his early-season struggles, he is a very attractive player to have in the lineup.
Raburn is capable of hitting 20 home runs if he hits consistently throughout the year. He will play some at second and I think he, along with Andy Dirks, will play a fair amount in left.
Stats
2011: .256 BA, .297 OBP, .432 SLG, .729 OPS, 53 runs, 99 hits, 22 doubles, two triples, 14 home runs, and 49 RBI's.
Projected 2012: .265 BA, .310 OBP, .450 SLG, .760 OPS, 60 runs, 110 hits, 20 doubles, three triples, 15 home runs, and 60 RBI's.
Batting Ninth and Playing Second Base: Brandon Inge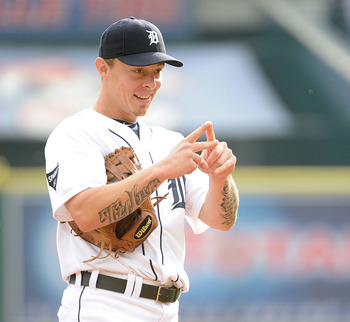 Harry How/Getty Images
Brandon Inge is trying to win a job at a new position, second base. So far this spring the defense seems to be very solid, if not exceptional. The question with Inge, however, has never been about his defense, it's been about his offense.
In an article with the Detroit News, manager Jim Leyland said the question will not be whether Inge can hit enough, but if he can be on the team.
It's far too early to pass judgment on Inge's offense this spring, but I think he will hit enough to earn some starts at second and the occasional start at third when Leyland decides to rest Miguel Cabrera.
Stats
2011: .197 BA, .265 OBP, .283 SLG, .548 OPS, 29 runs, 53 hits, 10 doubles, two triples, three home runs, and 23 RBI's.
Projected 2012: .250 BA, .310 OBP, .390 SLG, .700 OPS, 45 runs, 115 hits, 15 doubles, three triples, 15 home runs, and 55 RBI's.
Conclusion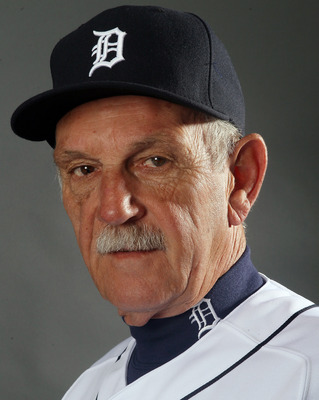 Elsa/Getty Images
This Tigers team has a huge potential to be an offensive juggernaut. Cabrera and Fielder are amazing hitters and will have big seasons. There are some questions in the lineup, but overall I expect a very good Tigers team in 2012.
2012 starting position players' projections.
.282 BA, .354 OBP, .470 SLG, .824 OPS, 715 runs, 1,365 hits, 268 doubles, 28 triples, 190 home runs, and 740 RBI's.
Keep Reading

Detroit Tigers: Like this team?