Pittsburgh Steelers: Releasing Hines Ward Is a Mistake
March 1, 2012

Jared Wickerham/Getty Images
The Pittsburgh Steelers have decided that, despite the fact that Hines Ward is willing to take a pay cut, they are going to move on and release the 14-year veteran.
Hines Ward is the Steelers' all-time leader in receptions (1000), receiving yards (12083) and receiving touchdowns (85) and fifth in team history in scoring with 526 points.
I wanted to get those stats out of the way early, because this article is not saying that the only reason this is a mistake to release Ward is because of his career accomplishments.
I will also qualify myself by saying that Hines Ward is my favorite player, though I do understand that he is not the first and won't be the last player at the end of his career that the Steelers have to make a tough decision about.
The NFL is a business and the Pittsburgh Steelers have to worry about what is best for the team going forward and not worry about past success.
I once wrote an article looking at five Steelers that finished their careers elsewhere; I was hoping not to have to add Hines Ward to that list. However, the Steelers are consistent with letting an aging player go a year early, and some would argue that this move is long overdue.
I am not one of those people. I honestly believe that Hines Ward could have helped the Steelers offense more last season.
I am not saying at all that I think that Hines Ward should start over Mike Wallace, Antonio Brown or Emmanuel Sanders, but he could have fit into the role that Jerricho Cotchery played later in the season.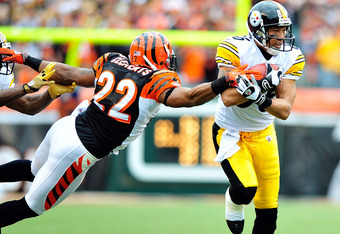 Grant Halverson/Getty Images
Ward does not have the speed to always get open in man coverage, but he would be going against a team's third corner at best and he knows how get first downs.
Everyone is quick to point out all of the deficiencies that Hines Ward has at this point in his career, but the Steelers have no one else on the roster.
Mike Wallace, Antonio Brown and Emmanuel Sanders make a great set of receivers, but the team can't just have three players at the position on the roster.
Even if Jerricho Cotchery is re-signed, the Steelers would only have four receivers on a team that normally carries six during the season.
That would be a great mix to me with three young, rising stars in Wallace, Brown and Sanders and two veterans in Cotchery and Ward.
Additionally, Sanders has been injured in both of his first two seasons; Cotchery missed nine games in his only year with the team.
During this last season, Ward would not have taken time away from anyone because of these injuries, but the team just decided that there was no way he would make it onto the field.
They almost went out of their way to not put Hines in early in the season, yet people complain that they had to force passes to him at the end of the year to get him 1000 receptions.
Ward had 20 receptions in the first five games in 2011, with seven of those coming against the Tennessee Titans. Then it just seemed like someone just decided that was too much.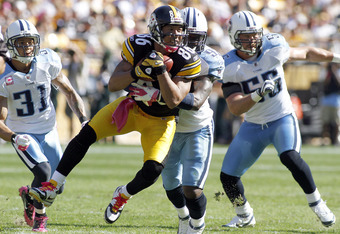 Justin K. Aller/Getty Images
Maybe if the offense tried some underneath throws in the second half against the Jaguars instead of just trying to throw an 80-yard touchdown every play, then the game wouldn't have been close in the fourth quarter.
I'm not saying that they should have thrown every pass to Ward, I'm just saying that sometimes the offense gets too enamored with throwing it deep every play and then the offense just stops.
If the Steelers had actually integrated Hines into the offense the entire season, who knows if he wouldn't have just retired this season? Then this problem wouldn't even exist.
Also, it's not like Ward caused a problem in the locker room about his demotion in the offense.
Anyway, looking forward, the Steelers have technically have only two receivers under contract in Brown and Sanders, with Sanders being injury prone. Wallace is a restricted free agent, though I think the team will sign him. Cotchery who is an unrestricted free agent.
When the dust settles, I see all four of these receivers being back with the Steelers. I do not see the harm in having a fifth guy who can help bring along the young guys.
Some problems that have been brought up are that a fifth receiver should play special teams or that he is paid too much to be that fifth guy.
Well, Emmanuel Sanders is the third receiver and he plays special teams, which makes up for Ward. Guys like Jonathan Dwyer, Isaac Redman and John Clay also play special teams.
The money is the only legitimate argument anyone can make; Ward has repeatedly stated that he would take a pay cut to stay with the team.
I don't pretend to understand everything that goes into getting under the cap and making room for Mike Wallace and others. However, I think they could have managed having Hines Ward for one more season.
Maybe I'm just naïve, but I think if they really wanted to, they could have found space for Ward for one last season on the team for him to be able to retire a Steeler.
As a huge Hines Ward fan, I am completely biased in this situation, but I honestly believe that it is a mistake to make this move.
Even though I think that Ward should have been used more in 2011, I think even as a fifth receiver he would be very valuable to the team in 2012.