2012 NFL Mock Draft: Analyzing Sigmund Bloom's Mock for Every AFC East Team
March 1, 2012

Chris Trotman/Getty Images
Mock drafts are a beast that is served best when not prodded by a stick by those who are unfamiliar with how to handle it once it's awake. So, instead of waking up a sleeping giant, we'll talk to one that's already awake.
New to Bleacher Report—but not new to the NFL Draft or the scouting process—Sigmund Bloom gives us his latest mock draft. Here are my thoughts on his picks in the AFC East.
8. Miami Dolphins—Melvin Ingram, DE/OLB, South Carolina
Sigmund says: "Getting a versatile bookend to pair with Cameron Wake is a must in new defensive coordinator Kevin Coyle's hybrid defense."
My slant: What an explosive pair of pass-rushers the Dolphins would have if they could combine Wake with Ingram. 
There are some questions about Ingram, namely when it comes to his very short arms. He dominated at South Carolina, but would he get swallowed up by big NFL tackles? He'll be facing quite a few of them in the AFC East, with Nate Solder, Sebastian Vollmer, D'Brickashaw Ferguson, Demetrius Bell and plenty others. Luckily, he won't have to go up against Jake Long—well, except in practice.
Of course, none of that seemed to bother Ingram in college, but look at Jerry Hughes, who was seen as a great pass-rushing prospect out of TCU but has yet to make an impact in the NFL.
Of course, there are varying issues that have led to his failures at this level, but it's just another cautionary tale of an explosive guy with a lot of potential that couldn't transition when his competition went from boys to men.
10. Buffalo Bills—Quinton Coples, DE, UNC
Sigmund says: "The Bills are still sorely in need of a marquee edge rusher, and they also need a true 4-3 end to smooth over the transition back to the scheme on defense."
My slant: There are questions about Coples' motor, but there's absolutely no question about his ability to get after the quarterback. The Bills will be in search of the proper personnel to make the switch to the 4-3 alignment, as they currently lack true 4-3 ends. They could be in the market for one in free agency (er-hem, Mario Williams?) and should also look for a developmental prospect in the draft.
The thought of lining up Coples next to Kyle Williams and Marcell Dareus in the 4-3 alignment would have any defensive coordinator salivating...wipe the drool off your chin, Dave Wannstedt.
In Coples, they'd have three great building blocks for their new-look defense, and could likely make big strides on that side of the ball, where they logged just 29 sacks in 2011.
16. New York Jets—Trent Richardson, RB, Alabama
Sigmund says: "Shonn Greene wasn't striking fear into any defenses, but Richardson will, and take pressure off of Mark Sanchez during a crucial year in his career."

My slant: The pick makes sense in terms of need, but considering the draft history of the Jets, I'd question this decision. In the Rex Ryan era, the Jets have used four of their 13 picks on running backs.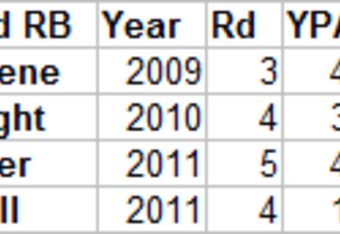 Admittedly, Greene has been average and John Conner, a fullback, has started to come into his own at the position. They've been throwing a lot of darts at the board.
The Jets need to get more production out of the running game, but not at the price of a first-round pick. Their issues on the offensive line were well documented last year by Pro Football Focus. Improvements there could help the team run the ball.
Where else could improvement help the running game? Yup—quarterback.
27. New England Patriots—Michael Brockers, DT, LSU
Sigmund says: "Brockers is tumbling down boards after an unimpressive combine, but that slide would stop with the Patriots, who are sorely in need of impact players upfront on defense."
My slant: Last year's draft binky for Patriots fans was Wisconsin defensive end J.J. Watt, who was scooped up by the Houston Texans well before the Patriots went on the clock. Brockers would provide a similar disruptive presence on the defensive front.
The tumble which Sigmund speaks of likely has to do with Brockers' mere 17 reps on the 225-pound bench press (though I'm not one to talk; I would be lucky to get that thing up once).
Why would Brockers be a fit for the Patriots, then? Two words: Long arms. Bill Belichick puts a lot of emphasis on it, especially in the front seven, as long arms allow defenders to disengage from blockers more easily. 
He's not quite as polished as he could be, having played for just one year at LSU, but the Patriots typically use a rotation up front, which would allow him to ease into the NFL without too much weight on his shoulders.
Speaking of which, he could add a few pounds, which would make him an even better fit in the 3-4. Some time in the weight room would allow him to do just that.
31. New England Patriots—Whitney Mercilus, DE/OLB, Illinois
Sigmund says: "Mercilus flashed the movement skills to fit in a hybrid defense at the combine, and the Patriots have been forced to use scrap heap guys at the position (albeit with some success)."

My slant: To put it lightly, and without using any swear words, I'd be very surprised if the Patriots keep this pick. 
If the Patriots do, indeed, use this pick, something tells me it won't be on a hybrid defensive end/outside linebacker like Mercilus. The Patriots have never used a first-round pick on the position, showing time and time again that they simply don't value it enough to invest a high pick.
If they're going to go with a hybrid guy, though, Mercilus could be a good fit. He helped his stock at the combine in that regard and has proven capable of getting after the quarterback at the collegiate level. The decision to target or not to target a pass-rusher could hinge on the team's ability to retain veteran defensive ends Mark Anderson and Andre Carter.
Even if they are able to do so, they'd be wise to start adding youth behind the two.