5 Things We Learned from Bill Simmons' Interview with Barack Obama
March 1, 2012

Ezra Shaw/Getty Images
So Bill Simmons and President Barack Obama recently spent some time in a room together.
There was more collective sports geekiness in this room than you might expect.
Simmons recently got to travel to the White House to interview Obama for his "B.S. Report" podcast, the transcript of which was published on Grantland.com on Thursday. Naturally, the two of them talked sports—primarily Chicago sports and basketball, Obama's personal favorites.
You'll learn a lot of things about the president if you venture to read the whole thing, but there are five things in particular that stand out.
Let's count 'em down.
Throwing Out the First Pitch Is a Lot Harder When You're the President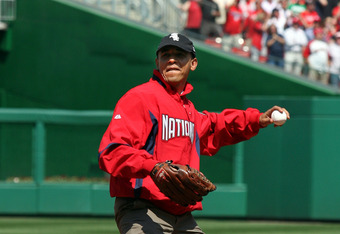 Pool/Getty Images
President Obama has the most stressful job in the world, but he says first pitch duties are "about the most stressful thing" he has gone through.
The size of the crowd is a factor. So is the bullet-proof vest, which Obama says does not help one's flexibility (no shocker there).
More than anything, though, the sheer stress of the moment plays a big role:
And, like you said, you've got to wear this bulky vest, and what happens is, they just hand you the ball. [Laughter.] They say, "Here," and you walk up. If you had three tries, you'd be fine. You'd throw a fast strike somewhere in there. But if it's that first ball, each time I go up there my thinking is, All right, I'm just going to blaze this thing in. And then I'm thinking, Man, if I throw a grounder that's going to be a problem. 
Yeah, the last thing Obama wants to do when he throws out the first pitch at a ballgame is a John Wall impression.
In the event that Obama does throw a Wall-like grounder, I'm going to be willing to let him off the hook. I probably couldn't hit the broadside of a barn in that situation, and I'd probably be no better than Wall with a bullet-proof vest on.
The same goes for you, random internet person, so cut Obama a break if he grounds one in the future.
Obama Can Flat-Out Ball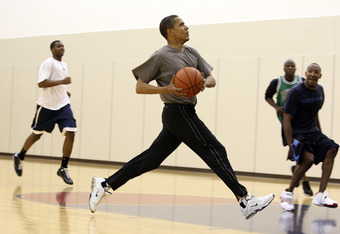 It's no secret that Obama likes to sneak in some time out on the court when he's not leading the free world, but there's probably more than a little skepticism out there about how good he is.
He's pretty good. He reveals that he beat Maya Moore at HORSE when she visited the White House. Moore is one of the best women's ballers on the planet, so I count that as a big feather in Obama's cap. 
And yes, I'm ignoring the fact that Moore was wearing heels and a skirt at the time, according to the president.
Beating Moore at HORSE is one thing, but I'll bet you didn't know that Obama schooled a certain NBA All-Star out on the court:
So Chris [Paul] was one of the guys who played [at an All-Star game]. And I did a little crossover on him. He claims that he could have stolen the ball. Everybody who was there knows that that's not true. The second time, he might have stolen the ball. The first time he didn't know I had that move on me.
And for the record, CP3 isn't a lame duck on defense. Nevertheless, he got served. 
That's proof-positive that Obama has the best crossover in presidential history. George Washington and Jimmy Carter ain't got [bleep] on him.
President Obama Is More Confident in the Bulls Than Most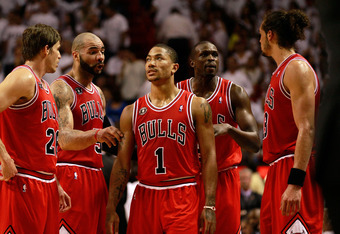 Marc Serota/Getty Images
I think the Chicago Bulls are a great team. So do you. So does everyone.
But I don't think they'll be able to beat the Miami Heat when the playoffs roll around.
Obama does.
No, really:
Deng seems more confident. Boozer is in better shape. Derrick Rose has matured. I'm a little worried about making sure that they give him enough rest with the back spasms that he had. But the Bulls, I think, are right in there. I think they've got a great chance. The Heat are playing better than anybody right now. And when those folks get going on a fast break, it's over.

But during the playoffs things slow down a little bit, and you got to run a half-court offense, and in that situation, I think the Bulls got a shot.
If I was Carlos Boozer, I'd take this quote and frame it on my wall. He may never hear higher praise.
Sooner or later, Obama thinks the Bulls have a championship in their future. He says they "will" visit the White House while he's in it.
You heard it here first.
Obama Saw Linsanity Coming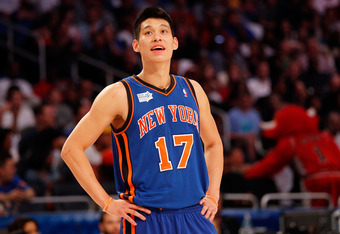 Mike Ehrmann/Getty Images
None of us saw Jeremy Lin coming. Anyone who says they did is either lying, or was in the know.
Obama was one of the guys in the know:
And I knew about Jeremy before you did, or everybody else did, because Arne Duncan, my Secretary of Education, was captain of the Harvard team. And so way back when, Arne and I were playing and he said, I'm telling you, we've got this terrific guard named Jeremy Lin at Harvard. And then one of my best friends, his son is a freshman at Harvard, and so when he went for a recruiting trip he saw Lin in action. So I've been on the Jeremy Lin bandwagon for a while.
Note to self: When in need of fantasy basketball advice, contact Obama. He's got connections, apparently.
In case you're wondering, Obama isn't at all worried about Linsanity derailing his beloved Bulls' seasons. Simmons tried to hint at the possibility, but Obama cut him off.
"I'm not worried," he said.
Like I said, he's confident in his Bulls.
Obama Knows Basketball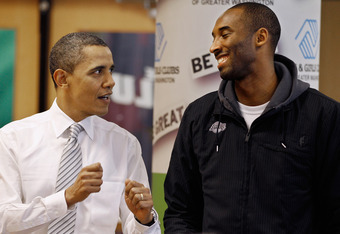 Chip Somodevilla/Getty Images
Whatever you do, don't accuse Obama of being a fake hoops fan. The man really loves his basketball.
Obama revealed that he has NBA League Pass on his iPad and that he'll sneak in a game "every once in a while" when he goes over his briefings.
But Obama isn't just a fan either. He knows the game of basketball well. Well enough to fill in as a coach for his daughter's youth basketball team, believe it or not.
Obama also knows basketball well enough to give Blake Griffin some valuable advice. 
Here's a story of a conversation he had with Chris Paul:
And I said, man, Blake Griffin is unbelievable, and you guys seem to be really clicking. I said, the only thing is you got to tell Blake to just take that 12-15-footer when he gets it because he's got a good stroke, but he always looks like he's hesitating a little bit because he wants to go inside. And if he starts getting that shot like Karl Malone, he'll be unstoppable.

And Chris says, "Man, I just told him that." He said, "He's going to be here in two minutes. Can you hold on?" I said, no, you can just go ahead —
This is pretty remarkable. Obama is the busiest man on the planet with the most important job on the planet, yet he still manages to notice something that about 75 percent of NBA fans can't—Blake Griffin is not a complete basketball player.
Random thought: Would anybody be opposed to Obama being the new commissioner of the NBA when his days in the White House are over?
I wouldn't.