Rajon Rondo Trade Rumors: Boston Celtics Would Make Egregious Mistake Trading PG
March 1, 2012

Christian Petersen/Getty Images
The Boston Celtics would be absolutely idiotic to trade point guard Rajon Rondo.
He is the centerpiece of their team. He is the reason the Celtics are even still relevant. Who would they have if not for Rondo? The better question is, what would they have?
I'm sorry if the aging relics known as Paul Pierce, Kevin Garnett and Ray Allen don't do it for me anymore. They are undoubtedly all-time great players and the trio was extremely dangerous in their title-contending years, but they are now shells of their former selves.
Don't get me wrong—they are still star players in the NBA. However, they aren't the superstars they once were. Not only that, but it can be argued that the big three's success is now directly connected to Rondo's.
This Celtics team wouldn't survive without Rondo.
That's why the rumor regarding Rondo from ESPN's Chris Broussard is so upsetting:
Boston is aggressively shopping Rondo, according to sources. The Celtics find Rondo's personality to be too high-maintenance and his clashes with coach Doc Rivers continue. With the Celtics having realized they are no longer title contenders, they don't believe the payoff is worth the headaches Rondo brings, sources say. And they do not want to build around him.
Trading Rondo would be an egregious mistake.
First off, his production is through the roof. He's easily a top-five point guard in the league, and there is no way that the Celtics would get equal value in return for him.
Broussard references a potential trade for Golden State point guard Stephen Curry, but saying that Curry can do what Rondo does for the Celtics is a huge stretch. He's a nice player, but he's nowhere near Rondo's level.
This is a guy that's nearly averaging a double-double, with 14.2 points, 9.6 assists and five rebounds per game.
Rondo's impact on the team is so much more than his points, though. He is the facilitator of the offense.
No, he is the offense.
He's the life support of the big three. Take Rondo away and the Celtics are reduced to three over-the-hill stars trying to make one last run.
News flash: That's not going to fly with the Heat and Bulls in the East.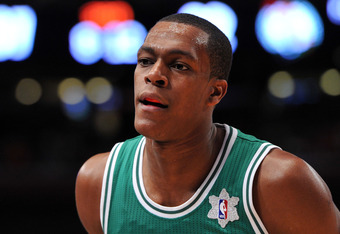 Christopher Pasatieri/Getty Images
Sure, go into rebuilding mode, but how can you not want to rebuild around a 26-year-old point guard that puts up the numbers that he does?
Forget about the clashes with Rivers, they are worth suffering through.
Forget about the headaches, take an Aspirin.
The Celtics would be making a huge mistake if they part ways with their young point guard.