First Ward Now Wallace? Discussing the Pittsburgh Steelers' Future at WR
March 1, 2012

Jared Wickerham/Getty Images
In an unsurprising (if unpleasant) move, the Pittsburgh Steelers announced on Wednesday that they would be releasing wide receiver Hines Ward, who spent his entire 14-year career with the team.
His 1,000 career catch total is likely to increase, however, with Ward having no plans to retire and another team sure to add him to their roster in the coming weeks.
The hope is that releasing Ward is no more than a psychological blow to the team, and one look at the Steelers receiving corps makes it seem like the move won't have an impact on the team's offense this year.
However, there are no guarantees that the Steelers will be able to hold onto receiver Mike Wallace, now that it's been all but confirmed the team will use a first-round restricted free agent tender on him worth $2.7 million.
The Steelers have no choice but to use the tender on Wallace—they cannot afford the $9.4 million franchise tag for receivers, as they are just under the projected salary cap, which has yet to be released.
There are two teams thought to be in play for Wallace's services—the San Francisco 49ers and New England Patriots. Both teams need a fast, big-play receiver like Wallace and have late picks in the first round.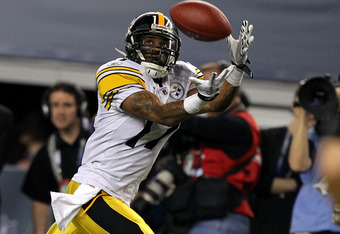 Al Bello/Getty Images
Should either team give Wallace a front-loaded contract, the Steelers won't be able to match the offer and could end up losing him.
ESPN's Jamison Hensley doesn't think the Steelers will lose Wallace, citing the deep pool of free agent wide receiver talent that can be had at a lower price than Wallace.
While this makes sense, the Steelers need to prepare now for life without Wallace, which means they need to look beyond current receivers Antonio Brown and Emmanuel Sanders and toward April's draft.
The Steelers clearly have had success in drafting receivers in recent years, as evidenced by their stacked roster, and this year's draft class is deep at the position.
They could very easily find someone worth taking in the second or third round who is worth a spot on the 53-man roster come September, and if they're exceptionally worried, they could use their 24th overall first-round pick to nab a receiver.
Bleacher Report's Sigmund Bloom details a number of potential draft targets for the Steelers should they lose Wallace, including intriguing Arkansas product Joe Adams.
Bloom notes that Pittsburgh picked up both Wallace and Sanders in the third round, where Adams projects to go, and that he also comes equipped with the ability to relieve both Sanders and Brown of their punt- and kick-return duties.
Certainly, if the Steelers can hold onto Jerricho Cotchery, who showed promise in his brief stint with the team in 2011, they'll be in much better shape at receiver. Regardless of whether Cotchery stays or goes, however, the team will need to take a look at receivers in the draft should they lose Wallace.
The Steelers aren't in an ideal situation at receiver, by any means. However, there are ways they can minimize the impact of losing both Ward and Wallace via the draft. It may seem like a dark cloud is forming over Pittsburgh at the moment, but things are neither that simple nor that awful.