The Unsung Heroes of MMA: The Fertitta Brothers and Joe Silva
Use your ← → (arrow) keys to browse more stories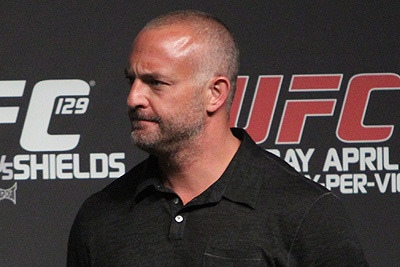 UFC CEO Lorenzo Fertitta/ Ken Pishna for MMAWeekly.com
At the forefront of the mixed martial arts world is the UFC.
The organization has made tireless efforts in bringing the sport to all corners of the globe, all the while educating new fans to the rules and regulations that preside over it.
Though in many cases the UFC is still trying to shed the label of "Blood Sport," its recent partnership with sports juggernaut in FOX will go a long way in helping to legitimize the organization and MMA as a whole.
More often than not, UFC President Dana White is regarded as "the man" for whom the mixed martial arts community should bow down to.
With White at the helm, the promotion has undoubtedly seen major successes both financially and politically, receiving near national acceptance while helping usher in millions of dollars into the local economy of each city they visit.
Under the watchful eye of White, yes, the promotion has been better off. But what about the man behind the man, or rather men in this case?
So often do we forget that had it not been for the copious amounts of dollars that the infamous Fertitta brothers threw into the fledgling promotion some years ago, MMA as a whole would be the same, let alone the UFC.
In 2001, both Lorenzo and Frank Fertitta were contacted by the aforementioned White, who knew the brothers as childhood friends.
The Station Casino owners were enamored by White's passion for the sport and opted to make the purchase of the dying organization, which had suffered scrutiny in the media thanks to lack of guidelines to structure the promotion, which oftentimes resulted in slanderous printings in the media.
After throwing $44 million into the organization, White, along with the Fertittas, did not see a payoff until years later, after creating and producing The Ultimate Fighter.
From there, that was all she wrote.
Seemingly overnight, the UFC began to pick up steam once again, though matchmaker Joe Silva had just as big a part in the ascension of the promotion as any.
He's not the guy you'll see in interviews or talk on a mic, per se, but what he is is that guy you see greet fighters with a big smile on his face more often than not.
Why? Because it's his job to pit two of the world's best opposite of one another, which more often than not have produced some compelling outcomes.
Mauricio Rua vs. Dan Henderson, Anderson Silva vs. Chael Sonnen, Forrest Griffin vs. Tito Ortiz—all thanks to the quiet but well-respected Joe Silva, who is one-third of the trio of unsung heroes.