David Villa and 5 Men to Lead the Spanish Line at Euro 2012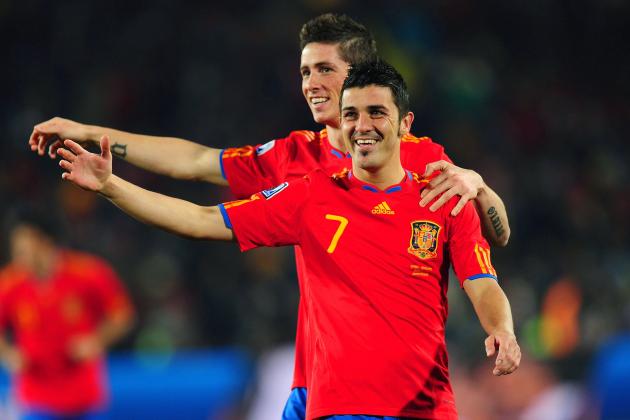 Stanley Chou/Getty Images

It's not very often that the reigning world and European champions head into the defence of their first major championship without an out-and-out striker up front. However, that is exactly the case for Spain ahead of the European Championships this summer.
Following the 5-0 win over Venezuela this past Wednesday, it's more clear than ever that Vicente del Bosque faces a major selection headache as a whole host of his fellow countrymen try to book their seat on the plane to Poland and Ukraine.
The 61-year-old has a number of players to choose from, each of whom can offer something vastly different from the other.
Del Bosque has often opted to back long-standing members of his squad and trust them to come good even when in a poor run of form, but with so many choices in both midfield and attack at his disposal, it is entirely possible we may see some big-name omissions from the Spanish squad list come June.
Here are six of the options that del Bosque may call upon to defend his side's European crown.
Begin Slideshow

»
Denis Doyle/Getty Images

If Mr. del Bosque does indeed choose to trust long-standing members of his squad, then Fernando Torres will undoubtedly have some part to play this summer.
Despite providing little return on Chelsea's £50 million investment in him last January, Torres' international record can't be ignored. The 27-year-old has found the net 27 times for his country in 91 appearances since 2003, one of which, in the 2008 final against Germany, clinched the very trophy his country will defend this summer.
The vast experience Torres has, not only with the current Spain squad, but in big match situations in major tournaments could be vital when it comes to the latter stages of the competition. Torres' ability to do just about anything could be a massive factor also.
Not only can Torres find the net with either his feet or his head, but he can do it from just about anywhere on the pitch.
His ability to link up with teammates will be just as important due to the world champions' mesmerising style of football, and the Chelsea man's familiarity with the likes of Xavi, Iniesta and David Silva could help his side find the net when it is most needed.
That being said, strikers are judged on goals, and if you look at Torres' recent record in comparison to the other candidates, then there is a strong case for him to be left behind.
"El Nino" has struck just once in his last nine international appearances and only five times in the 48 games he's played in a Chelsea shirt.
Most people have said not to worry about Torres, and eventually the goals will come. However, it's yet to happen and time is rapidly running out for Spain's No. 9.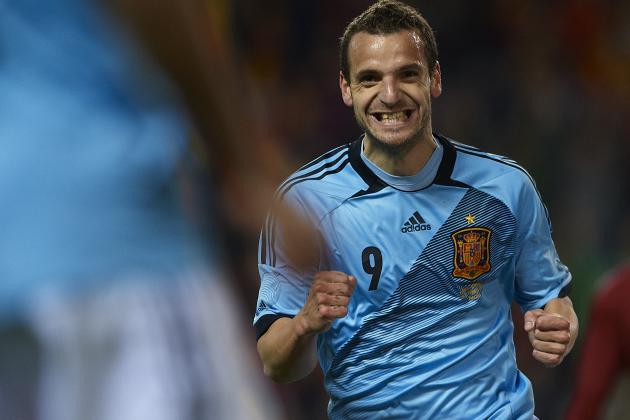 Manuel Queimadelos Alonso/Getty Images

Roberto Soldado is the man who many in Spain (and beyond) have been calling to fire the national side to a second successive European title.
After finally being rewarded with a call-up for his sparkling club form, the Valencia front man bagged a hat trick after coming on at halftime in the midweek win over Venezuela, missing the chance to grab a fourth from the penalty spot.
His recent cap was the first time he had pulled on a Spanish jersey since two Euro 2008 qualifiers in 2007 against Latvia and Lichtenstein.
Soldado's form at club level not long after his initial two caps has been nothing short of fantastic. In his two seasons at Getafe, he had an average of a goal every other game with 33 goals in 66 appearances following his move from Real Madrid.
Hometown club Valencia soon came calling in June 2010, and since his €10 million switch, Soldado has scored 45 times in just 73 games including 20 in 29 so far this season.
Soldado is similar to Torres in that he has a killer instinct in and around the 18-yard box combined with excellent pace and the ability to also create chances for others. So it does beg the question: Why not take the player in the much, much better form?
Via gol.com ,Soldado said earlier this week that he hoped that Torres would find his clinical edge before Euro 2012. However, it wouldn't surprise anyone if deep down, he didn't really mean it.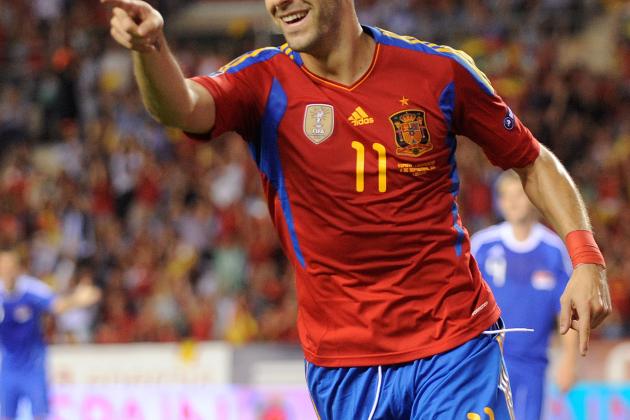 Denis Doyle/Getty Images

Álvaro Negredo is often the forgotten one by many when it comes to the international scene, but there is no doubt that Vicente del Bosque believes he is capable of causing problems for other teams.
In the short time Negredo has represented his nation, he's scored five times in nine appearances since 2009 and has for the most part been in and around the squad even if mainly left unused.
Negredo's great form for Sevilla over the past couple of seasons has what has grabbed the attention of del Bosque and supposedly a number of clubs around Europe. The man from Madrid netted 20 times in La Liga last season and six times so far this campaign.
Negredo's strengths are different to those of Torres and Soldado. In the national side setup, Negredo will mainly be used to hold the ball up and bring others into play before hopefully using his predatory instincts to sniff out chances and put his head in where it hurts.
This vast contrast from the majority of Spain's other attacking outlets could prove to be incredibly useful should Negredo be called upon for Euro 2012.
If opposing teams feel as if they can simply kick Spain out of the game, as the Netherlands tried to do so famously in the World Cup final, then Negredo certainly won't be scared to fight back.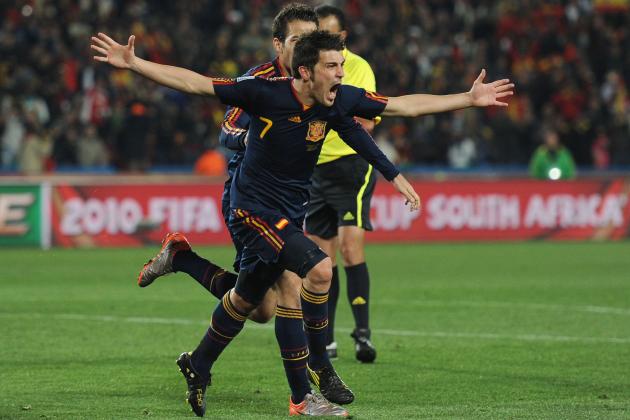 Jasper Juinen/Getty Images

Including David Villa in this list may seem odd, but as long as the man himself believes he can recover in time for when that plane heads east, then he simply can't be cast aside.
There's not a lot that has to be said about David Villa at the international level. Eighty-two games, 51 goals. Spain's all-time leading goal scorer.
His record in major tournament football isn't too shabby either. Eight goals in two World Cups and four goals during Spain's success in Austria and Switzerland. Those statistics in itself should be enough for Vicente del Bosque to at least take Villa into consideration.
Of course, the issue here is that Spain's No. 7 has been sidelined with a fractured tibia picked up during the Wold Club Cup since December. However, during a recent interview with Spanish news agency EFE, the Barcelona goal machine stated that he is more positive than ever that he can be fit for Poland and Ukraine.
It's not as if Villa has stopped banging them in at club level either. On what some would consider a "poor season" for him, Villa still had nine goals under his belt by December.
The sensational statistic comes from the fact that Villa has scored at least 20 goals in every season since 2001-02 in his spells with Zaragoza, Valencia and Barca. How many forwards who play in a major league like La Liga can boast a record like that?
I said earlier that del Bosque may take Fernando Torres to Euro 2012 thanks to his past accomplishments. Well, if he's basing his selections on that, David Villa is a no-brainer.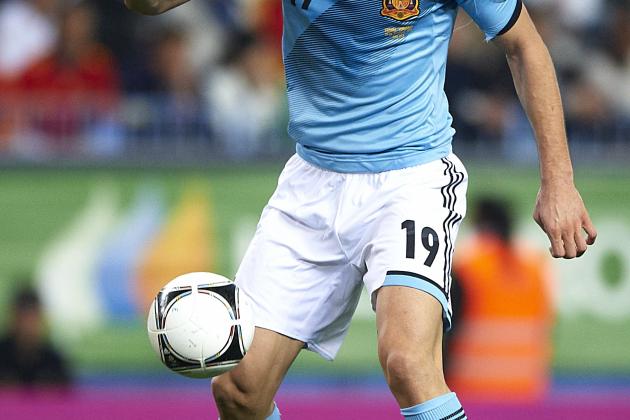 Manuel Queimadelos Alonso/Getty Images

If there is a man on this list who has truly earned his place in the 23-man squad, it's probably Fernando Llorente.
The towering Athletic Bilbao striker has already scored crucial winners in his international career against Lithuania and Scotland, and it's pretty certain that his club outfit wouldn't have grown to its current heights if it wasn't for his feats over the last few seasons.
Llorente has used all of his 6'5" mass to bag 79 goals in 163 Athletic appearances since 2008-09 as well as netting six times in 19 games for Spain since making his debut around roughly the same time.
Much like with Negredo, Llorente's size and ability to bring teammates into the fold is what makes him such a strong candidate to be included, but it's also Llorente's far superior record at finding the net that has many thinking that he should already be preparing to move his seat into the upright position.
Manuel Queimadelos Alonso/Getty Images

This is what many consider to be the "thinking outside the box" option. Quite literally.
The ever-growing trend, mainly modeled by Barcelona and Lionel Messi, to not have a designated out-and-out striker but to instead of have a more technically gifted outlet playing from deep is a tactic that Spain have toyed with now and again over the last few months. Then again, it also helps that many of the squad play with Barcelona in the first place.
The ridiculous amount of creative firepower available to del Bosque does make this sort of setup a very viable option. The Spaniards have a whole plethora of magicians like David Silva, Juan Mata, Andres Iniesta and Cesc Fabregas—who has already played the role for the Catalans this season—to choose from.
Playing a system like this also gives a lot more freedom for those playing out wide like Pedro or Iker Muniain to be much more direct. This in turn gives increased amounts of space for full backs to push on and allow the team as a unit to press higher up the park and keep the opposition hemmed in. A trait for which Barcelona, in particular, are notorious for.
The fact that a setup like this is even being mulled over with the strike force that could be called upon illustrates just how much of a selection dilemma Vicente del Bosque faces until he has to officially announce his 23-man squad that will attempt to retain the the Henri Delaunay trophy in June and July.
No matter who lands on Polish and Ukrainian tarmac, though, Spain will still be the side to beat.