Five Teams That Should Consider Renting Dwight Howard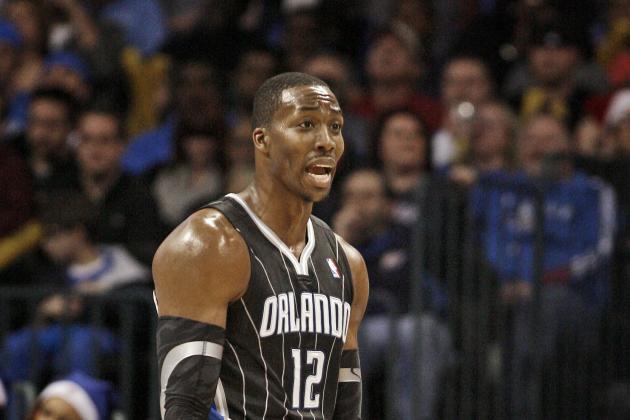 Brett Deering/Getty Images

Dwight Howard is leaving the Orlando Magic.
We aren't sure when, we aren't sure how, but we do know that it's going to happen.
Superman has named the Lakers, Mavericks, and Nets, as his three preferred destinations. We've heard rumblings about the Clippers, Knicks, and even the Bulls. In other words, he's going to play for a big market team.
Believe it or not though, there are contenders who don't play in New York, LA or Chicago. In a season like this when no team has separated itself from the pack, one of those teams might actually be able to win the title. For these teams, giving up valuable assets for a three month run with Howard makes sense.
In an age where stars consider themselves brands, it's very rare for a small market team to have a chance to acquire a player like Howard. For these five teams, it gives them a legitimate chance to win the title.
Begin Slideshow

»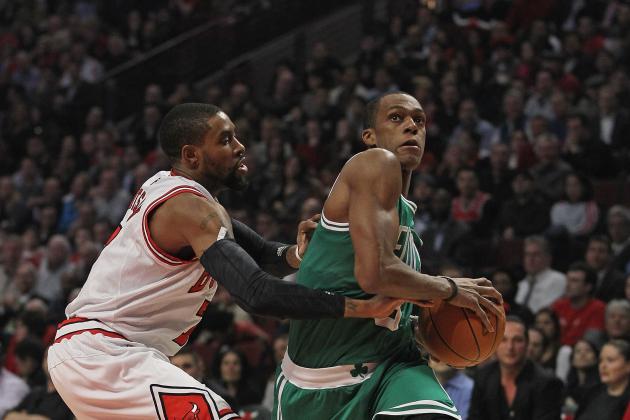 Jonathan Daniel/Getty Images
Could Orlando really do better than Rajon Rondo?
The trade: Boston sends Rajon Rondo, Brandon Bass, the expiring contracts of Jermaine O'Neal, Keyon Dooling and Mickael Pietrus and their unprotected 2012 first round pick to Orlando for Howard and Hedo Turkoglu.
Why Orlando makes the trade: unless the Lakers bite the bullet and give up both Pau Gasol and Andrew Bynum, could Orlando really do better than Rajon Rondo? Owner Rich DeVos wants to stay in contention after trading Howard, at the very least this deal gives them an all star to build around. It isn't ideal, but I find it hard to believe they could get a better player than Rondo.
Why Boston makes the trade: The Celtics are floundering. If they keep their current roster intact they will lose to Miami or Chicago in round one, that is if they make the playoffs at all.
This deal allows them to make one last run with their big three and Howard. They may be short on depth, but when you can put Dwight Howard, Paul Pierce, Kevin Garnett and Ray Allen on the court at the same time you'll always be dangerous.
After the season the Celtics would presumably blow up their roster and start over. Paul Pierce would be traded, Ray Allen and Kevin Garnett would sign with contenders, and Howard would take his talents to a bigger market. Considering the Celtics plan to do this anyway, why not go for it one last time?
Outside of Hedo Turkoglu's contract, the Celtics would be in an excellent cap situation. While Boston may not be a prime destination for free agents, they'd have enough money to lure some decent players. Combine that with the high draft picks they'd likely have in the coming years and the assets they'd get for Paul Pierce and suddenly the future is looking bright in Boston.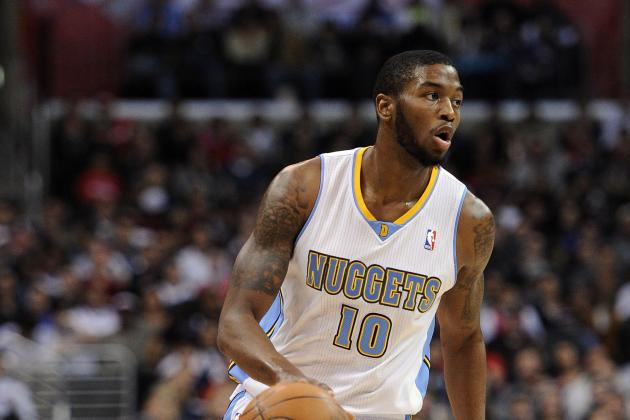 Harry How/Getty Images
Could Denver win the west with Howard?
The trade: Denver sends Nene, Timofey Mozgov, Rudy Fernandez, Jordan Hamilton, the expiring contract of Andre Miller, New York's 2014 first round pick and Denver's unprotected 2013 and 2015 unprotected first round picks to Orlando for Howard and Turkoglu.
Why Orlando makes the trade: this trade is more about quantity than quality for Orlando. Denver may not have a Rondo or Bynum to send to Orlando, but with their incredible depth they could give eight (nine if you count taking on Hedo's albatross of a contract) quality assets to the Magic. No other team can match that. Oh, and when you have a chance to acquire a pick from the Knicks you have to do it.
Why Denver makes the trade: the western conference is wide open. Last year we saw an eighth seed come within a game of the conference finals. At this point it seems that seeding will be more of a mad dash to avoid certain teams than just an outright clash for the best records. Denver is currently sitting at the eighth seed, but is only 5.5 games behind second seeded San Antonio.
Denver's problem is that they lack a true go to guy. Howard changes that. A group led by Howard, Danilo Gallinari and Ty Lawson could match any trio in the conference not led by Kevin Durant. Considering their depth with guys like Arron Afflalo, Al Harrington, Corey Brewer and potentially Wilson Chandler, they could definitely go toe to toe with the Thunder or anyone else out west.
Other than their magical 2009 run with Carmelo Anthony and Chauncey Billups, the Nuggets have been in the dreaded no man's land of being a lower seed in the playoffs. Never good enough to win the title, never bad enough to get top tier talent in the draft. If only for three months, Howard changes that. Considering their unrivaled depth, the worst case scenario for Howard's departure would still leave the Nuggets as a potential playoff team.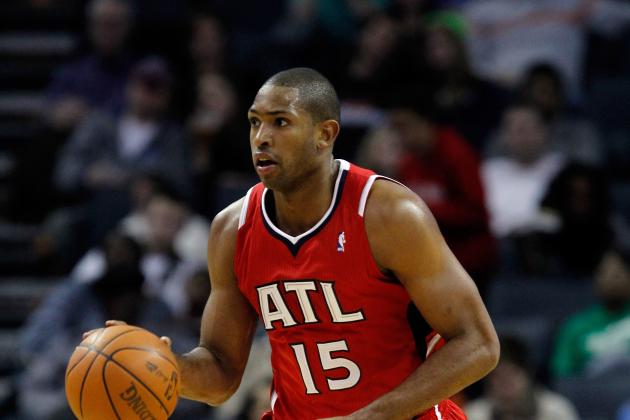 Streeter Lecka/Getty Images
Horford is one of the best young big men in the game
The trade: Atlanta sends Al Horford, Marvin Williams, Jeff Teague and the expiring contracts of Kirk Hinrich and Vladimir Radmanovic to Orlando for Howard, Turkoglu, Jameer Nelson and Justin Harper.
Why Orlando makes the trade: Al Horford is the best young big man the Magic could get for Howard — including Andrew Bynum. You may be worried about Horford's season ending injury, but I'd contend with the fact that we're 80% sure Bynum is made of glass. If Orlando isn't worried about Bynum they shouldn't be worried about Horford.
They also get to dump Hedo and Jameer's contracts to start a full rebuild around Horford, Teague and a few years of high draft picks. Not too shabby.
Why Atlanta makes this trade: Is there a better starting five in the NBA than Jameer Nelson, Joe Johnson, Hedo Turkoglu, Josh Smith and Dwight Howard? They'd have the best low post defense in the league to go along with two former all star guards and 39% career 3 point shooter. Like Denver, Atlanta has spent the last few years in low seed purgatory. Dwight Changes that.
From a matchup perspective, wouldn't this group give Miami fits? Dwight Howard would torment the Heat down low, Dwyane Wade would have to expend a ton of energy on defense covering Joe Johnson, and LeBron would have trouble getting to the basket against Howard and Smith. They don't have quite the same advantages against Chicago, but from a talent standpoint they'd be right up there with Miami and Chicago.
There's another element to this that makes it attractive to Atlanta. Dwight Howard might actually resign. He grew up in Atlanta and may not be able to find a team that better fits his talents. Atlanta may not be the biggest market, but as Michael Vick has proven an elite athlete can thrive there.
Even if Howard leaves the Hawks might not be in such a bad spot. As currently constructed the Hawks will never beat the Bulls or Heat. If Howard leaves they could trade Josh Smith and use the amnesty clause to rid themselves of Joe Johnson's contract and start a rebuilding phase. It would hurt to go back to lottery land (somewhere the Hawks know quite well), but at the very least they'd have a chance to build something for the long term.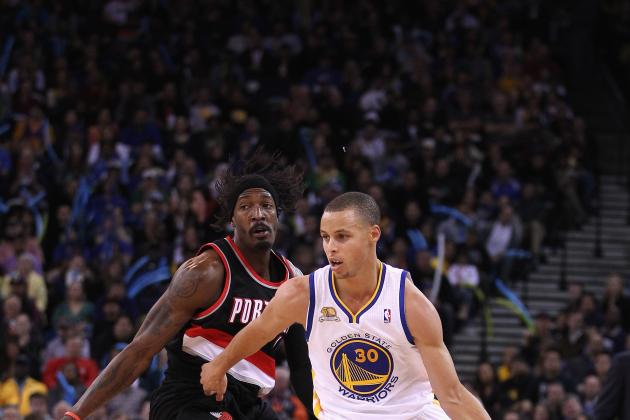 Ezra Shaw/Getty Images
Would Stephen Curry thrive away from Monta Ellis?
The trade: Golden State sends Stephen Curry, Klay Thompson, Ekpe Udoh, the expiring contract of Kwame Brown and a top 3 protected first round pick in 2013 to Orlando for Howard.
Why Orlando makes the trade: Golden State has been hesitant to include Stephen Curry in trades over the past year, and while that may have cost them a chance at Chris Paul, it was likely the right the decision. Curry has superstar potential. He is one of the most explosive scorers in the league when healthy and may have the best jump shot in the NBA.
If Orlando opts to go for youth, they'd be hard pressed to find a better package than three former top 10 picks and another potentially high future pick. Golden State would likely push Monta Ellis on Orlando in an effort to keep Curry, but ultimately the deal only gets done with the former Davidson star.
Why Golden State makes the trade: Reports say they are desperate to get into the mix for Howard. The Warriors haven't had a star big man since Chris Webber's rookie year, and Dwight makes them an instant contender. Though they are currently three games out of the playoffs, a new group led by Howard, Ellis and David Lee would be a big threat if they managed to get in.
Golden State's biggest issue for what seems like decades has been defense. The run and gun system implemented by Don Nelson has made the Warriors one of the league's most exciting teams, but also one of the worst defensively. Enter Howard. He has dragged a team with guys like Turkoglu, Rashard Lewis and Jameer Nelson to near the top of the league defensively. Couldn't he do the same in Oakland?
While it is unlikely that Howard would sign an extension with the Warriors, it's not entirely out of the question. The bay area is a decent market considering that it consists of both Oakland and San Francisco. If Howard enjoys playing with Monta Ellis he may at least tack another year onto his deal.
In the far more likely scenario that Howard leaves it wouldn't be the end of the world for the Warriors. As currently built the Warriors weren't going anywhere anyway. If Dwight walks they could trade Monta Ellis and start a complete rebuild, this time bringing in players who buy into Mark Jackson's defensive philosophy. It would sting to lose Curry, but one run with Howard might be worth it.
Mike Ehrmann/Getty Images
Andre Iguodala and Dwight Howard would be a defensive nightmare for opposing teams
The trade: Philadelphia sends Evan Turner, Thaddeus Young, Spencer Hawes, Elton Brand, Craig Brackins and unprotected first round picks in 2013 and 2015 to Orlando for Howard, Turkoglu and J.J Redick.
Why Orlando makes the trade: Similar to the Denver deal, there isn't a blue chipper in this package. Quantity is what makes this package attractive. As the Nuggets proved last year, depth can take you pretty far.
Before Linsanity took the league by storm, Spencer Hawes was a favorite for most improved player. Evan Turner is a former No. 2 overall pick who still has loads of potential and Thaddeus Young is one of the league's most versatile players locked into a very favorable deal for five years.
There's also the cap element to this. Though Elton Brand isn't an expiring deal, he's only signed on for another season after this one. That makes his 18 million dollar contract a valuable trade asset next year. They can move him for a decent player with a big contract or let his deal expire and collect the cap savings.
By doing this they get to dump Turkoglu and Redick's contracts which really have no value to a rebuilding team. Combine that with Young's team-friendly contract and this trade really helps Orlando's salary cap situation.
Why Philadelphia makes the trade: The Sixers have been one of the league's biggest surprises this year, but like Boston and Atlanta, they have virtually no chance of beating Miami or Chicago. Superman changes that.
Doug Collins is one of the league's best defensive coaches. Andre Iguodala is the league's best perimeter defender. Combine those two with Howard and the 76ers would suddenly become the best defensive team in the NBA, Chicago included.
On offense, Philly would still be on the league's more balanced teams. They currently have six players averaging double figures, and even after the deal they could beat you down low with Howard or on the perimeter with Iggy, Louis Williams, and Jrue Holliday. Factor in the deadly three point shooting of Turkoglu, Redick, and Jodie Meeks, and this team will have no trouble scoring.
Could the Sixers win the east with Dwight Howard, Iggy, Williams, Holliday, Redick, Hedo, Meeks and Nikola Vucevic? That would likely be the most versatile top eight in the league. Their defense would give Miami a ton of trouble and their offensive versatility would make them a pretty good match up for the Bulls. If any team is in a position to beat Miami or Chicago with this type of trade, it's the 76ers.
Obviously losing Howard in July would hurt, but not as much as you'd think. Evan Turner is stuck behind Iggy, and since he doesn't have a natural position he's probably better served learning on a rebuilding team anyway. While giving up Hawes and Young would sting, they're both ultimately replaceable players. Neither will make or break a championship team.
While it would be hard for Philly to build a consistent contender after this trade, they will never have a better chance to win a championship then right now. Miami and Chicago aren't going anywhere, the Knicks and Nets are likely on their way to contending status, and the west is only getting tougher.
When you have a chance for a title you have to go for it. Better to be the team that won one title and then rebuilt, than the team that gets knocked out in the first round every year. Just ask Cubs fans if they wish their team followed the Marlins model.
Very few teams have the resources to build consistent contenders. When you aren't one of them you have to go all in when opportunities present themselves. For a team like Philly, that opportunity is now.