Boston Celtics Trade Rumors: Dealing Rajon Rondo Wouldn't Save Aging Team
March 1, 2012

Christopher Pasatieri/Getty Images
Rajon Rondo is the most valuable asset that the Boston Celtics have to trade, so it would make sense that the team would be shopping him around. The problem is, there does not seem to be a lot of interest from teams that would give the Celtics the quantity and quality of players they need in return to rebuild.
According to Chris Broussard of ESPN.com, the Celtics are "aggressively shopping" Rondo around because of his attitude and clashes with head coach Doc Rivers.
The report even says that Golden State rejected a deal with the Celtics that would send Stephen Curry to Boston. Of course, Curry is a better scorer than Rondo, and the Warriors love players that put the ball in the basket.
Why would any team give up a lot to acquire Rondo, knowing he has an attitude and isn't afraid to get in the face of his head coach?
Rivers is one of the most respected coaches in the NBA, and Rondo can't even make things work with him.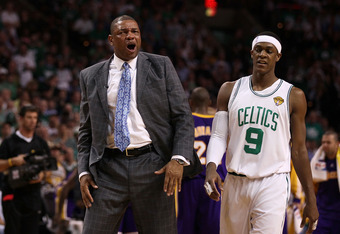 Elsa/Getty Images
Following up what Broussard reported, ESPN's Chad Ford said that teams are "worried about chemistry issues with him."
You can understand the Celtics' desire to move anyone and everyone that they can before the deadline. While they might be able to sneak into the playoffs, this team is not going to win a title. They are building around an old nucleus with Kevin Garnett, Ray Allen and Paul Pierce. 
Rondo is just 26 years old and is having a solid season with 14.2 points and 9.6 assists per game, but he is not a good shooter and has no problems calling out anyone on his team. 
The fact that he is signed to a reasonable contract for the next three seasons should be a boon to his stock. However, when there are so many questions surrounding him, no one is going to pony up the kind of offer that the Celtics need to deal him. 
While it sounds like a smart move on the surface for the Celtics to put Rondo on the block, there are a lot of reasons that go beyond his play on the court that will prevent them from getting the kind of deal they need to save their aging core.