Penn State vs. Purdue Basketball: Plenty More Ahead for Victorious Boilermakers
March 1, 2012

Jonathan Ferrey/Getty Images
Wednesday evening was an emotional night for many in Mackey Arena. The 14,565 attendees saw three outstanding seniors walk off the court in what was an excellent performance for all three. 
Robbie Hummel had to be the focus of the night, and it was well-deserved.
After his well-known history of two ACL tears and a fractured back, he has fought through and become one of the most beloved Boilermakers in history, and one of the best-known players in college basketball. 
It was fitting that he went out the way he did. 
After missing his first three baskets, Hummel scored the next 10 points for Purdue in a run that will always be on the mind of Boiler fans when they think of Hummel. 
He finished the game shooting 50 percent from the field for 26 points, eight rebounds, six assists, a block and a steal. That is a pretty impressive way to end your career in the arena in which you grew from a boy to a man.
Thinking back on the skinny freshman that played so well against Wisconsin in 2008, he looks like a completely different person.
Although the night was focused on Hummel for obvious reasons, the other two seniors performed well also.
Lewis Jackson went 6-of-6 from the floor for 12 points, along with five assists and three rebounds. Although he is known around the Big Ten for his big heart and tough defense, he is by far one of the most overlooked true point guards in the country.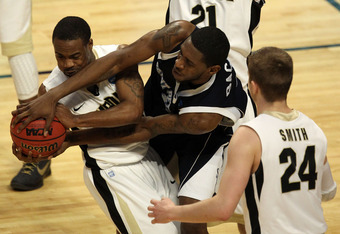 Jonathan Daniel/Getty Images
At a generous 5'9", Jackson has become a fan favorite, and it showed by the level of applause he received.
Finally, Ryne Smith was the last senior to score but he made it count, hitting three triples in a row in the second half and playing great defense. Smith was cold early, and was dishing the ball around a lot because he didn't seem to have it going.
Following the 80-56 victory, Senior Night celebrations were held, and something stood out to me: This team is unlike any team Purdue has had in a while.
Although the fanfare may not be there, and the NBA talent is minimal, this squad is finally clicking and is playing with such a fire that they are going to be a dangerous out.
As this squad heads to Bloomington on Sunday, a lot of noise and hate is going to be spread their way. In one of the most intense rivalries in the nation, both teams have momentum and Purdue is going to be out for revenge.
With a great win at Michigan last week, Purdue looks like a completely different team. They are playing with a pace that is second to none and very well could do exciting things in the tournament.
Although their careers in Mackey Arena have come to an end, their careers as Boilermakers are not over, and they will finish it right.
Watch out for this Purdue team; they seem to be clicking on all cylinders heading into the most important part of the season. This team has a lot of basketball left in them.