Georges St-Pierre and 10 Fighters the UFC Can't Do Without
Georges St-Pierre/ Scott Petersen for MMAWeeekly.com
Since his ascension through the welterweight ranks, Georges St-Pierre has proven to be a huge commodity for the UFC.
The 170-pound kingpin has helped usher the organization's endeavor into Canada, headlining the promotion's biggest event to date, assisting in selling out the prestigious Rogers Centre in Toronto, with more than 55,000 in attendance.
St-Pierre has proven to be an indispensable figure for the UFC, just as these next few fighters have proven to be time and time again.
Georges St-Pierre/ Scott Petersen for MMAWeekly.com
Begin Slideshow

»
Lesnar/ Ken Pishna for MMAWeekly.com
Though he's officially retired from the sport, would it really surprise anyone to see the former world champion try his hand at a return to glory?
It's not like we haven't seen that one before.
Lesnar, a former WWE star, transitioned to the UFC in 2008 and immediately made an impact in the heavyweight division, capturing the title in just his fourth bout as a pro.
The South Dakota native proved to be a huge pay-per-view draw, consistently bringing in high buy rates while he served as champion.
Headlining UFC 100, Lesnar helped rake in more than 1.5 million buys in PPV sales.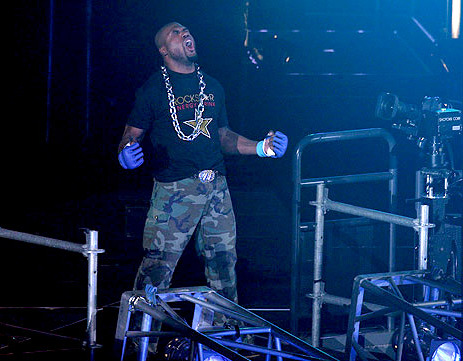 Jackson/ Scott Petersen for MMAWeekly.com
"Rampage" has already proven that should his MMA career not continue, a lucrative backup plan in acting will always be on the burner.
However, since joining up with the UFC, Jackson has become endeared by the mixed martial arts community thanks to his knockout power and lively personality.
After serving his second stint as coach on season 10 of The Ultimate Fighter, Jackson finally met rival Rashad Evans inside the Octagon at UFC 114.
The heated rivalry netted the organization over a million PPV buys.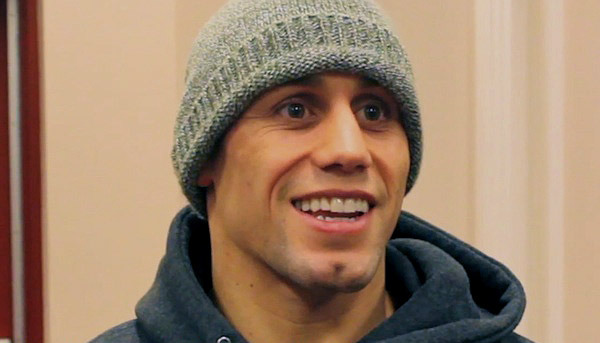 Faber/ Erik Fontanez for MMAWeekly.com
Of all the WEC imports, Urijah Faber could be the most popular.
The former featherweight kingpin has already made waves since entering the UFC, using his good looks and fighting acumen to wow the fans. He turned in a Fight of the Year candidate against Dominick Cruz last July when he rocked and dropped his adversary on several occasions, though he ultimately lost a close decision.
"The California Kid" has since bounced back, earning Submission of the Night for his drubbing of former WEC champ Brian Bowles, which helped net Faber a coaching stint on Season 15 of The Ultimate Fighter, opposing the aforementioned Cruz.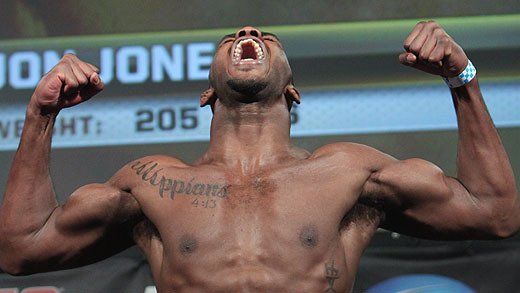 Jones/ Ken Pishna for MMAWeekly.com
The quick ascension of Jon Jones through the light heavyweight ranks was unexpected but welcomed nonetheless.
Since Chuck Liddell was dethroned by Jackson, the 205-pound division has failed to maintain a champion that has looked as dominant as "The Iceman."
Not only does Jones have the skills that would enable him to remain at the top of the mountain, but "Bones" is hungry and eager to defend his UFC title, which was evident in his incredible 2011 campaign.
In one year, Jones went from a budding contender to a two-time defending champion, a feat that had never been accomplished before in the UFC.
What's better than having one Nick Diaz? How about a carbon copy, but in the lightweight division.
These Stockton, Calif., bad boys have become two of the most controversial and most endearing fighters in the sport, thanks to their unapologetic demeanor and exciting fighting styles.
Nick is a former Strikeforce welterweight champion, having defended the crown three times before entering the UFC and garnering a whole batch of headlines, both good and bad. Regardless, any news is good news.
Nate, the 155-pound fighter, first gained notoriety on the rambunctious fifth season of The Ultimate Fighter, winning the series and now becoming a top contender as a lightweight after scoring consecutive victories over former Pride champion Takanori Gomi and the world-ranked Donald Cerrone.
For the UFC, Chael Sonnen is a walking dollar sign.
Don't believe me? Then check out this interview where Sonnen does his best to become the ultimate heel of the sport, throwing rival Anderson Silva—and Brazilians alike—under a bus.
Well, as far as the Nogueira brothers are concerned, they are actually very fond of buses.
Who else in the MMA world can throw double-flying knees so effortlessly?
Not since Urijah Faber has the featherweight division been as exciting as Jose Aldo has been terrorizing the world's best at 145 with his world-class striking skills coupled with his high-level jiu-jitsu.
He may not be the most well-received pay-per-view draw, however at just 25 years old, Aldo will have plenty of time to cultivate that loyal fan following. His style will endear him to more and more people worldwide.
Silva (right)/ MMAWeekly.com
Silva is regarded as the pound-for-pound best fighter in the world, and for good reason.
The middleweight kingpin has blown through all his competition since entering the UFC in 2006 and has set several unprecedented records in the organization.
Holding the longest undefeated streak in the promotion at 14-0, Silva has also successfully defended his 185-pound title a record nine times and has competed in the light heavyweight division.
Victories over former UFC champions Rich Franklin (twice), Vitor Belfort and Forrest Griffin are just the short list of formidable opponents that Silva has dispatched in his tenure.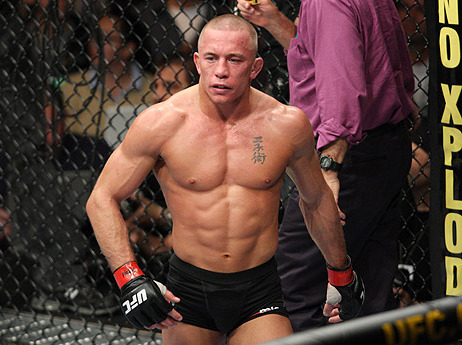 GSP/ Scott Petersen for MMAWeekly.com
Residing as the welterweight champion for close to five years, St-Pierre is regarded as one of the top three pound-for-pound fighters on the planet.
A humble and generous role model for most, this soft-spoken Canadian has become of the biggest commodities for the UFC, having helped usher in the organization into his native country and bringing in large gates every time he dons the card.
St-Pierre is a strong PPV draw as well, which his last outing against Jake Shields in April of 2011 would indicate, as "Rush" pulled in more than 800,000 in buy rates.