NFL Draft 2012: Why the Browns Are Not the Best Team for Robert Griffin III
March 1, 2012

Jeff Zelevansky/Getty Images
With Andrew Luck being considered off the board before the NFL draft has even started, the quarterback that has gotten the most hype is Baylor's Robert Griffin III.  The St. Louis Rams hold the second pick in the draft and have made clear that the pick is available to anyone who wants it.
The Cleveland Browns are the team that seems most likely to trade up to get RG3.  They have a couple of picks to give and they most certainly need a quarterback.  However, making that move would not do the organization or Griffin any favors.
Browns fans probably think I am crazy right now.  I understand why.  The Browns haven't been relevant in a while and Griffin is everything you would want to build a franchise around. 
He is athletic, intelligent and charismatic.  His performance on the field and on the mic at the NFL combine has scouts and the media fawning all over him.  Simply put, Robert Griffin III has "star" written all over him.  
The problem for the Browns is that their offense is in shambles.  Yes, you could argue that it starts with Colt McCoy at the quarterback position.  That being said, Cleveland's failures are not all on him. 
The Browns offensive line is bad.  Their "star" running back, Peyton Hillis, played horribly last year.  I don't think that the casual fan could even name one of Cleveland's receivers.  Joshua Cribs is the offense's best player and he is a converted special teamer.
Most rookie quarterbacks that slide into a team and are instantly successful have a decent core around them.  
With the Browns, I do not see RG3 having a season like Cam Newton or Andy Dalton did last year. 
Cam has a great receiver in Steve Smith, a couple of good backs in DeAngelo Williams and Jonathan Stewart and a solid offensive line.  The same can be said for Dalton, who was helped immensely by having A.J. Green around.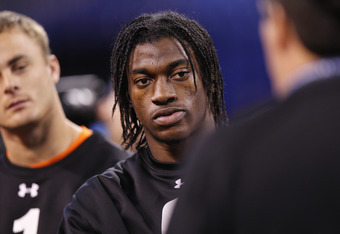 Joe Robbins/Getty Images
If RG3 lands in Cleveland, his rookie year could be a disaster.  Remember, the Browns play in the division that has arguably the best two defenses in the league in Pittsburgh and Baltimore. 
Griffin would be running for his life week in and week out.  We have seen what happens to young quarterbacks when they are constantly under duress.  Sam Bradford didn't look the same at all last season after being destroyed by opposing defenses every week.
Keep in mind that the Browns have two picks in the first round this year.  They would almost certainly have to give up that other pick to the Rams to move up.  The Browns have too many needs to be trading away any draft picks.
Cleveland needs to use those picks to bring in more offensive weapons.  The Browns struggled to protect McCoy with their line and skill players last season. 
Even with RG3 in the mix, I don't see it being any different for them in the coming season.  He may be a sexy pick, but I do not see any way that RG3 can succeed with the Cleveland Browns.