The Toronto Maple Leafs have lost six games in a row and are 1-8-1 in their last 10, but this recent slump is not the fault of head coach Ron Wilson, and there is no way he should be fired for the team's poor February.
First of all, the team's issues were obvious before the trade deadline, yet general manager Brian Burke did nothing to address them.
Should the Leafs fire Wilson?
Goaltending and a top-line center were two huge needs, and neither of them were addressed at the trade deadline. Burke refused to pay huge prices for goaltenders and top-six forwards, and while that might have been a smart move, the team desperately needed some upgrades.
Wilson can only do so much as a head coach—the players have to perform to their ability on the ice. Burke has consistently supported Wilson in the media and has shown no indication that a coaching change is imminent.
TSN's Pierre LeBrun recently spoke to Burke about Wilson's job status:
Regarding calls for Ron Wilson's head in TO, just chatted with Leafs GM Brian Burke. ``I'm not contemplating a coaching change,'' Burke said

— Pierre

LeBrun

(@Real_ESPNLeBrun) February 26, 2012
To be fair to Wilson, his defensemen have been poor in the defensive zone, and his team as a whole has played at a far worse level than they were in October, when they were a top Eastern Conference team.
Playing so well out of the gate rose the expectations of this Leafs team to an unrealistic level. The Leafs aren't a top team in the East and they don't have enough talent to compete for the Stanley Cup. They will not make the playoffs because they just aren't better than the teams they're chasing, not because their coach is not doing his job well.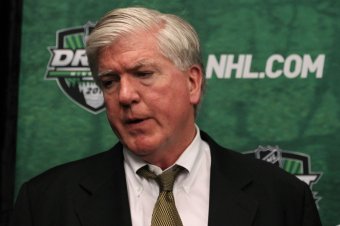 Bruce Bennett/Getty Images
Wilson is doing the best he can with the team he has, and it would be quite unfair to fire him when the general manager hasn't given him the quality of players needed to be a playoff team.
Ultimately, the players need to perform on the ice, and the coach should not have to find extra ways to motivate players who are playing for a passionate fanbase that hasn't seen the playoffs since 2004.
Clarke MacArthur recently talked about his head coach, via the Toronto Star:
"He's the same as he's been before," MacArthur said of his coach. "He came in before last game and tried to give us a spark and get us going. It's our job to come out and do something about that. You can't sit there on the bench with a cattle prod and poke every guy.

"It's our job to go out there and get something done."
Wilson is not to blame for the Leafs' horrible month of February, and the fans chanting "Fire Wilson" at the Air Canada Centre should be ashamed of themselves.
Instead of pointing the finger at Wilson, Leafs fans should point it at Burke and the players. They are the ones responsible for this mess.