Ramon Sessions Trade Rumors Tracker: Latest Updates for Cavaliers PG
March 1, 2012

Mike Ehrmann/Getty Images
The calendar has turned to March, which means that the NBA Trade Deadline is rapidly approaching. One of best point guards who could find himself dealt is Ramon Sessions of the Cleveland Cavaliers. With Kyrie Irving taking over starting duties, the team is smart to deal assets and build around him. 
Sessions has played in all 33 games this season, averaging 10.3 points and 5.3 assists per game. He isn't a good shooter—just 39 percent from the field—but he does know how to handle an offense and get everyone around him involved. 
With a few notable contenders hunting for help at the point guard position and Sessions signed through next season at just $4.5 million, there should be a lot of phone calls coming to Cleveland before March 15.
We will have all the latest news, notes and information on Sessions' trade status as we approach the NBA Trade Deadline. Check back here through March 15 to get the lowdown on all the details. 
Update: Thursday, March 15 at 2:45 p.m. EDT by Alex Kay
As reported earlier (scroll down), the Cleveland Cavaliers shipped Ramon Sessions and Christian Eyenga to the Los Angeles Lakers for Luke Walton and a top-14 protected first-round draft pick in 2012.
Now Yahoo Sports!' Adrian Wojnarowski is reporting that Jason Kapono is also part of the package that LA gave in return for a new point guard.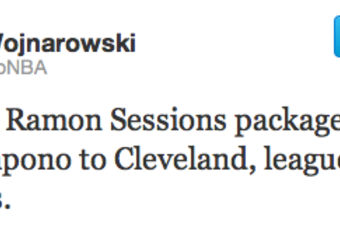 Kapono may best be remembered the two-time NBA Three-Point Shootout champ in 2007 and 2008, but he's also a productive swingman who started his career in Cleveland back in 2003.
He averaged a career high 10.9 points per game for Miami back in 2006-07 and nailed a ridiculous 51.4 percent of his treys.
This is a solid throw in for a trade that should work out for both sides.  
Update: Thursday, March 15 at 1:45 p.m. ET by Nicholas Goss
According to Brian Windhorst of ESPN.com, the Los Angeles Lakers have acquired point guard Ramon Sessions from the Cleveland Cavaliers in exchange for a draft pick.
About to go up on ESPN.com: Lakers have agreed to a trade for Cavs point guard Ramon Sessions for a future draft pick.

— Brian Windhorst (@WindhorstESPN) March 15, 2012
Jason Lloyd of the Akron-Beacon Journal has reported that the future pick going to the Cavaliers from the Lakers is a 2012 first round draft choice. Los Angeles will also send forward Luke Walton to Cleveland and receive forward Christian Eyenga.
BREAKING NEWS: #Cavs trade Ramon Sessions, Christian Eyenga to Lakers for Luke Walton and Lakers' #1 pick (top 14 protected) in 2012 draft.

— Jason Lloyd (@JasonLloydABJ) March 15, 2012
This is an awesome move by the Lakers, who desperately needed to upgrade at point guard to be a serious contender in the Western Conference this season. Sessions is a talented playmaker who can run an offense and add some quality scoring production in a starting or bench role.
Update: Tuesday, March 13th at 3:33 p.m. EDT
According to Sam Amico of FOX Sports Ohio, the Lakers have re-engaged the Cavaliers in trade talks regarding Ramon Sessions after realizing just how barren the point guard market is. LA had shown a strong interest in acquiring Sessions during All-Star Weekend, but balked at the possibility of giving up a first-round pick in such a deal and potentially losing him to free agency this summer.
Sessions would represent significant upgrade for the Lakers at the point guard position, where the team has garnered only middling production from Derek Fisher and Steve Blake.
Update: Wednesday, March 7th at 5:34 a.m. EDT
As the deadline approaches, it looks like the Lakers are either going to have to part ways with the first-round pick that made the deal fall through around a week ago or Cleveland will have to lower their asking price.

According to Mike Bresnahan of the LA Times,
"The Lakers were close to a smaller deal with Cleveland for backup point guard Ramon Sessions but didn't want to part with the future first-round pick they acquired from Dallas for Odom."
Update: Thursday, March. 1 at 8:50 a.m. EDT
Like seemingly everyone else on the market this season, the Los Angeles Lakers have been linked to Sessions for weeks. 
Adrian Wojnarowski of Yahoo! Sports was the first to report about Sessions being on L.A.'s radar. It has been awhile since we have heard any development on that front. The Lakers do need to upgrade their backcourt before the deadline, and Sessions would seem like a low-cost option for them. 
Another deal that has been talked about recently would have Sessions going to Atlanta for power forward Marvin Williams.
Bob Finnan of the Ohio News Herald mentioned the deal in his rumor roundup, but was quick to point out that it wouldn't work under the salary cap since Williams is making $7.5 million and Sessions earns $4.3 million. 
The report does say that there could be something to this rumor because Williams wants out of Atlanta and Cleveland general manager Chris Grant drafted him out of college. 
If they can find a way to make it work, that deal would benefit both teams. The Hawks would get a better backup for Jeff Teague at the point and Williams would give the Cavaliers another long man who can contribute off the bench.