Strikeforce: Can Ryan Couture Live Up to High Expectations?
Use your ← → (arrow) keys to browse more stories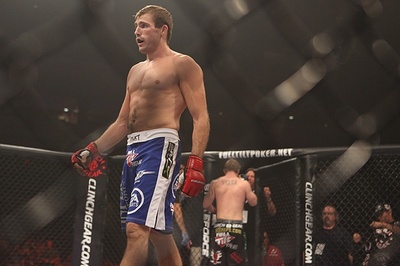 Ryan Couture/ Dave Mandel for Sherdog.com
Becoming a successful mixed martial artist nowadays has become more difficult in this day and age.
With the sport reaching its highest point in popularity, many athletes are now venturing into the world of MMA hoping to reach heights that their predecessors have laid before them.
Legendary figures such as Matt Hughes, Fedor Emelianenko and Chuck Liddell are all regarded as men who have helped pave the way for the rise in popularity of the sport on a global level.
However, there has arguably been no greater ambassador and role model than that of former five-time UFC champion Randy Couture. "The Natural" was the first man in the Octagon to hold titles in two different weight classes, having defeated some of the sport's best in both the light heavyweight and heavyweight divisions.
A UFC Hall of Famer, Randy's success has been not been replicated and probably never will. So imagine putting yourself in the shoes of Ryan Couture, a budding lightweight star who has some big shoes to fill, forever being linked to his father who is regarded as one of the all-time greats.
After compiling a 5-1-1 record as an amateur, Ryan would make his professional debut under the Strikeforce banner in August of 2010, impressively submitting Lucas Stark in just 75 seconds.
Following a 2-0 run, many gave Ryan high praise for his wrestling skills, coupled with his ever improving jiu-jitsu acumen, though the Edmonton, Wash. native would later reel from his first career defeat when he was bested in a close-knit battle with fellow prospect Matt Ricehouse.
Since then, Ryan has bounced back with a decision win over Maka Watson in his last outing, improving to 3-1 as a professional.
Next on the docket for the younger Couture will be tested veteran Conor Heun—a veteran of 13 fights who has fought the likes of Brett Cooper, LC Davis, Jorge Gurgel and former EliteXC champion KJ Noons.
Needless to say, it's a big step up in competition for Ryan, who has enjoyed moving forward in his career at a progressive and moderate pace.
It's sink or swim now for Ryan, who no matter what happens in his career, will always draw comparisons to that of his prestigious begetter. Should he get past Heun, and subdue him impressively, the road will only continue to get harder.
So long as he remains humble and vigilant in his approach and continues his natural progression as a fighter, all the while under the watchful eye of daddy dearest, Ryan could very well be a force to be reckoned with at 155 pounds.