Tate vs. Rousey: B/R Staff Predictions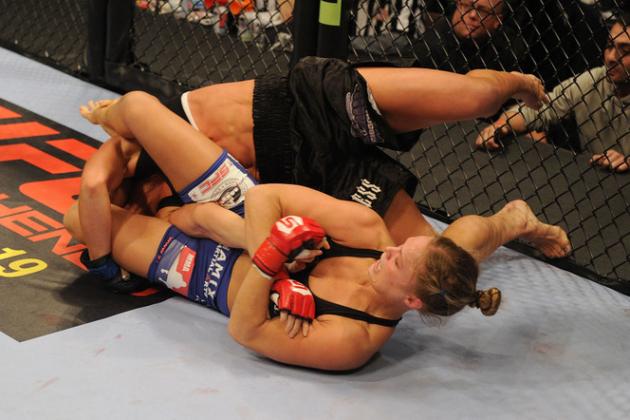 Photo Courtesy of The MMA Corner
Saturday night marks a rare occasion where fight fans get excited for a women's title fight.
Reigning Strikeforce Women's Bantamweight Champion Miesha Tate defends her 12 pounds of gold against undefeated Judo expert Ronda Rousey.
In the co-main event, KJ Noons takes on Josh Thompson in a lightweight bout that could easily be an unofficial title eliminator fight to name the next challenger for Strikeforce Lightweight Champion Gilbert Melendez.
In another match that could determine who wears Strikforce gold in the near future, hard-hitting veteran Paul Daley takes on Japanese brawler Kizuo "Hitman" Misaki.
At 185 pounds, former Strikeforce middleweight title holder Ronaldo "Jacare" Souza looks to get back to his winning ways against the Superior Cage Combat Middleweight Champion, Bristol Marunde.
Rounding out the main card, another middleweight scrap places veteran power puncher Scott Smith against the largely unknown grappler Lumumba Sayers.
Bleacher Report MMA Featured Columnists Matthew Saccaro, Kyle Symes, Jordy McElroy and myself, John Heinis, are letting you know who gets their hand raised this time around.
Begin Slideshow

»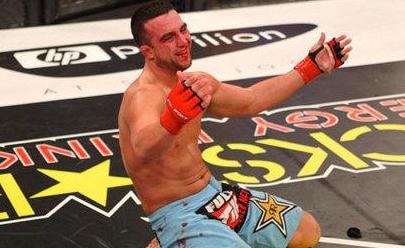 Photo Courtesy of Sports Chat Palace
John Heinis: If Strikeforce wasn't hanging on by a thread as a professional fight league, Scott Smith would certainly not be on the roster any longer.
"Hands of Steel" has consecutive losses to Cung Le, Paul Daley and Tarec Saffiedine, so making the drop to welterweight obviously didn't help the 27 fight veteran one bit.
This marks his return to middleweight.
Smith's chin just isn't what it used to be and his grappling hasn't evolved much, if at all, so despite being just 32 years old, he may want to consider hanging up the gloves with a loss against the relatively unknown Lumumba Sayers.
Sayers enters this bout with just a 5-2 professional fight record, going 1-1 under the Strikeforce banner.
He is fresh off his first knockout win over Antwain Britt at Strikeforce Challengers 20 in November, but prior to that was submitted by Derek Brunson at Strikeforce: Fedor vs. Henderson in July.
While Sayers is a big question mark coming into this one, the fact that all of his wins have been finishes, four of which being submissions, makes me confident he can defeat a well past his prime veteran.

Lumumba Sayers via second round submission (arm triangle)
Matthew Saccaro: Eternal journeyman Scott Smith takes on the unheralded Lumumba Sayers in the first bout of the main card.
Sayers is a relatively unknown quantity at this point, being only 5-2. However, his strong suit is definitely submissions, having four submission wins to his credit.
Sayers is likely cannon fodder for the more marketable, fan friendly, and well known Smith — who has over three times as many fights — but I don't like Smith's chances here.
His MMA game has been static for years now. He's still fighting from the early 2000s era. Smith is basically a striker fighting a more well-rounded mixed martial artist. Smith's only weapons are his hands and his heart.
Smith is 1-4 in his last five and is on a three-fight losing streak. He doesn't have the skills to compete at even an above-average level anymore and Sayers will show it. He'll take a submission or decision victory.
Lumumba Sayers by submission or decision
Jordy McElroy: Strikeforce seems determined to get Scott Smith back on the winning track as he makes his middleweight return against 5-2 Lumumba Sayers.

Smith is 1-4 in his last five bouts, and he hopes to end the slump against Sayers, a decent grappler with a tendency to overstay his welcome on the feet.

A standup brawl with Smith isn't what Sayers is looking for in this bout. "Hands of Steel" has a knack for putting opponents to sleep, and he doesn't mind taking heavy strikes to return some of his own.

Sayers should pick his shots on his feet and work for takedowns, but the chances of such an inexperienced fighter following a conservative game plan at this stage of the game are slim.

Look for Smith to take advantage of Sayers' willingness to engage and net the first round knockout.

Scott Smith by round 1 KO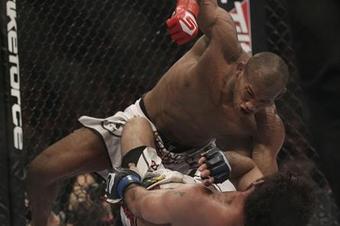 Ronaldo Souza/ Jeff Chiu for the Associated Press
John Heinis: There were whispers that Ronaldo "Jacare" Souza could one day give UFC Middleweight Champion (and Black House teammate) Anderson Silva a run for his money before he unceremoniously lost the Strikeforce middleweight title to Luke Rockhold in September.
The jiu-jitsu ace looks to rebound against Bristol Marunde, the current Superior Cage Combat Middleweight Champion.
Marunde comes in riding a four-fight win streak, winning nine of his past 10, with a professional record of 12-6.
The lesser known middleweight is a wrestler with some submission know how, which does not bode well against a five-time jiu-jitsu world champion like Jacare.
For a fighter known for his submission skills, Souza has pretty good takedowns and takedown defense in his own right, so Marunde's most realistic path to victory is to keep this one standing.
That is not going to happen though.

Ronaldo Souza via second round submission (rear-naked choke)
Mathew Saccaro: Derek Brunson was originally set to face Brazilian Jiu-Jitsu master Ronaldo "Jacare" Souza but Brunson was forced to withdraw. In his place is a fighter by the name of Bristol Marunde.
This will probably be the least competitive fight on the card. Jacare may be coming off a dismal loss to Luke Rockhold, but he still has enough to take out a competitor of Marunde's caliber.
Marunde is 12-6 but has lost to the few name opponents he's ever faced. Jacare will overwhelm Marunde and completely outclass him.
The fight will end by submission or perhaps even a TKO via ground and pound, pending on what Jacare feels like at the time.
Ronaldo Souza via submission or TKO
Jordy McElroy: In such a weak middleweight division, Ronaldo "Jacare" Souza finds himself in a lose-lose situation against Bristol Marunde.

If Souza loses, he will plummet down the middleweight ranks, and if he wins, there really is not much to gain in defeating Marunde.

For Marunde, this represents an opportunity of a lifetime to shock the world and make a name for himself. Unfortunately for the Alaskan native, that opportunity will come in the form of a puncher's chance.

Souza is the far more technical and superior fighter in every aspect. Look for him to grab takedowns and utilize a heavy dose of ground-and-pound to setup the second round submission.

Ronaldo "Jacare" Souza by Round 2 submission (Rear-Naked Choke)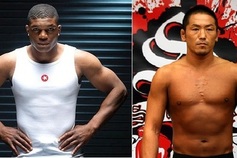 Photo Courtesy of MMA Mania
John Heinis: This will be Paul "Semtex" Daley's fifth fight in 11 months. The hard hitting striker hopes to improve his winning streak to three in a row.
Most recently, Daley holds back-to-back wins over Jordan Radev and Luigi Fioravanti, under the BAMMA and Ringside MMA promotions.
Kizuo "Hitman" Misaki is a big step up in competition and is a lot closer to Daley's skill level than most fans probably realize.
Misaki is best known for his Sherdog/Inside MMA 2010 Fight of the Year against Jorge Santiago for the Sengoku middleweight belt.
While Santiago scored a come from behind win with just 30 seconds left, this fight showed that Misaki is still no pushover.
Believe it or not, Misaki holds a win over a PRIDE version of Dan Henderson in 2006 and also fought Jake Shields to a draw in a 2003 Pancrase battle.
With all that being said, Misaki submission game is not much better than adequate and his wrestling game is pretty much non-existent, so don't be surprised if Daley manages to deliver another highlight reel knockout when his Japanese adversary gases out.

Paul Daley via third round KO
Matthew Saccaro: At a glance, Daley vs. Misaki is one of the more intriguing fights on the card.
They have similar records — Daley is 29-11-2 and Misaki is 24-11-2 (1 NC) — and both are good competitors, though not great.
However, the match is not as close as it appears on paper. Daley is the better fighter by far.
Daley is one of the best strikers at welterweight and Misaki is not.
And while Daley's grappling is definitely worse than Misaki's, Misaki's isn't the best grappling the world has ever seen.
The Pride welterweight grand prix champion has the grappling advantage but he likely won't be able to get it to the ground due to Daley's ever-improving takedown defense.
After all, Misaki couldn't submit Melvin Manhoef who has even less takedown defense and grappling than Daley does.
This fight will end in a knockout and Daley's hand will be raised. It's that simple.
Paul Daley via knockout
Kyle Symes: Misaki is certainly a game opponent for anyone.
He's beaten a lot of good fighters but there's two things I don't like about him coming into this fight: he hasn't fought since April of 2011 and he's also 35 years old.
If Daley can beat the weight scale, he can beat Misaki too.
Paul Daley via TKO
Jordy McElroy: After rebounding from back to back losses to Nick Diaz and Tyron Woodley, Paul "Semtex" Daley returns to Strikeforce to take on Japanese legend Kazuo Misaki.

Coming off wins over Luigi Fioravanti and Jordan Radev, Daley brings with him some of the most lethal knockout power in all of MMA.
His fists are laced with Nyquil, and if Misaki doesn't want to end up in the fetal position, he better exhibit good defense and awareness.

Takedowns have always been Daley's Achilles's heel, but against Woodley, he showcased drastic improvements in his ability to change angles and shrug off shots.

Misaki has solid submission skills, but unless he's able to distract Daley on standing up, he won't get many openings to secure the takedown.

It's dangerous to play with explosives, and Misaki will pay in a big way when "Semtex" lands the early haymaker that puts him to sleep.

Paul Daley by round 1 KO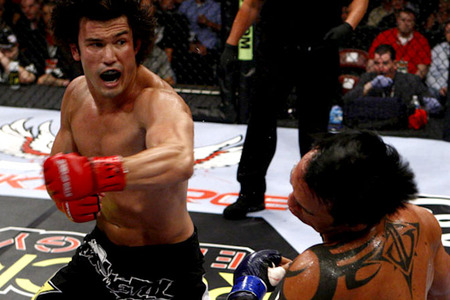 John Heinis: KJ Noons, aka the guy in Strikeforce who beat Nick Diaz way back when, could see himself vying for a major title with a victory here, despite just losing a title eliminator to Jorge Masvidal back in June.
Noons is a good, not great, striker with adequate takedowns and takedown defense.
A prime Josh Thomson, a good wrestler with a black belt in "Guerilla Jiu-Jitsu" under Dave Camarillo, should easily exploit Noons' grappling game.
However, Thomson just has not looked like the same guy since he beat Gilbert Melendez (yup, that Gilbert Melendez) for the Strikeforce lightweight title in June of 2008.
Since then, he has been plagued by injuries. He lost his title to Melendez and has gone just 2-2 after winning eight in a row.
In all fairness, there is no shame in losing to Melendez in a closely contested brawl, but losing to the current version of Tatsuya Kawajiri certainly raises some questions.
The loser as this fight will be a gatekeeper in Strikeforce's lightweight division, so if these guys needed another reason to go for broke, there it is.
To me, Thomson is basically like Randy "The Ram" Robinson at the end of the "Wrestler": a beaten up piece of meat.
Noons is nothing special, certainly nowhere near elite, but he'll do just enough to win.

KJ Noons via split decision
Matthew Saccaro: This fight has potential to be the best or worst fight of the night.
If K.J. Noons can keep it standing, it'll be a standup "war" between the two lightweights in which the former boxer will likely be able to out-point Thomson.
However, if Thomson can take Noons down then Noons' non existent Jiu-Jitsu (just holding someone in your guard doesn't count as Jiu-Jitsu) will create a lackluster fight in which Thomson has no choice but to "lay and pray" his way to victory.
I like Thomson here because Noons is generally overrated as a competitor due to his fluke win over Nick Diaz.
Thomson should not have any issues taking Noons down but Noons does have some good scrambling and submission defense, so the fight could be forgettable. I'll take Thomson by decision.
Josh Thomson via submission
Kyle Symes: Josh Thomson has beaten a lot of good guys at lightweight in Strikeforce, including the current lightweight champion Gilbert Melendez.
KJ Noons also holds his own fair share of impressive victories like his defeat of former champion Nick Diaz and Yves Edwards.
This fight will come down to whether Thomson can get Noons to the mat and negate Noon's superior striking.
Normally I'd be inclined to pick the better grappler/wrestler, but Thomson has not fought since late 2010 and Noons has looked very good as of late.
KJ Noons via decision
Jordy McElroy: Over a year after his decision loss to Tatsuya Kawajiri, Josh "The Punk" Thomson returns to Strikeforce to take on former EliteXC lightweight champion K.J. Noons.

Coming off multiple injuries, Thomson will have his hands full with Noons, a world class boxer with devastating knockout power. "The Punk" will enter this bout as the more well-rounded fighter.
Noons has always been an intriguing talent, but he has never really taken the time to round off his skills. He never mixes up his striking arsenal with kicks, and outside of some decent takedown defense, he really has not shown much of a ground game.

Thomson should be able to engage Noons on the feet and close the distance to setup takedowns from the clinch. This bout has the potential to deliver fireworks, but an early Fourth of July is not what Thomson wants.

He'll slow the fight down with takedowns and elongated cage clinches to eke out a close decision.

Josh Thomson by split decision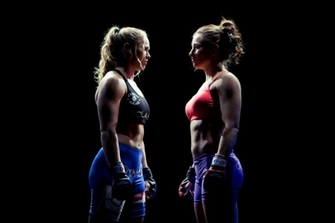 Photo Courtesy of Showtime
John Heinis: Miesha "Takedown" Tate has won six in a row. She won the Strikeforce batamweight title in July, yet still comes in as significant underdog against "Rowdy" Ronda Rousey.
As crazy as that is, it is actually easy to see the logic. In four professional fights, Rousey has not been inside the cage for four minutes, finishing each opponent with an armbar.
Rousey, a former Judo bronze medalist (as everyone reading is well aware), also won all three of her amateur fights fights in less than a minute with an armbar.
Her fight resume, along with Chael Sonnen-esque pre-fight trash talk, has not been enough to get a rise out of Tate, though.
The champion remains confident that her wrestling will be able to overcome Rousey's Judo and also feels she has a substantial advantage in the striking department.
It's too easy to predict Rousey winning by first round armbar here, so I'm going to out on a limb and say...
Ronda Rousey via second round submission (armbar)
Matthew Saccaro: Miesha Tate has never been in the cage with a competitor like Ronda Rousey.
The former Olympic Judoka has four pro fights, four wins, four armbars, each in under a minute.
This fight will be no different.
The fight will start, Rousey will clinch Tate, throw her, and armbar her, Tate's wrestling notwithstanding.
Rousey is just on a different level as an athlete.
Ronda Rousey by first round submission (armbar)
Kyle Symes: Let's hope all the hype leading up to this fight makes for a good fight.
Rousey has been very impressive in the short amount of time we've been able to witness her in MMA. She's walked through all of her opponents and ended them via armbar.
I think all the talking will cause both women to get aggressive which could lead to some interesting takedowns from Tate or throws from Rousey.
I think Rousey can defeat Tate but I just don't think she's ready. Tate has fought a lot of great opponents and has been in the deep waters.
Miesha Tate via decision
Jordy McElroy: The ongoing rivalry between Strikeforce women's bantamweight champion Miesha Tate and Ronda Rousey has given new life to women's MMA.

Minus Gina Carano and Cristiane "Cyborg" Santos, the future of women's MMA seemed bleak. However, Rousey's candid personality has propelled the ladies back to the forefront of mainstream MMA.

Currently riding a record of 4-0, Rousey will have to prove her bite is as bad as her bark. With 14 professional bouts under her belt, Tate comes in as the more experienced fighter.

From purely a technical perspective, this is a tough bout to break down or even give a prediction for. We really haven't seen enough of Rousey to gauge how she'll hold up against elite level opposition.
Tate, a silver medalist in the FILA Grappling Championships, is nicknamed "Takedown" for a reason.

She is arguably the best wrestler in the bantamweight division, but it's tough to give her an edge in the grappling department against Rousey, an Olympic bronze medalist in Judo.
Rousey is great at closing the distance and working her magic from the clinch, which is where Tate secures the majority of her takedowns.

The striking department could be Tate's best chance against Rousey. With limited experience, Rousey has not looked comfortable on the outside in striking exchanges. She tends to blitz opponents right out of the gates and seek out the clinch.

Tate needs to stay on the outside with her strikes and setup takedowns in the open. She'll have to be careful in Rousey's guard. The Judoka has netted a first round armbar submission in each of her four bouts.

After all of the trash talk, Rousey could be eating humble pie until Thanksgiving if she loses this fight. Fortunately, the rowdy one will find a way to get it done.

Whether you love her or hate her, fans will be forced to welcome the new face of women's MMA when Rousey routs Tate and claims Strikeforce gold.

Ronda Rousey by unanimous decision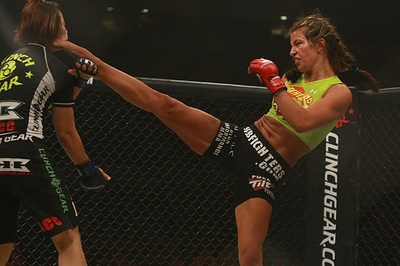 Miesha Tate/ Dave Mandel for Sherdog
John Heinis: Fight of the Night - KJ Noons vs. Josh Thomson
Knockout of the Night - Paul Daley
Submission of the Night - Ronda Rousey
Matthew Saccaro: Fight of the Night - Ryan Couture vs. Conor Heun
Knockout of the Night - Paul Daley
Submission of the Night - Ronda Rousey
Kyle Symes: Fight of the Night - Tate vs. Rousey
Knockout of the Night - Paul Daley
Submission of the Night - Sarah Kaufman
Jordy McElroy: Fight of the Night - Tate vs. Rousey
Knockout of the Night - Paul Daleu
Submission of the Night - Ronaldo Souza