NBA Sunday: Why LA Lakers vs. Miami Heat Is Extremely Overhyped Matchup
March 1, 2012

Mike Ehrmann/Getty Images
The Los Angeles Lakers and the Miami Heat are scheduled to meet this NBA Sunday and barring some type of behemothic catastrophe, the contest is still on.
With Kobe Bryant's injury being the non-factor most Lakers fans realized it was from the jump, Bryant led LA past a hungry Minnesota squad and will be very active on Sunday as well.
Nothing is going to stop him from taunting a LeBron he heckled as the All-Star game came to a close. He most definitely would not mind getting revenge on the man who created the "Man in the Iron Mask" persona he was against the Timberwolves.
It would be nothing like the bloodbath predicted by the worldwide web, however.
There is no animosity between him and Dwyane Wade as he expressed that Wade is just not the type of guy to do these things maliciously. No harm, hard foul and we all have moved on. Except for the general media, that is.
As usual, everything has to be blown out of proportion by members of the media, especially those on the cusp of lunacy like Skip Bayless.
According to his Twitter, Wade should take heed to how loyal the Lakers players are to their cult-like leader and watch out for retaliation from Metta World Peace. Or as he deemed him via Twitter, "Metta World Violent."
The matchup is being overvalued. There will not be an uprising of some sorts from the Lakers starters or the Lakers bench in light of Wade's slip of the forearm.
Things happen in basketball that are out of the players control and Kobe's fractured nose and concussion just happens to be two of them.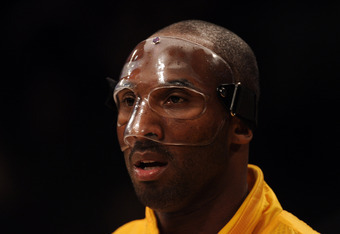 Harry How/Getty Images
Kobe Bryant did not miss any time. Maybe the Lakers would be forced to show some resemblance of violence had they felt as if they were on a downward sliding slope because of the injury.
They are just fine at the time being. Bryant has not missed a game or any critical minutes and the Lakers are no worse off than they were before the All-Star break.
Now, if there is any pressure in this game, it will be on the usual players. LeBron James in a one-on-one with Kobe Bryant, as the public assumes it may be, is always an intriguing matchup.
Sometimes you catch Wade guarding the five-time champion, but to be quite frank, the aforementioned pairing is much more beneficial to the debate at hand.
Since someone has to be better than the other, these matchups between the Lakers and the Heat have become precursors to an NBA Finals series that probably will never happen. Still, we would all like to think that these regular season contests are leading up to something greater. Something that only our imaginations could formulate.
Chris Bosh will be watched against either Pau Gasol or Andrew Bynum around the rim, even though he seems much more comfortable with his mid-range game. If the game gets even a little bit physical, it will take place under the rim.
Then you have the speculated retaliation from Lakers' mental man, Ron Artest. According to reports, the small forward is the more unstable player in the locker room, so it would only be right that if any Lakers player were to act out on Sunday, he would be guilty.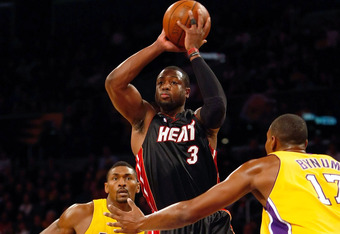 Jeff Gross/Getty Images
With his renewed outlook on the game and how he plays it, regardless of the squabbles with the coach about his role during his playing time, I doubt that will happen. So, what are we left with?
We have a regular game amongst All-Stars that means absolutely nothing to the outcome of the season. If the Lakers brutalize the Miami Heat, there will be talk that LBJ and Co. just are not ready to compete with the big boys.
Miami will go on a four-game winning streak and then become the ultimate team that the Eastern conference has to offer the 2012 NBA Finals.
If the Miami Heat pulverizes the Lakers, then Kobe Bryant would have officially lost his ability to "will" the team to victory as he once could before. The Lakers franchise would need to immediately run out to find a replacement for him in the long run.
Not too long after, Bryant will have a monster game and he will once again be the Black Mamba that the league worships.
We have seen this cycle time and time again but with multiple letdowns. This storyline has been played out before. So, how do we cure our need to over-exaggerate?
Don't.  Take it for what it is. This NBA Sunday will birth a game that was built up massively due to a hard foul in an All-Star game that Kobe Bryant still won anyway. Revenge is unnecessary.
LA Lakers have to concern themselves with winning first, cheap shots later. 
Follow Joye Pruitt on Twitter @JoyetheWar