NFL Draft History: San Francisco 49ers Make the Most of 3rd-Round Picks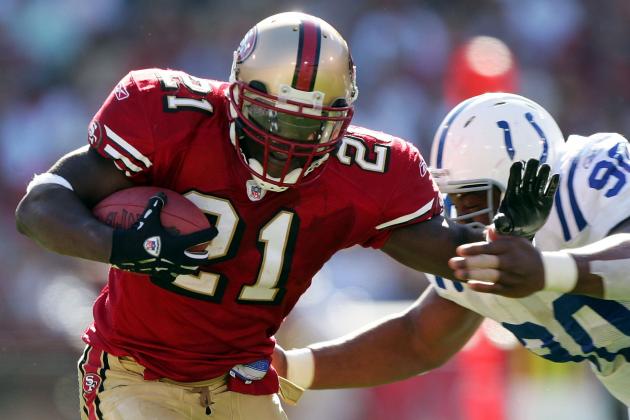 Jed Jacobsohn/Getty Images

You know that saying, "Third time's a charm"?
For the San Francisco 49ers, it should be "Third round's a charm."
Throughout its 65-year history, the 49ers' franchise has assembled some of the finest draft classes the NFL has ever witnessed.
First-round picks like Ronnie Lott, Jerry Rice and Bryant Young have proved themselves worthy of their early selections and were thrust into 49ers lore.
But it's San Fran's unique ability to uncover hidden talents in mid-to-late rounds—particularly the third—that's allowed the franchise to flourish.
So considering we've got roughly two months of time to pass until the 2012 NFL draft, let us delve into some of the best third-round picks that both the 49ers and the NFL have ever seen.
Begin Slideshow

»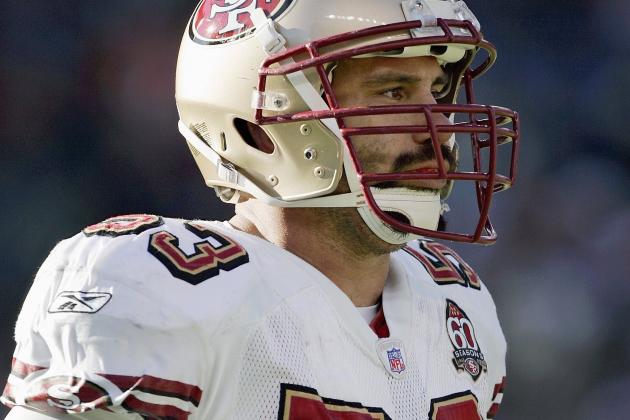 Brian Bahr/Getty Images
Ulbrich was one of many 49er linebackers drafted in the third round.
Drafted in 2000 out of Hawaii, this 6'0", 240-pound linebacker had a knack for growing a mean beard.
Oh yeah, he was pretty good at football, too.
Ulbrich lacked the prototypical size and skill set coveted at the linebacker position by scouts across the league. But he displayed enough heart and football smarts to make up for his subpar physical talents.
Though he struggled to stay healthy throughout his career—thanks in part to his small stature—Ulbrich's unquestioned toughness and disciplined play earned him a spot inside the starting lineup in just his second NFL season.
Ulbrich started 56 of the team's 64 games from 2001-2004, racking up 327 tackles in the four-year span. A torn bicep muscle ended his '05 campaign after just five games, and the incredibly instinctive 'backer would eventually relinquish his starting role to the one and only Patrick Willis.
Willis' immediate emergence and a concussion early in 2009 served as the final straws for Ulbrich, and he retired after an impressive 10-year career—each season dressed in red and gold.
Otto Greule Jr/Getty Images
Bowman looks to spend his NFL days alongside fellow 49er Patrick Wills for years to come.
I find it's only fitting to slide Bowman into this list directly after Ulbrich.
Another third-round selection for the 49ers, Bowman was taken out of Penn State exactly one decade after San Francisco found Ulbrich slipping down the draft boards. Check out the eerie similarities between the two inside linebackers:
| | | | | |
| --- | --- | --- | --- | --- |
| Player | Rd/Pick | Year | Size | Jersey No. |
| Ulbrich | 3rd-86th | 2000 | 6'0", 240 lbs | No. 53 |
| Bowman | 3rd-91st | 2010 | 6'0", 242 lbs | No. 53 |
And just like Ulbrich, Bowman captured a starting roster spot in just his second NFL season.
While Ulbrich had a fine career in red and gold, his ceiling was nowhere near as high as Bowman's looks to be.
NaVorro's 143 tackles in 2011 far exceeded the production Ulbrich ever reached, and his 2011 All-Pro honor is a testament to that.
While currently just 23 years old, Bowman is currently playing at a level comparable to the five-time All-Pro Willis, and he's on track become one of the finest sleeper picks in franchise history.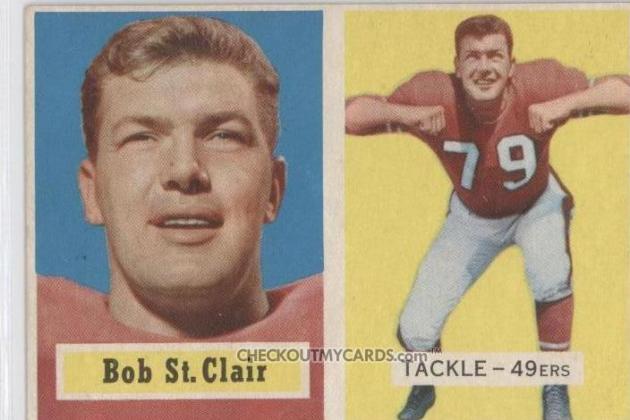 There may have only been 12 NFL teams in the '53 NFL draft, but St. Clair was still a third-round pick—and a Hall of Fame member as well.
St. Clair was and may still be the best offensive lineman in 49ers history. He was one of 29 selections by the 49ers in the '53 draft, and the only one that would go on to even receive Pro Bowl honors. St. Clair was San Francisco through and through—spending nearly his entire life in the city by the bay.
High School: Graduated from San Francisco Polytechnic High School
College: Played at University of San Francisco until school dropped football team
Pros: 11-year career—all with 49ers
Nominated to an unbelievable nine All-Pro teams, St. Clair was nicknamed "The Geek" for his eccentric behaviors—and he was often seen consuming raw beef. He also spent four years (1958-1961) as the mayor of Daly City, CA.
Interesting combination, if you ask me.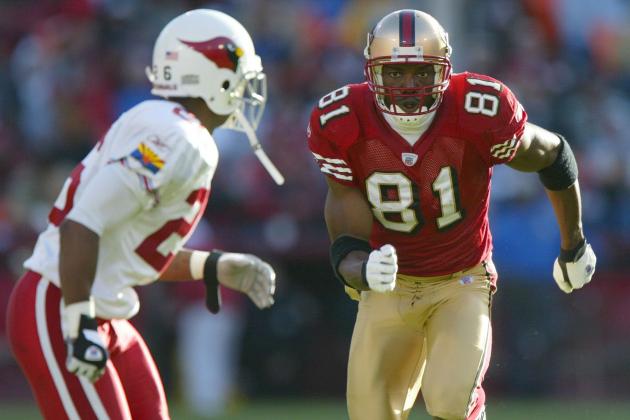 Jed Jacobsohn/Getty Images

Although T.O. might be more well-known for his ridiculous end-zone antics and crybaby attitude, we must not forget how Owens began reaching the end zones on Sundays to begin with.
Coming out of a small-town school (Tennessee-Chattanooga) in 1996, Owens was overlooked 88 times on draft day before the 49ers decided to take a chance on him in the third round.
Owens' rare combination of size and speed turned out to be an extremely valuable asset for the 49ers and Hall of Fame quarterback Steve Young.
T.O. teamed up with Young in '99 to complete a 30-27 wild-card comeback win over the Packers on a miraculous throw-and-catch that will forever be remembered in 49ers lore as "The Catch II."
Owens was a five-time All-Pro (three with San Fran) and compiled at least 93 receptions, 1,300 yards and 13 touchdowns in three straight seasons for the 49ers from '00-02. Despite some eye-popping campaigns in San Fran, Owens became the malcontent we now know him to be, and he was traded to the Eagles in 2004—but only after refusing to report to the Ravens when he was originally traded to Baltimore.
He's also the only current player in NFL history to record a receiving TD against all 32 teams.
Not bad for a guy who's currently hauling in TD passes for the Allen Wranglers.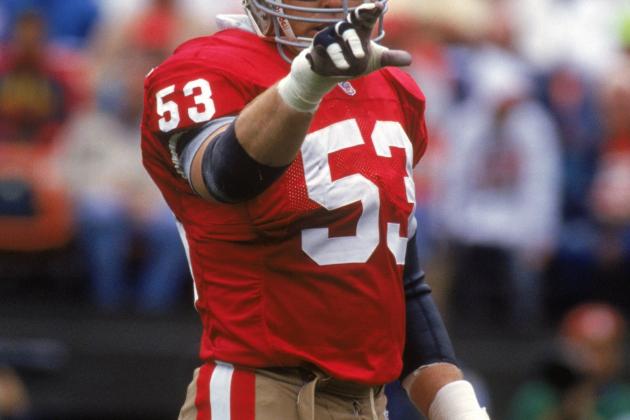 George Rose/Getty Images
He couldn't be pointing at me, could he?
What is it with 49ers and third-round linebackers?
Romanowski's decorated career is perhaps one worthy of rivaling that of Terrell Owens'. One of Bill Walsh's many talented selections, Romanowski was also one of the nastiest players to patrol the gridiron—going over the top on many occasions.
But his infuriating play was extremely beneficial when it didn't result in yellow flags soaring through the airand it allowed Romanowski to compile 1,116 tackles, 39.5 sacks and 18 interceptions during his 16-year career.
While "Romo" will be mainly remembered for his admitted use of steroids and merciless tactics on the field, he's still a four-time Super Bowl champ (two with the 49ers) and an undeniable first-round talent.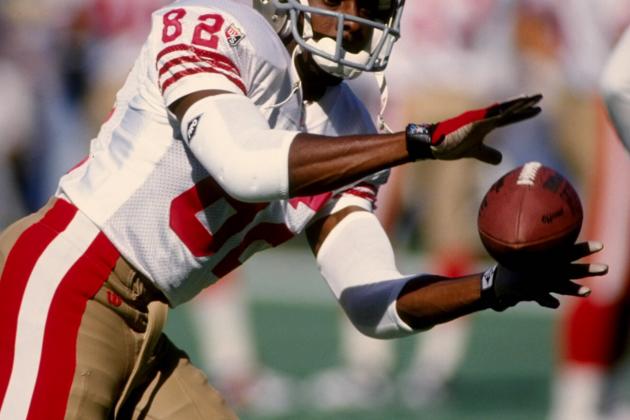 Brian Bahr/Getty Images
Taylor played alongside the great Jerry Rice during his entire career.
Taylor spent each season of his eight-year NFL career as a No. 2 receiver alongside 49er great Jerry Rice.
He compiled 43 touchdowns in that span and was labeled by ESPN as the 25th-greatest draft steal of all time.
Despite being overshadowed his whole career by Rice, Taylor was still a two-time All-Pro selection and part of three Super Bowl titles for the 49ers. His exceptional speed was an asset that also allowed him to compile 1,793 return yards during his tenure in San Francisco.
In perhaps the greatest moment of his NFL career, Taylor hauled in the game-winning TD pass from Joe Montana in the final seconds of Super Bowl XXIII.
Not bad for a third-round pick, eh?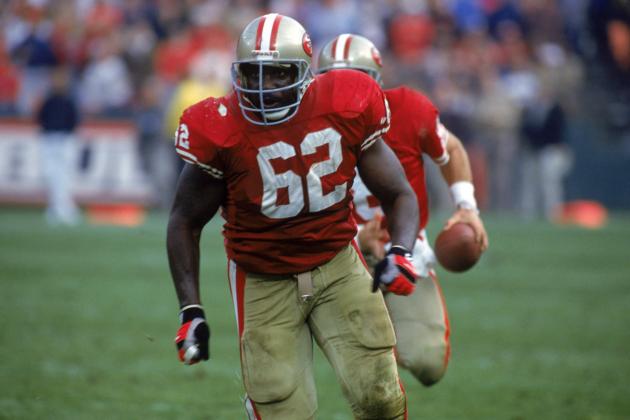 George Rose/Getty Images

McIntyre was a "Guy" who flat-out knew how to win. Sorry, had to do that.
But seriously, the 49ers' third-rounder in '84 blew away expectations and anchored one of the guard positions in San Francisco for 10 seasons, and he won three Super Bowl titles.
He even won a national championship as a member of the Georgia Bulldogs in 1980.
Guys like Montana, Rice and Lott may be the faces of the 49ers' dynasty years, but it was the tireless efforts of linemen like McIntyre that paved the way for the team's domination throughout the '80s.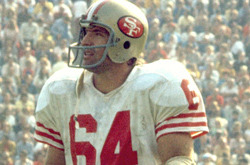 Wilcox was another third-round selection benefiting from a 12-team NFL, but a third-round pick nonetheless.
After all, it was Wilcox who set the standard for all future 49er linebackers.
Nicknamed "The Intimidator," Wilcox carried some serious mass at the position, measuring up at 6'3" and 241 pounds.
He was just as intimidating mentally as he was physically, terrorizing offenses on the regular and racking up seven Pro Bowl selections during his 11-year career. "The Indimidator" was a first-team All-Pro on five separate occasions as well.
Wilcox also displayed excellent athleticism, collecting 14 interceptions while displaying impressive pass-coverage abilities throughout his time in the NFL.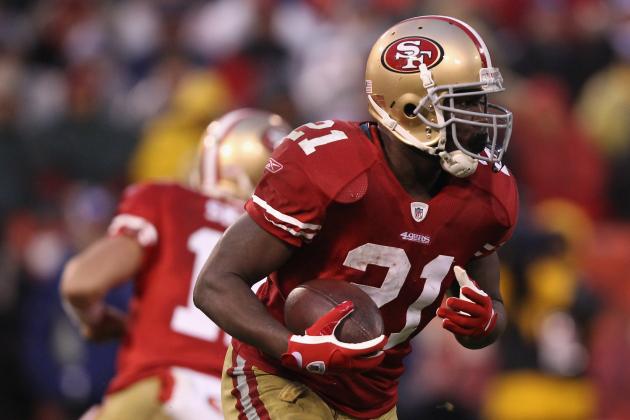 Ezra Shaw/Getty Images

Some know him as, "The Inconvenient Truth."
I choose to refer to him as, "Frank The Tank."
Whatever you decide to call him, just don't call him overrated. Gore battled through an ACL tear and a talent-laden backfield (Willis McGahee and Clinton Portis were on the roster when Gore arrived) in college at the University of Miami.
The lack of production in college—in addition to injury concerns—dropped him to pick No. 65, and he's been proving doubters wrong ever since.
In just his second season, Gore passed fellow running back Kevan Barlow for the starting job, and he accumulated 1,695 yards on 312 carries in '06. Proving himself effective in the passing game as well, Frank piled up 61 receptions for 485 yards and earned his first Pro Bowl invite in his sophomore season.
Now entering his eighth straight year in red and gold, Gore has already piled up 8,647 total yards, 44 touchdowns and a total of three Pro Bowl selections in his storied career.
He's fought through multiple knee surgeries, groin injuries, major surgeries on each shoulder, a broken hip and the death of his beloved mother—and yet still continues to lead the 49ers' return to the glory days.
He continues to run full speed ahead with reckless abandon on every Sunday; that's just his style.
And for that, Frank, I salute you.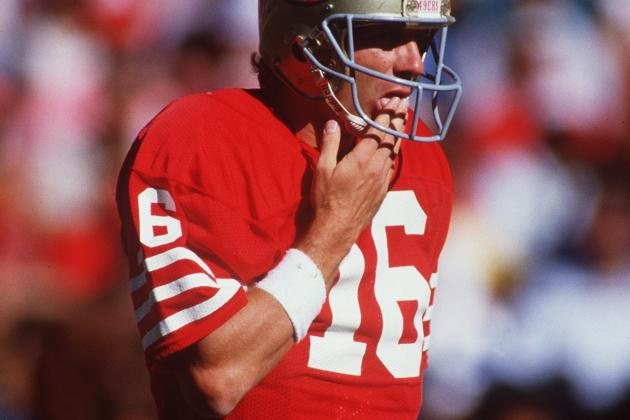 Mike Powell/Getty Images
Say hello to the greatest quarterback in NFL history.
Last—but by no means least—the greatest 49er of all time.
"Joe Cool." "The Comeback Kid." "Golden Joe."
Third-round draft pick.
What? Yep.
Montana—who was the most impressive of many successful Bill Walsh draft picks—did it all in San Francisco.
A four-time Super Bowl Champion and three-time Super Bowl MVP. Twice named the Associated Press Athlete of the Year and NFL MVP('89, '90). Eight Pro Bowls, six All-Pro selections and, finally, 2000 Hall of Fame inductee.
Even back in his college days, Montana led Notre Dame to a 35-34 last-second comeback win over Houston in the Cotton Bowl and earned MVP honors.
Joe Montana—simply the best.