Ring of Honor Review (2/18/2012): Charlie Haas Outwits the Briscoes
March 1, 2012

Just two weeks away from Ring of Honor's 10th Anniversary Event pay-per-view, ROH delivered a placeholder episode.
Not much happened or was resolved, but Ring of Honor successfully continued to build for their upcoming show.
Kevin Steen defeated Andy Ridge
We knew Kevin Steen's in-ring debut was this week. We knew Steen was going to win. The only unknown was the wrestler Steen would destroy.
Enter Andy "Right Leg" Ridge.
Wrestlers like Andy Ridge are wrestling's unsung. They might not win particularly often, but they make their opponent look good. Every company needs an Andy Ridge.
The match ended like we all knew it would. After the match, Steen prepped Ridge for the Package Piledriver, but was saved by Steve Corino and Jimmy Jacobs, who challenged Steen to a future match.
It looks like Steen is in a holding pattern until Davey Richards clears Eddie Edwards out of the ROH Championship scene.
Verdict: Thumbs up.
Best moment: Kevin Steen's fallaway slam into the barricade.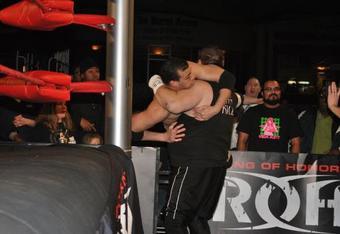 Team Ambition promo
Ritesofpatches Presents: How to become Patches' most hated wrestler in Ring of Honor.
Step 1: Be a jealousy-prone third wheel to a popular tag team while wrestling in a team of your own.
Step 2: Develop a friend-crush on a member of the other tag team.
Step 3: Nark out the other member of the tag team and try to split them up.
Step 4: Keep filling your crush's ears with words like "jealousy" and "loyalty."
Step 5: Bolt from your tag team as soon as the opportunity presents itself.
Step 6: Try to keep a straight face as you talk about how much you want to kick your opponents' heads in for their treachery and disloyalty.
Verdict: Thumbs up or thumbs down, as soon as I figure out if O'Reilly is doing this on purpose or if he is just terrible at anything that doesn't involve kicking people in the head or getting kicked in the head.
Best/worst moment: Every second of Kyle O'Reilly. If I'm supposed to hate him, he's the best. If I'm supposed to like him, he's the worst.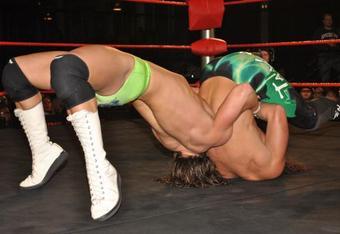 Eddie Edwards/Adam Cole defeated Mike Mondo/Matt Taven
In a surprising twist, Mondo and Taven upset Edwards and Cole, taking their place in the 10th Anniversary Event match against Richards and O'Reilly.
Just kidding. Edwards and Cole killed them, although it took much longer than it should have.
I would have liked to see this match go about three fewer minutes. There is no reason for Edwards and Cole to struggle against two guys who have one combined win and who can't work together.
Verdict: Thumbs down.
Worst moment: What happened to the Bravados? I thought they were the resident-jobber tag team. If anything, they could have played the "experienced team vs. new team" card to make it interesting.

Promo Time Quick Notes
- Every time Roderick Strong opens his mouth, I understand why he was placed with Truth Martini.
- We can add "dorks" and "dweebs" to the list of insults professional wrestlers should never use. Thanks, Young Bucks.
- I am really looking forward to Lethal vs. Richards next week.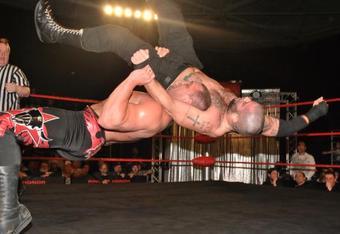 - Tommaso Ciampa is scary.
Verdict: Thumbs down.
Best moment: Embassy coming into its own. Setting aside the normal friction that seemed to previously exist, both Prince Nana and R.D. Evans were licking their lips in anticipation of Tommaso Ciampa bringing home a championship from the 10th Anniversary Event.

Mark Briscoe defeated Charlie Haas
This week's show began by setting up the main event. After Charlie Haas' challenge, the Briscoes' slack-jawed yokeling, and Jim Cornette's aneurysm, we had a Charlie Haas vs. Mark Briscoe main event with Jay Briscoe handcuffed to a turnbuckle.
The match itself was a fun combination of Mark Briscoe's brawling and Charlie Haas' technical wrestling. Mark won with a roll-up, but Charlie drilled him with a chair after the match.
Charlie Haas paid Wrestling's Greatest Tag Team's fines before explaining, in true Bond villain fashion, that this was his plan all along.
Verdict: Thumbs up.
Best moment: Someone out-thinking the Briscoes. If they start every sentence with, "Well, we ain't so smart, but," then a Seton Hall graduate should probably be able to pull one over on them. 
Show verdict: Thumbs up.
There was a lot I didn't like about this week's show, but even if things weren't perfectly executed, everything served a purpose and continued Ring of Honor down the path to their 10th anniversary Event pay-per-view.
Next week: Television Champion Jay Lethal takes on Davey Richards for the ROH World Championship
All photos courtesy of rohwrestling.com