Tiger Woods' Most Interesting Press Conference at Honda Classic
March 1, 2012
Sam Greenwood/Getty Images
Kathy Bissell
The Tiger Woods press conference at the Honda Classic was one of the best ones he has given and had some of the best information he has provided.  Ever. 
Maybe he's mellowing.  Maybe he finally understands the golf press is not the enemy. Maybe he's moderately interested in answering the questions.  Whatever the reason, Woods was chatty beyond belief, slightly patient with ridiculous comments and even philosophical in his comments. 
He discussed, for example, the difficulty of winning after having a 54-hole lead, something which many players this season have been unable to do.  He talked about today's competition compared with that of 10 years ago.  He discussed his putter and what he is trying to do with putting technique now. 
He commented on his record compared with Jack Nicklaus' and his vision of winning.  He explained what he is working on in his game right now without getting terribly technical about it.  And he revealed information on his home putting green.
It was an actual press conference with actual facts.  The reason this is different is that for the last 15 years, Woods has spoken to the media after nearly every round every time he is at a tournament and managed to say very little of substance, which is some kind of record in and of itself. Now that's changing.  Here are some highlights.
On the difficulty of winning with a lead: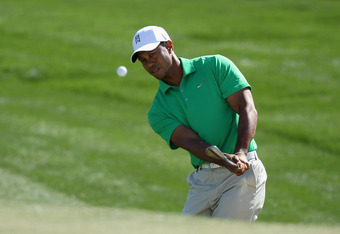 Christian Petersen/Getty Images
"I think it's nice when you have that cushion because you can make a couple mistakes and still win a golf tournament.
"I think when you're near the lead, more so trailing, and you make those mistakes, you can play yourself right out of it. … the only problem is if some guys make a run and they get some momentum going, and you are going the other way, you give them a big shot of energy.  You've seen some of these guys pull off some pretty good low rounds.  It doesn't take much."
He cited the example of himself with Sean O'Hair at Bay Hill when Sean had the lead at the beginning of the day and Woods was several back.  O'Hair had a bad start and Woods had a good start.  Although O'Hair didn't falter until the end, he did falter and Woods won it.
"It all depends on the start,"  Woods concluded.
On the difference between 2000 and 2012 in terms of players, competition and training:
"We had Phil, myself, Vijay, Goose and Furyk, and that's a pretty stout little group.  We were winning quite a bit of tournaments during that era. You know, some of the guys probably didn't get the same opportunities, and I think now they have gotten those opportunities; they have learned.  And plus, also, I see that a lot of these guys are training.
"You forget that 10 years ago, not everyone was lifting weights, which was crazy to think that golfers didn't lift weights and prepare, but that wasn't the case.  Now everyone has a trainer out here.  Everyone is trying to get stronger, fitter, faster.  You see what Westwood's done, how he's dropped the weight, trying to get stronger and faster, and he's 38 years old."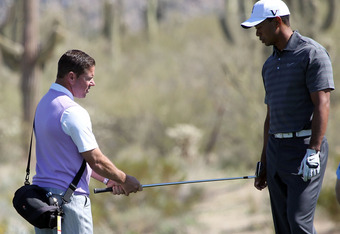 Sam Greenwood/Getty Images
Woods used to favor a Scotty Cameron putter, but now he has a putter that does what that one did: 
"I had to find a putter that comes off at the same pace as my Cameron did.  We had to work on the grooves to make sure that it came off the same speed.  Once we got that dialed in and the ball was coming off the same speed, then we are set. 
"And that's the mallet...whether I used the mallet at the Masters last year, or I've used this one, the one with the plumber neck, they are coming off the same speed as my Cameron, and that's the beauty of it, because I don't have to make any adjustments for speed." 
He confessed that Jack Nicklaus' record is still the goal:  
"It's going to take an entire career to do it (win more majors than Nicklaus), and that's something I knew starting out.  I was lucky enough to have won my first major as a pro.  And it's taken me, what, 16 years to get to this point.  So it's going to take a while.  It didn't take Jack overnight to get to 18. 
"The whole idea is getting consistent and putting myself up there enough times. Nobody in the history of the game has been better at putting themselves in contention to win a major than Jack.  You finish with 37 Top-2s, you're going pretty good.  That's what it takes. 
"You're not going to win all of them, but you can always be there, and you never know when someone might give you one or two."
Winning motivates Woods: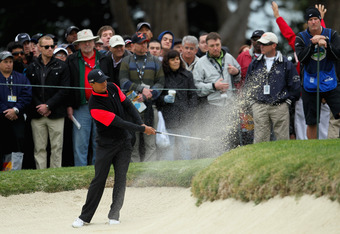 Jeff Gross/Getty Images
"If you're going into a football game and you said:  You know what, I don't mind finishing top two today; or you go into a baseball game, basketball game, hockey game, that's fine if we finish second tonight.  Would that be crazy to hear that, that type of mentality?
"But that's...I grew up playing sports all my life, and I just don't understand how that type of mentality, people are happy with finishing second or anything below that, when you have the opportunity to finish first."
Because Woods feels that this swing is now closer to grooved, he can devote some much-needed time to his short game and putting.
"I certainly have increased chipping and putting now, now that I've got the full swing where I like to have it.  I can spend the majority of my time chipping and putting.  That's where I know that I've been lacking in my game and where I've seen the biggest improvement lately, too, which is good….
"When I'm in the right posture, all of my lines are good.  I can roll the ball pretty good.  I think that for some reason, I feel more comfortable when there's more heat on down the back nine on Sunday, or if I have to make a certain putt. 
"For some reason, I've made more of those and I've putted better.  I don't know why that is.  I wish I knew.  I tend to get into the correct posture more frequently when that's the case."
And the scoop on his home practice area, where the speed of the practice green depends on the next tournament Woods is planning to play:
"I spend most of my time up at Medalist hitting golf balls and I'm starting to get into where I'm using the practice facility at home a lot more to work on the short game. …. We'll adjust to try to get me ready for certain speeds.  Major championships, we'll speed it up.  West Coast stuff, we'll slow it down."
How long a shot can he hit at home?  The answer brought a laugh.
"For you, probably about 7 or 8.  For me, I think it's about a full wedge."
Kathy Bissell is a Golf Writer for Bleacher Report. Unless otherwise noted, all quotes were obtained first-hand or from official interview materials from the USGA, PGA Tour or PGA of America.