7 Dark Horses Who May Crash 2012-13 BCS Party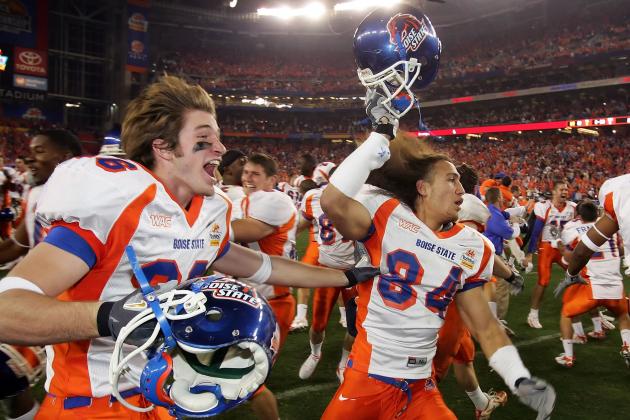 Jonathan Ferrey/Getty Images

If the BCS is going to continue to be the NCAA's preferred system of choice, then it's going to have to keep making the little guy happy.
Since it's birth in 1998, the BCS hasn't gotten much love from college football fans, and for good reason. It relies on computerized averages and voting to determine its participants.
2012 is setting up to be a season where several under the radar programs could sneak their way into a BCS game; that's right, another season of the mid-major's argument that its 11-1 record justifies their 95th ranked schedule.
Something else that has really irked fans is the continual status the Big East has as an Automatic Qualifying conference. The Big East is notoriously known as the worst of the six major conferences in the FBS and many fans think the conference should lose this luxury because of their lack of prestige.
Teams like Boise State, TCU, Connecticut, Cincinnati, and Hawaii have been fortunate programs over the last several years. Two of those teams are AQ schools, and three got the benefit of the doubt because of their records. Not saying some of these teams haven't rightfully deserved BCS spots, just stating that their level of competition has been an easy bailout in the past.
Here are seven dark horse programs that could crash the BCS party yet again in 2012-13.
Begin Slideshow

»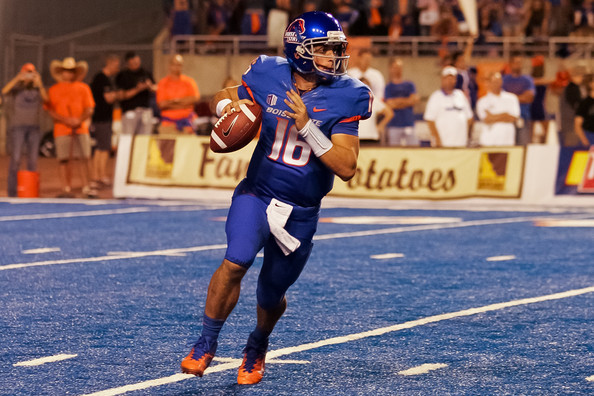 The Broncos are always a threat to crash the BCS party.
Chris Petersen has turned this into a juggernaut of a program, and he has every right to be angry about the current system. Boise State failed to make a BCS game for the second consecutive year after turning in an 11-1 season in 2011.
Boise State has always been a wild card for me. On one hand, I am not a fan of programs that gain entrance to the BCS with good records against meager competition. The Broncos, though, have proven their worth against the highest of competition.
Kellen Moore is gone, so are Doug Martin and Tyler Shoemaker. So what makes me thinks the Broncos can make a BCS appearance in 2012?
Mostly this has to do with TCU leaving an already bad Mountain West conference, leaving Boise State as the only legitimate contender. The Broncos are always reloading though, and that will never stop as long as Petersen is around as the head coach.
Joe Southwick is currently listed as the incumbent to Kellen Moore. Ultimately, the Broncos have more talent in the Mountain West than anyone else could dream of, being why they could sail through another easy season with a potential BCS birth.
The Broncos have an early season test against a Kirk Cousins-less Michigan State team. A win on the road against a notorious Big Ten powerhouse would polish their resume.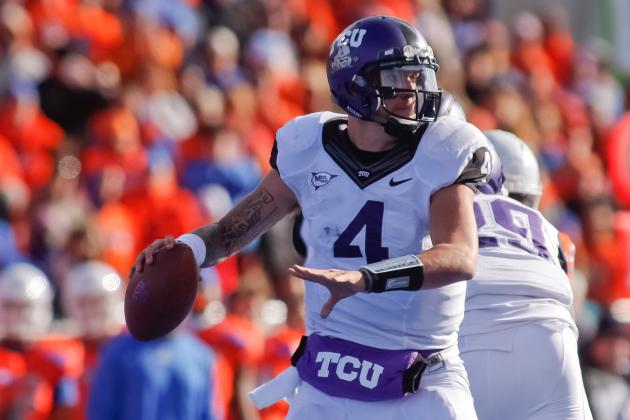 Otto Kitsinger III/Getty Images

Just like Boise State, TCU is always looking to crash the party.
Gary Patterson has became a premier coach at the college football level, just as Chris Petersen has been. Both of these coaches are NFL-caliber but want to build where they currently are.
The Horned Frogs are retreating to the Big 12, where they will receive more television exposure then they ever could have dreamed of in the Mountain West.
If TCU can put together an 11-2 record in the Big 12 as they did last season in the MWC, you can be sure they'll receive consideration from the BCS committee.
Quarterback Casey Pachall returns for his junior season, where he put on the "wow" factor to many of his critics in 2011. After Andy Dalton left, many naysayers believed Pachall wouldn't be able to fill his shoes, how wrong they were.
Pachall threw for over 2,900 yards, completed 66 percent of his passes, and had a 25-7 touchdown to interception ratio.
Also with the three-headed back attack in Waymon James, Ed Wesley and Matthew Tucker, this Horned Frog offense is going to give any Big 12 team a tough go.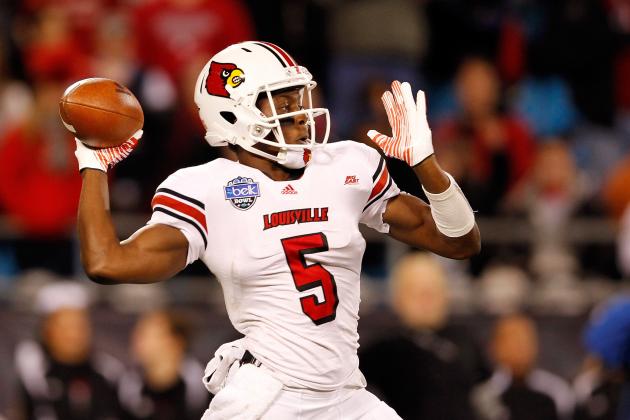 Streeter Lecka/Getty Images

Oh the lovely Big East, they always impress don't they?
Not really.
Whether we complain or not, the Big East will continue to be an AQ conference despite the fact that they don't have the best track record in BCS games, with the exception of West Virginia this past season.
In 2012, West Virginia will be gone and Cincinnati will likely cut their record in half after losing Zach Collaros and Isaiah Pead.
Well, who's the favorite then? In all likelihood, Louisville.
Two words: Teddy Bridgewater. This kid was very impressive as a true freshman. He didn't throw up gaudy numbers, but he showed flashes of an athlete that is a future Heisman Trophy winner.
The Cardinals' biggest margin of loss last season was nine points, and their five other losses came by a touchdown or less. This can be attributed to the stellar play of Bridgewater.
In Louisville's game at West Virginia last November, they won 38-35. Bridgewater hit on 21 of 27 passes for 246 yards and a touchdown. Wasn't this the same West Virginia team that played the ACC Champion Clemson Tigers like a fiddle in the Orange Bowl? I think so.
Louisville has a bright future under this kid.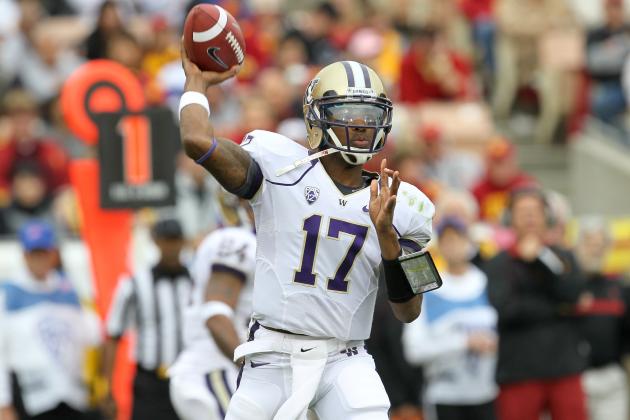 Stephen Dunn/Getty Images

Is that RG3 playing for Washington, or is that Keith Price?
The only reason I believe the Huskies can win in 2012 is because of a very talented junior quarterback that certainly puts you in mind of Robert Griffin III.
The gunslinger threw for over 3,000 yards and 33 touchdowns in 2011 while completing over 66 percent of his passes.
Ultimately, I believe Price is going to be another Jake Locker. A very talented quarterback that can never get over the hump because the lack of talent that surrounds him.
Unfortunately for Price, he is losing running back Chris Polk, who ran for 1,488 yards and 12 touchdowns in 2011. The loss of Polk completely removes a large dynamic of Washington's offense.
I don't want to jump to conclusions before the season actually happens. Robert Griffin III led the Baylor Bears to a 10-3 record. Baylor had one of the country's worst defenses last season, so it was up to Griffin III to dig them out of every hole the defense put them in. All he did was complete 72 percent of his passes for over 4,000 yards and 37 touchdowns.
Keith Price, though, doesn't have the luxuries of Kendall Wright and Terrance Ganaway on offense.
If Washington does crash the BCS party this upcoming season, Keith Price should be put up for Heisman consideration.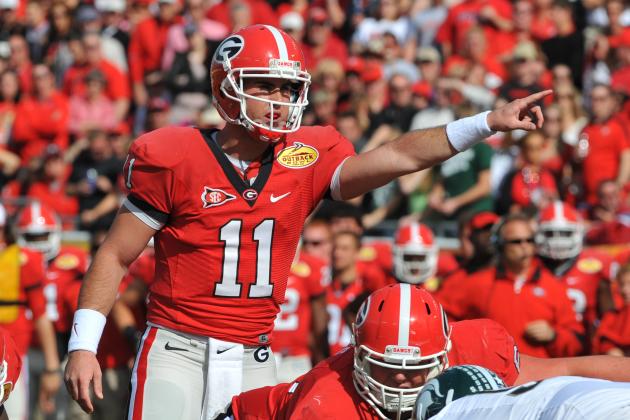 Al Messerschmidt/Getty Images

How much of a dark horse you consider Georgia, I don't know.
What I do know is that the Bulldogs are primed to win the SEC East for the second straight season. If they do not win the SEC Championship Game, then I believe an at-large bid is strongly in the cards.
Georgia is only part of this list because they don't appear in BCS games often and they play in the SEC. The Bulldogs are a dark horse to win the SEC in 2012, so that would obviously make them a dark horse to be in a BCS contest.
With Aaron Murray at the helm yet again in 2012, the Bulldogs have an advantage, as he is the best quarterback in the SEC. In 2011, he threw for over 3,000 yards and 35 touchdowns. If Murray is able to be a more accurate passer (.59 in 2011), the Bulldogs will have a more consistent offense.
Isaiah Crowell also returns for his sophomore season. This highly touted athlete didn't blow anyone away last season, but he has a bright future as a Bulldog.
With the dynamic duo of Murray and Crowell, the Bulldogs will look to win the SEC and appear in only their fourth ever BCS game.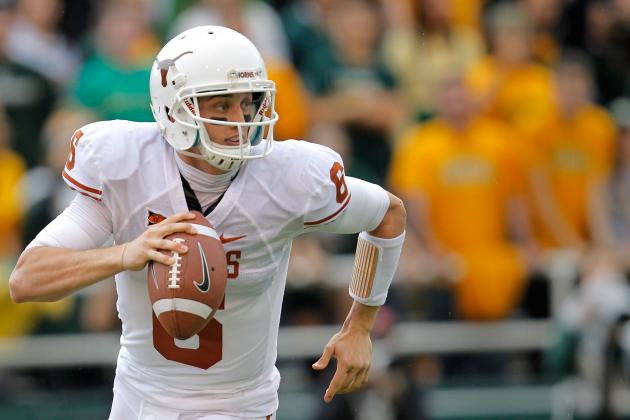 Sarah Glenn/Getty Images

It's been a rocky road in Austin since Colt McCoy left early in the 2010 National Championship Game due to an injured right shoulder.
Since that game, the Longhorns are just 13-12 in two seasons. They were 13-0 in 2009 going into the title game versus Alabama.
This team is extremely young but talent does exist.
The spring is likely going to be the determining factor of who starts in 2012—David Ash or Case McCoy. Both freshman struggled to produce last season but managed to throw for over 1,000 yards each. McCoy, who is Colt's little brother, seemed to set himself apart just a bit. Ash threw twice as many interceptions than touchdowns.
The big story in Austin right now is the recent signing of No. 2 overall prospect Johnathan Gray.
Gray is a bowling ball at 5'10", 210 lbs. He'll likely be splitting time with sophomore Malcolm Brown but will add a great presence in the backfield.
Mike Davis and Jaxon Shipley will certainly be excellent targets for either quarterback to throw to, so the Longhorn offense is definitely in good shape.
Texas head coach Mack Brown has the Longhorns back on the rise, and they will certainly be a tough out in the Big 12 in 2012.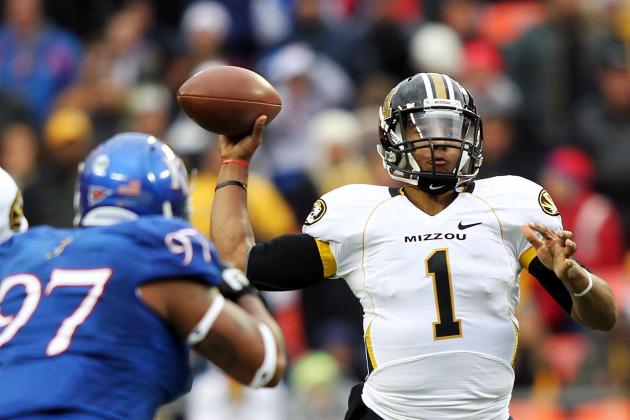 Jamie Squire/Getty Images

The Missouri Tigers have gone from the Big 12 to the SEC. Will the challenge bode any tougher for the Tigers? That's yet to be seen, obviously.
James Franklin is a good, young talent for Missouri. He's a big body at 6'2", 225 lbs. The now-junior QB had a slightly above average season in 2011, completing 63 percent of his passes and throwing for 21 scores.
Henry Josey also returns for the Tigers after an excellent season in 2011. Josey rushed for over 1,100 yards and averaged over eight yards a carry. He also ran for nine scores.
Franklin's leading receiver, T.J. Moe, returns for his senior season and hopes to have a bigger impact this year against SEC defenses.
Missouri is certainly an under-the-radar team for a BCS birth. They'll be facing a gauntlet of SEC squads, which could be harsher than a Big 12 schedule, and likely is.