Are the St. Louis Rams Seeing a Change in Luck, or Is It a Mirage?
March 1, 2012

Sarah Glenn/Getty Images
The St. Louis Rams are holding an auction for a prized possession, an absolute rarity capable of resurrecting any franchise over the next decade—a hybrid quarterback. 
Heisman winner Robert Griffin III will be an incredible acquisition for the team fortunate enough to land him, but the real beneficiary of the situation is the Rams, who are expected to receive a mountain of riches as compensation for their No. 2 overall pick. 
At least that's the general perception. 
The Rams are finally coming across some luck, but are things truly as beneficial as they seem? 
The only three draft prospects who are truly elite—Griffin, Andrew Luck and Matt Kalil— will ultimately be the first three players off the board this April. 
The Browns' No. 4 overall is the highest pick they can possibly obtain in a trade down, so it's likely they'll miss out on all three elite players (not that they're searching for a quarterback anyway). 
Unfortunately for the Rams, the remaining top 10 prospects are not nearly as intriguing as the players from last year's draft. 
A year ago, the No. 4 overall pick could have landed either A.J. Green or Julio Jones or even cornerback Patrick Peterson. 
Green and Peterson made the Pro Bowl as rookies, while Jones also had an impressive year (959 yards, eight touchdowns)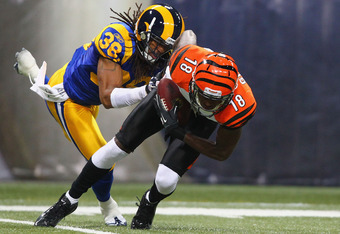 Dilip Vishwanat/Getty Images
Last year's draft was loaded with extraordinary talent in the top 10, so it figures that a cursed team like the Rams just happened to be picking at No. 14 overall. 
However, the Rams were able to obtain high picks with ease in previous years with less talented prospects, resulting in picks that have not been well-acclaimed (at least not yet). 
They used No. 2 overall picks on Chris Long (2008) and Jason Smith (2009). Smith has been a notable bust, while Long is a capable but rarely dominate defensive end. 
The Rams also used a No. 1 overall pick on quarterback Sam Bradford (2010), who could prove to be the ultimate exception, but he's still a question mark at this point. 
Now, once again, the Rams are back in the top 10. And what a coincidence (or, not) that there's no exceptionally rare talent for them to harvest. That opportunity was last year. 
Morris Claiborne, CB
Morris Claiborne is the most established corner in the draft, but he stands at just 5'11" and only 188 pounds.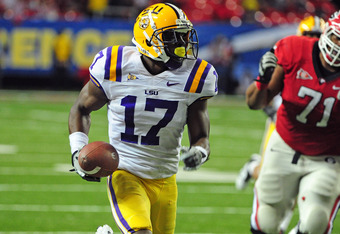 Scott Cunningham/Getty Images
He's merely a child compared to last year's top corner, Peterson, who stands in at a dominate 6'0" and 220 pounds. 
Peterson is also much faster than Claiborne (who ran just a 4.5-second 40-yard dash at the combine). In fact, Peterson single-handedly won multiple games last season due to his contributions as a punt-returner.  
Some have actually said Claiborne is the better corner, but honestly we can only laugh at such an absurd observation. 
Justin Blackmon, WR
One of the more popular candidates in a trade-down scenario is receiver Justin Blackmon, who stands in at 6'1" and 207 pounds.
He's well undersized compared to Green (6'4") and Jones (6'3"), and scouts hesitate to mention Blackmon in the same breath due to his questionable size and speed. 
Blackmon has the potential to be a difference-making receiver in the NFL, but he's hardly a can't-miss prospect at his position.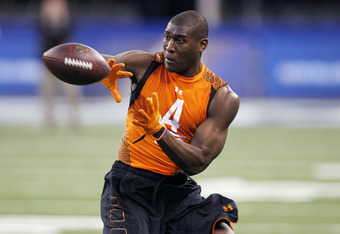 Joe Robbins/Getty Images
And it's really a shame too, considering the Rams truly need a dominate receiving threat. 
Dontari Poe, DT
The Rams absolutely need help at defensive tackle, as is evident from their 31st ranked run defense last season. 
Walter Football has Dontari Poe shooting up the charts and entering top-10 territory, which is likely an accurate assessment. 
And while the Rams need a dominate tackle, is there a freakish tackle like Ndamukong Suh entering the draft? Nope. 
Instead, the Rams have a shot at drafting a combine star. 
Other Options
Other than the three players mentioned, there are not a lot of attractive options remaining for the Rams if they do move down from No. 2 overall. 
They could reach for running Trent Richardson, but that's hardly a necessity with Steven Jackson on the roster. 
There are some capable linemen who'll surely provide some value, such as Jonathan Martin and David DeCastro, but are they really game-changing prospects? 
Perhaps, the logical strategy is to acquire as many high picks in the 2013 draft as possible and hope for better luck with next year's talent crop. 
Conclusion
You may be overwhelmed by the cynicism in this article considering the Rams are regarded as the most fortunate team in this year's draft due to their trade-down opportunity. 
However, it's easy to spot the negatives when following a team like the Rams. 
We're talking about a team that drafted Tye Hill a year before Darrelle Revis arrived. A team that took Adam Carriker a year after Haloti Ngata was drafted. 
With the lack of difference-making talent in the back-end of the top 10, there has to be at least a slither of skepticism regarding the team's ability to significantly improve with this year's draft class. 
The Rams' current position may resemble Tony Soprano, who admired the beautiful Italian foreign-exchange student from his window. It was an incredible experience, until he found out it was an illusion caused by his lithium. 
Are the Rams a delusional Tony Soprano? Or, is the concept of good fortune just too foreign for a St. Louis football fan to comprehend? 
Either way, the Rams have to do everything in their power to come away with premiere talent. After all, there's enough mediocrity currently on the roster to last a lifetime.