NFL Combine 2012: 5 Prospects the Falcons Should Now Be Watching Even Closer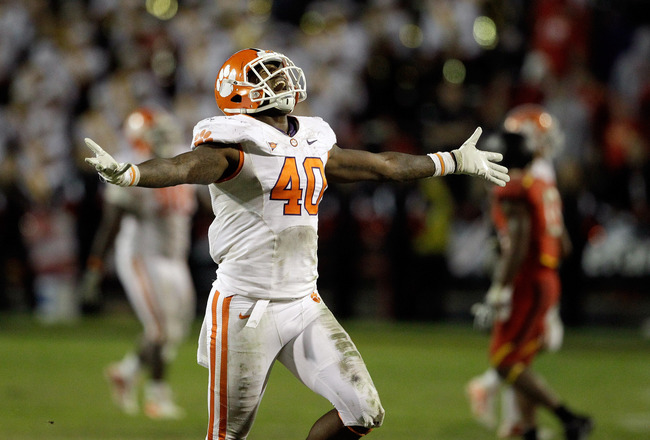 Rob Carr/Getty Images
The Atlanta Falcons went to Indianapolis with a list of players keep an eye on, and they likely returned home with a few new prospects to keep in careful consideration.
With a decent amount of potential free agents on the roster, Atlanta has to focus on addressing several needs on the depth chart come April. Don't fret over the fact that they're missing their first-round and fourth-round selections. There are still great opportunities with each selection to draft an impact player.
A couple guys blew up Twitter at the Combine. Whenever a player stood out in any particular event, social media was all over him. Michael Egnew's 4.62 40 time impressed a lot of scouts, and players like Harrison Smith started getting some of the recognition they really deserve.
Here are five young standouts from this year's NFL Combine that the Falcons will certainly be keeping a closer watch on in the coming weeks.
Michael Egnew

Doesn't go down easily.

Just about every mock draft at this point has the Falcons taking a tight end in the first couple rounds. If they want to hold off with their Round 2 selection, Michael Egnew could be very valuable in the third.
Egnew ranked fourth in the 40 and first in the vertical and broad jump drills out of all tight ends at the NFL Combine. As a converted wide receiver, he didn't develop much of his blocking skill at Mizzou, but with some work he could be a big-time contributor for the Falcons.
At 6'5" and 252 lbs, Egnew is a huge target who also possesses solid speed for a tight end. Atlanta doesn't have to jump on the first tight end available, because this guy will be around later on.
Andre Branch

No problem getting a sack here.

The Falcons' pass rush was anything but special in 2011, and it's clear they need to add some help in that area. John Abraham may not be back for 2012, making the need for a talented defensive end even more dire.
Andre Branch has great athleticism and can fly into the backfield at any time. He ran a 4.70 40 at the NFL Combine, ranking him fifth out of all defensive linemen. He also finished towards the top in several other drills, and appears to be one of the top defensive ends in the draft.
Some label Branch as a tweener, but at 6'4" and 259 lbs, he's nearly the same size as John Abraham, and has much more experience coming off the line. Watch some of the film of him at Clemson. He can really explode and get at the quarterback.
Branch will probably be a second-round selection, and he's projected to go before the Falcons are on the board. Still, he's worth watching.
Harrison Smith

Lot of highlights here, but you get the point.

Harrison Smith was one of four players who really impressed Mike Mayock and Charles Davis at this year's Combine (as shown on the Combine's main page). He is ranked as the top free safety by NFL.com and will likely be a second or third-round pick.
Smith has played both strong and free safety in college, and some believe he will make more of an impact at SS in the NFL. Whatever the case, Smith put on a solid showing in Indy this past week.
His three-cone drill was the fifth fastest among all defensive backs, and his 4.57 40 time put him seventh out of all safeties. With Thomas DeCoud potentially leaving this offseason, the Falcons might be looking in Smith's direction.
A.J. Jenkins

12 catches for 268 yards and 3 TDs. Not bad.

Atlanta by no means needs to use a top pick on another wide receiver, but A.J. Jenkins is projected as a fifth-rounder right now, and that would be a steal for any team.
Jenkins ran a blazing 4.39 40 at the Combine, with only three wideouts ranking ahead of him. He finished his senior campaign with 90 receptions for 1,276 yards and eight touchdowns, and has seen plenty of action for the Illini.
He has his faults, though, like any other player projected deeper in the draft. Jenkins has be known to take plays off at times, and his attitude has been in question throughout college.
He has some issues with route running as well, but overall he would be a solid acquisition if the Falcons need help at receiver. Keep in mind Harry Douglas and Eric Weems are both potential FAs.
Cyrus Gray

He looks like he can break away here.

With the backfield up in the air right now, the Falcons might have a few running backs on their mind at this point. Cyrus Gray put in just the performance he needed at Lucas Oil Stadium, and he could become an every down back at the next level.
His speed has often been called into question, but his 4.47 40 time placed him fifth out of all running backs. He also had a respectable 21 reps on the bench press and a 7.17 three-cone drill.
He can be a major factor in the screen game, another enticing attribute for Atlanta's future offense. This year's draft is pretty deep at RB, but Gray is certainly one to watch out for.
Keep Reading

Atlanta Falcons: Like this team?