Ranking the Best Knicks Point Guards in Franchise History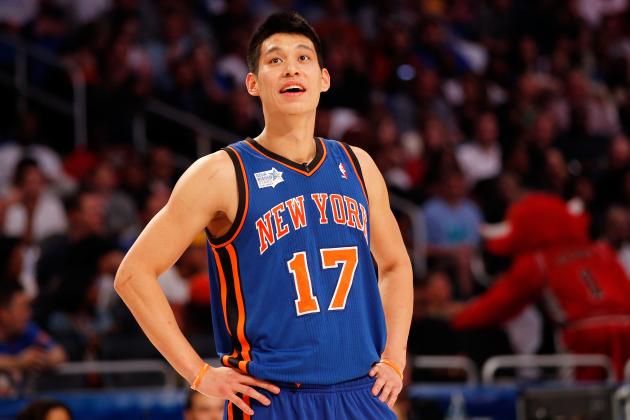 Mike Ehrmann/Getty Images

It's a great time to be a New York Knicks fan, as point guard Jeremy Lin has taken both the team and the city by storm. After a slow start that had the fans groaning, Lin has become a regular and in 12 games as such, the team has gone 9-3.
In his last five games, the Harvard grad has averaged 17.8 points and nine assists per game.
Sure enough, fans are stricken with a new disease called "Linsanity" as the young guard's outstanding play has them dreaming of a deep playoff run. Thus, the question presents itself: does Jeremy Lin rank among the best point guards in Knicks history?
Well, let's have a look through the annals and get an answer to that question.
Begin Slideshow

»
Jonathan Daniel/Getty Images

Charlie Ward became a household name as the Heisman-winning quarterback for Florida State University, but he ultimately chose to pursue basketball, and the Knicks used the 26th pick on him in the 1994 draft.
He was never a great shooter or passer, but the 6'2" Ward proved to be an absolute pest and played great defense while also having a decent three-point shot.
In nine seasons with the team, Ward averaged 1.3 steals per game and shot 36 percent from long range.
He wasn't the best point guard by a long shot, but he was easily one of the toughest players of his time and for that, the fans loved him.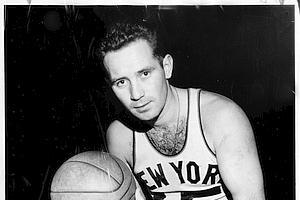 For this one, we're reaching into the very beginnings of New York Knicks history.
McGuire was a local product out of St. John's University, drafted seventh overall by the team in the 1949 draft.
He wasn't the biggest at 6'0", 180 pounds, nor was he a particularly good scorer.
However, "Tricky Dick" was one of the best playmakers of his time, and his effective passing turned him into a seven-time All-Star. In his eight seasons in New York, he averaged 5.6 assists per game as the franchise won three consecutive conference titles.
Sure enough, his No. 15 was retired by the Knicks and in 1993, he was enshrined in the Naismith Memorial Basketball Hall of Fame.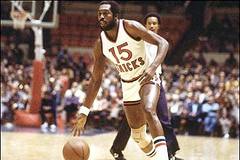 Nicknamed "The Pearl," Earl Monroe's game was very similar to that of Chauncey Billups.
He was a great leader on the floor and ran the point well, but he was a scorer first.
He spent nine seasons on the floors of Madison Square Garden and averaged 16.2 points per game compared to just 3.5 assists.
Those numbers don't look ideal for a floor general, but Monroe was great at that job nonetheless.
The Knicks took home an NBA championship and two conference titles with Monroe running the point and, much like McGuire, his No. 15 was retired by the team.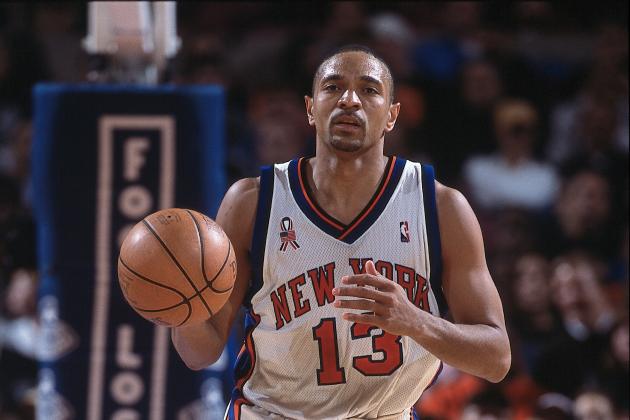 Jamie Squire/Getty Images

When the Knicks drafted Mark Jackson with the 18th pick in the 1987 draft, it was almost like a dream come true for the fans.
Jackson had played high school ball at Bishop Loughlin Memorial High School in Brooklyn before going to play college ball at St. John's in Queens.
Thus, having a hometown product on the team was something quite exciting.
Sure enough, Jackson proved to be a great leader on the floor. In his rookie season, he averaged 13.6 points, 10.6 assists and 2.4 steals on his way to winning Rookie of the Year, and the following year, he made his lone All-Star appearance.
Jackson ended up playing for 17 years, including two different stints with the Knicks.
To date, his 10,334 career assists rank third all-time, trailing only Jason Kidd and John Stockton. Soon enough, the Knicks will probably raise his name to the rafters and he will find himself enshrined in Springfield.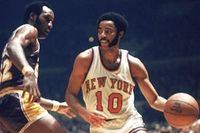 Today, Walt Frazier is known for three things: his crazy outfits during his playing days, his suits he wears as a broadcaster today and his insane sayings during color commentary.
But he was also the best point guard in team history, making seven All-Star teams and winning two championships during his Knicks tenure.
Frazier also was named to seven All-Defensive First Teams.
The man known as "Clyde" had great size for a point guard, standing 6'4", 200 pounds.
He was also a great scorer and passer, averaging 19.3 points and 6.3 assists as a Knick. On top of that, his charisma is just off the charts.
When it comes to men who ran the point in New York, there really isn't anyone else who compares.
Chris Trotman/Getty Images

I understand that Knicks Nation has gone completely Linsane over the past month.
Hell, I've got a case of Linsanity myself.
Still, it's a bit premature to call him one of the greatest point guards in team history.
Yes, he's been a great leader on the floor and has turned the team from a hopeless, underachieving squad into a contender, but let's take a couple of things into consideration.
First, he hasn't been with the team for that long.
More importantly, Lin is a free agent after the season, and given the state of the Knicks' salary cap, chances are that they won't be able to bring him back without doing a complete roster overhaul, or maybe a miracle occurs.
Still, he's done a fine job as the team's floor general this season and for that, he'll get his due credit from me.