Cavaliers vs. Knicks: Video Highlights, Analysis, Twitter Reaction and Grades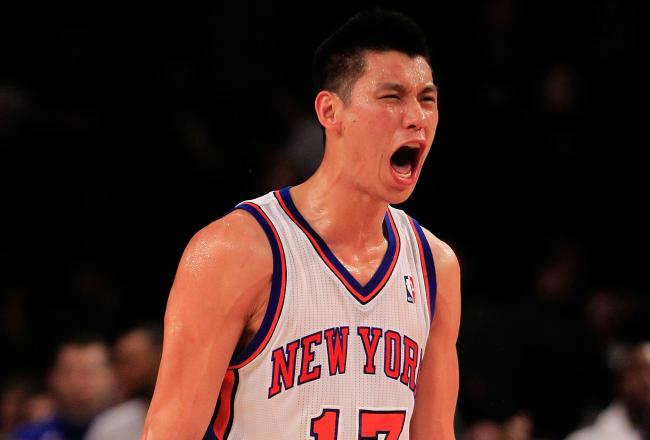 Chris Trotman/Getty Images
The New York Knicks looked pretty lifeless in the first half against the Cleveland Cavaliers on Wednesday night, but they came out with a vengeance in the second half to win the game by the final of 120-103.
Jeremy Lin rebounded nicely from his awful performance against the Miami Heat just before the All-Star break, and the Knicks got key contributions from numerous other players as well. Their comeback effort was very much a team effort.
Kyrie Irving did his best to keep the Cavaliers in the game, but in the end, he and the Cavs just couldn't keep up.
Let's recap the action.
Tweets of the Night
When this game was at the half and looking pretty bad for the Knicks, Awful Announcing chimed in with some wisdom:
The quickest way to stop #Linsanity?Allowing 61 first half points to the Cleveland Cavaliers at home.

— Awful Announcing (@awfulannouncing) March 1, 2012
Frank Isola of the New York Daily News didn't think the refs were calling a fair game:
I bet Kyrie Irving also wishes that as the top overall pick he can get as many calls as the Knicks undrafted point guard

— Frank Isola (@FisolaNYDN) March 1, 2012
Ethan Strauss was happy to see Baron Davis doing work:
Baron Davis with 8 assists in 13 minutes. He lives

— Ethan Strauss (@SherwoodStrauss) March 1, 2012
In the second half, this game belonged to Steve Novak. Peyton's Head pointed out that the "worldwide leader" isn't going to be very happy about that:
Steve Novak is on fire. If he doesn't stop overshadowing Jeremy Lin, ESPN is soooo gonna fire him. #Knicks

— Peyton's Head (@PeytonsHead) March 1, 2012
Aaron Rodgers, however, made it known that he is a big fan of Novak, presumably because of the "discount double-check" maneuver Novak used out on the floor:
Big Steve Novak fan.State Farm also encourages u to do the (belt) DDC.Steve Novak or the mayor Fred Hoiberg, pure shooter??

— Aaron Rodgers (@AaronRodgers12) March 1, 2012
Must-See Highlights
Check out Lin's pretty shot in traffic in the first quarter:
Baron Davis and J.R. Smith hooked up for an awesome alley-oop in the fourth quarter:
Ever wanted to see what Lin would look like after taking an arm to the face? Here you go:
Grades for Knicks' Key Players
Jeremy Lin: A-
Jeremy Lin has had better games than this one, but he was efficient with his shots, he got to the line, and he distributed the ball without turning it over. What more is there to ask for?
All told, Lin scored 19 points on 6-of-12 shooting, dished out 13 assists, had five rebounds and committed just one turnover. That's a solid line that the Knicks will gladly take on any given night.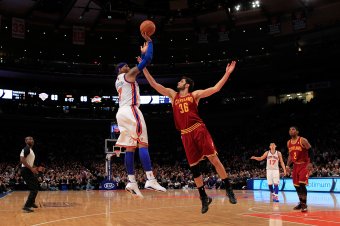 Chris Trotman/Getty Images
'Melo had easily his best game since coming back from his injury absence, scoring 22 points on 9-of-16 shooting. He also had five rebounds and four assists.
That'll do, 'Melo. Make games like this a habit, and maybe people will learn to love you all over again.
Amar'e Stoudemire: C
Amar'e Stoudemire wasn't awful on offense, scoring 14 points on 4-of-11 shooting, but he wasn't great, either. He was just kinda "meh," which is par for the course for him these days.
Steve Novak: A
Steve Novak's job is to come off the bench and knock down threes. He did his job quite well on Wednesday night, knocking down five threes and scoring 17 points. He had the crowd at MSG chanting, "We want Novak!"
Baron Davis: A
Four points and eight assists in 15 minutes of action? Very nice.
Maybe he is the team's point-guard answer after all.
Grades for Cavaliers' Key Players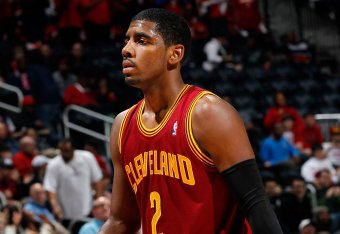 Kevin C. Cox/Getty Images
Kyrie Irving: A-
Kyrie Irving didn't have his best game, but I'm giving him an A- anyway because, let's face it, he did pretty well considering how much he was being asked to do.
Irving scored 22 points and dished out seven assists, making several pretty plays throughout the course of the game. Only trouble is he had four turnovers, beating Lin at his own game.
Antawn Jamison: C+
The good: a team-high 23 points and a team-high 10 rebounds.
The bad: 9-of-20 shooting and 3-of-7 from the line. He was very Antawn Jamison-y.
Daniel Gibson: B+
He made three three-pointers to score 13 points and pitched in three assists. You'll take that from a guy coming off the bench.
Deciding Factor: Bench Scoring
The Knicks got 17 points out of Novak, 11 points out of J.R. Smith, 12 points out of Iman Shumpert and 10 points combined from Jared Jeffries and Baron Davis.
Not a bad night for the guys on the bench, especially Novak. He earned those cheers.
Game MVP: Steve Novak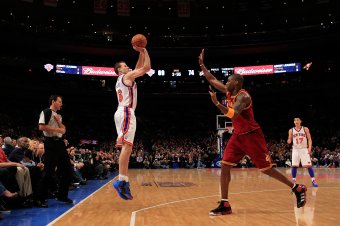 Chris Trotman/Getty Images
Honestly, why the heck not?
The Knicks were dead in the water at halftime. Somebody had to give them a lift, and it ended up being Novak. He scored 15 of his 17 points in the second half, giving the crowd and his teammates some much-needed energy.
So...Novak Attack?
I've got nothing.
What's Next?
The Cavaliers head home to take on the Chicago Bulls on Friday. The Knicks head to Boston to take on the Celtics on Sunday.
I want to say that will be another test for the Knicks, but...nah...
This article is
What is the duplicate article?
Why is this article offensive?
Where is this article plagiarized from?
Why is this article poorly edited?