UFC on FX 2: Odds and Predictions for Thiago Alves vs Martin Kampmann Fight Card
Use your ← → (arrow) keys to browse more stories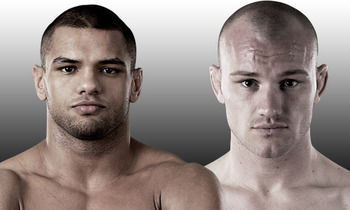 The UFC will return to Sydney, Australia, this weekend when they present UFC on FX 2, a fight card that will be headlined by a welterweight scrap between Thiago Alves and Martin Kampmann.
Before we get too deep into things, it should be noted that while the official date for this card is Saturday, March 3, it will be broadcast in North America on Friday, March 2.
While tickets did not go as fast for this fight card as they did for the last UFC Australia fight card, that does not indicate that this card is one that is to be missed, for in addition to the main event, the card will feature the first round of the tournament that will eventually name the UFC's first flyweight champion.
Alves will enter the Octagon going 2-3 in his last five UFC fights, with his last fight being a first round submission victory over UFC newcomer Papy Abedi. The loss was the first of Abedi's nine-fight MMA career. The submission was only the second of Alves' MMA career, the first coming in 2004 when he submitted Jason Chamers via punches.
Kampmann enters the fight with a 3-2 record in his last five fights. That record is somewhat misleading as many would argue that Kampmann actually deserved to get the win in those two fights, a unanimous decision defeat to Diego Sanchez and a split decision loss to Jake Shields.
As far as the flyweight division, the four fighters who will kick off the flyweight division will be Demetrious Johnson, Ian McCall, Joseph Benavidez and Yasuhiro Urushitani. The two victors in those bouts will meet some time in the not too distant future to decide the UFC's first flyweight champion.
The six-fight preliminary card will kick on at 6 p.m. EST on Friday on Fuel TV. The four-fight main card will be shown on FX beginning at 9 p.m. EST.