Fantasy Baseball Rankings 2012: Players on the Decline You Must Avoid
March 1, 2012

Nick Laham/Getty Images
The aging veteran never knows when to hang it up, and it's never more evident than in baseball.
With less physical exertion applied to every game, a one-time great player can get by on name only for years, despite an incline in injuries and a sharp decline in production.
Just ask Ken Griffey Jr.
With that in mind, here are five players who provide minimal fantasy value and should not mesmerize you with stats from years past.
Todd Helton, 1B, Colorado Rockies
The "Toddfather" owns all sorts of Rockies records, and is certainly the best player the franchise has ever had.
But it's 2012, not 2003.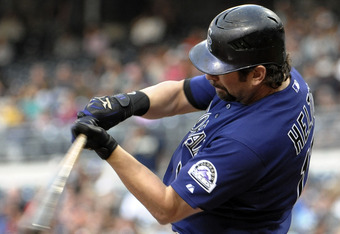 Denis Poroy/Getty Images
He experienced a bit of a resurgence in 2011 (.302 BA, 14 HR, 69 RBI, 421 ABs) after an injury-plagued 2010 (.256, eight HR, 37 RBI, 398 ABs), but his back issues aren't going away anytime soon.
It's the reality of being a 38-year-old who has played 2,054 career games, and expect the Rockies to give him plenty of rest as the season progresses.
He will be in the Opening Day lineup, but expect Jason Giambi and Casey Blake to steal more than their fair share of at-bats. With so many other options at the position, don't draft Helton just because you recognize his name.
Alex Rodriguez, 3B, New York Yankees
A-Rod has clearly reached the end of his prime, and is coming off a season where he failed to hit 30 homers and 100 RBI for the first time in 13 years.
Injuries are the main culprit, missing at least 20 games in each of the last four seasons. The 36-year-old is a huge risk to draft in the first five rounds for the first time in his career. He'll still get you decent production, but don't reach for a player who has missed 150 games since 2008.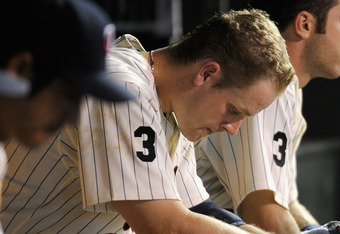 Hannah Foslien/Getty Images
Justin Morneau, 1B, Minnesota Twins
His concussion issues are too great to ignore. The former MVP used to be one of the best first basemen on the board, but now he's not even worth drafting as your backup.
It's going to be a long year in Minnesota, and I would be shocked if Morneau reached the 15-home-run mark.
Kevin Youkilis, 3B, Boston Red Sox
Rob Carr/Getty Images
The "Greek God of Walks" has lost his title after only registering 68 in 2011. He missed 42 games last year, and his numbers (.258 BA, 17 HR, 80 RBI) were down across the board. His contact rate is also down, as he suffers from a loss of bat speed.
He still provides value as a backup, but is no longer worthy of being the Opening Day starter on your fantasy team.
Adam Wainwright, P, St. Louis Cardinals
A pitcher never is back to full strength the first year after Tommy John surgery, and there is little doubt that Wainwright's 2012 campaign will be a steep decline from the gaudy 2010 season he put up (20-11, 2.42 ERA, 1.05 WHIP, 213 Ks).
Combine that with an Albert Pujols-less lineup, and the wins are going to be scarce for Wainwright. While still worth a pick later in the draft, he is not a top-30 starting pitcher in 2012.