Detroit Lions 2012 Mock Draft: Buying or Selling Matt Miller's Latest Picks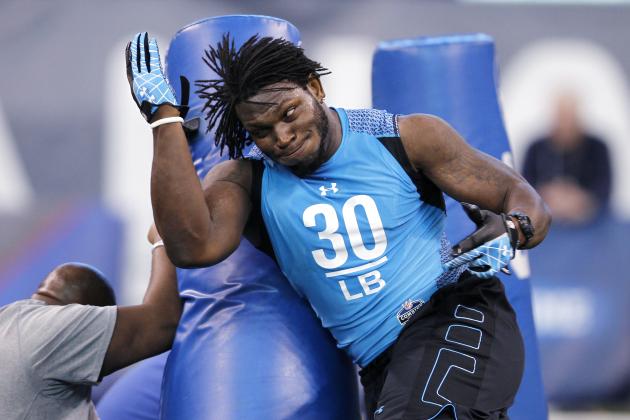 Joe Robbins/Getty Images

If you're on Bleacher Report (you kind of have to be right now), and you're not reading Matt Miller, I think it's time for you to do some serious re-analysis of your life, especially during draft season.
Now, Lions faithful might be averse to Miller, considering his name is half the letter "n" from being the same as the worst thing ever to happen to the team, but believe me, that makes a big difference.
What I'm saying is, the local NFL Draft Master (my unofficial, hastily-invented title) deserves your attention. Go read his work. Here, I'll help you get started.
Miller has a new seven-round mock draft out this week, and in an attempt to position myself even within shouting distance of him in terms of credibility, I've decided to pick through his latest work and throw my support/criticism behind each of his picks. I don't know if it will satisfy the credibility thing, but it should make for pretty good reading.
So as you're reading through this, keep in mind that these picks aren't my picks (although I will admit I wish some of them were). They're Miller's picks, with my commentary.
In case you didn't hit the link above, you can check out the rest of Miller's picks and commentary here, but if you just want to nitpick his Lions picks, just click ahead.
Begin Slideshow

»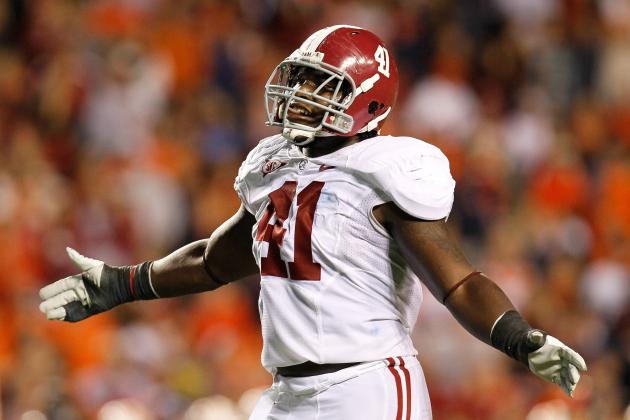 Kevin C. Cox/Getty Images

Let me be clear about at least one thing: I like what Miller has done here.
This is exactly the kind of pick the Lions would make in the first round. Courtney Upshaw doesn't play a position currently classified by most as a major "need" for the Lions, but a close look at the roster reveals that a new DE would not be wasted on the Lions.
Consider this. Kyle Vanden Bosch has been hampered by injuries both years he's played in Detroit and next year Cliff Avril could be gone. Lawrence Jackson is solid, and Willie Young has a lot of potential as a pure speed-rusher, but are they both good enough to start without being upgraded?
Furthermore, if Upshaw is available to the Lions at 23, it will mean he's fallen out of the top 10 or 15 (this makes sense after a weak combine), which likely means he's the best player available at a position of moderate need, much as Nick Fairley was last year, Jahvid Best was in 2010 and Brandon Pettigrew was in 2009.
Miller understands both the Lions' roster situation and their draft tendencies, so this makes a lot of sense.
With all that being said, I don't like the pick, and it's not the position, it's Upshaw himself.
Not because he bombed at the combine, but because he's not a prototypical 4-3 DE. He's actually a 3-4 DE/LB hybrid. The move to DE is based primarily on his stiffness and lack of mobility in linebacker drills (as Miller himself points out).
Now, I don't want to make the mistake of giving too much credence to combine performance, because the film shows Upshaw is dominant off the edge.
But the film shows Upshaw's dominance off the edge in an otherwise dominant 3-4 defense, and I'm of the mind that 4-3 DEs and 3-4 DE/LBs are as different in their skill sets as cornerbacks and safeties.
Sure, that transition works out of college from time to time, but transitioning a first-round pick from LB to DE because he's too stiff makes about as much sense to me as transitioning a safety to cornerback because he's a poor tackler.
Verdict: Sell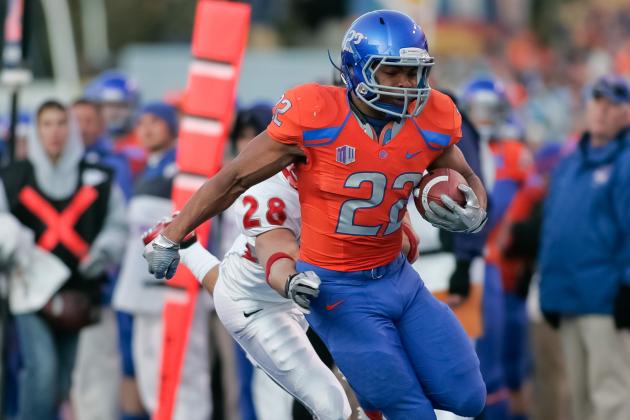 Otto Kitsinger III/Getty Images

Another year, another running back.
This is another pick that makes sense, and fits with the Lions' actions this offseason. There is literally not a single dependable running back on the Lions' roster right now, the Lions know it and they took time to sit down with Doug Martin at the Senior Bowl, so there is certainly a premise for this.
But I don't know about this pick, this high. There's no doubt the Lions have had issues running the ball, but I feel like drafting another running back to fix it is like trying to throw eggs through a brick wall, and then getting more eggs (running backs) when that doesn't work instead of a bulldozer (interior lineman).
The prevailing wisdom in today's NFL is that running backs generally fall into two categories: elite and expendable.
Look at the New Orleans Saints. They employ one of the most effective running back committees in football, but where is the bulk of their production coming from?
In the last five years, they have spent first-round picks on running backs twice. I stop short of branding former second-overall pick Reggie Bush a bust, but Darren Sproles (signed as a free agent, but originally a fourth-round pick) was better at Bush's game last year than Bush himself ever was.
And it's far too early to draw any conclusions on Mark Ingram, but to this point, I haven't seen anything particularly special that sets him apart from undrafted free agents Pierre Thomas and Chris Ivory.
The point is, if your offensive system works, you can find running backs to run through holes all day. They don't have to come in the second round.
That said, I like Martin, I just don't like him in the second round. If he falls to the third, we'll talk, but after a solid combine, it's not likely he will.
Verdict: Sell (kind of)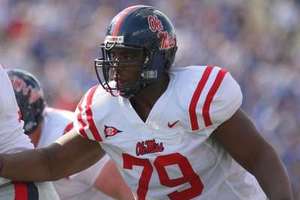 This is perhaps Miller's most interesting pick in this draft, under the right circumstances.
Bobby Massie is a little like a poor man's Tyron Smith. He's a right tackle in college and he's dominant. His athleticism is such that he could be a starter on the right side or guard, and with a little coaching, could find himself on the blind side.
This is the Lions' kind of prospect: athletic, raw and coachable. What he lacks in immediate impact he makes up for upside. The pick might be disappointing for anyone looking for the Lions to upgrade the offensive line drastically and immediately, but this pick makes sense in the long term.
Massie's greatest weakness is his lack of polish. His size, athleticism, balance, foot speed and hand use are all very strong. But he will get beat by a superior technician, even one that is physically inferior.
Of course, that is a fixable problem, and considering that the Lions are unlikely to be looking for a starting tackle on either side for another year or so, Massie has time to learn before being thrown into the fire.
In 2013, Massie could replace either Jeff Backus (who will likely re-sign) or Gosder Cherilus, and play at a first-round level. He just needs the time and the coaching.
Verdict: Buy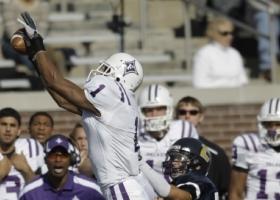 My guess is that you're a little irked that the Lions don't draft a cornerback until the fourth round.
That's understandable, but Steed is a perfect fit for the Lions, and a decent consolation prize if the Lions find themselves outside the upper tiers of cornerbacks in this year's draft.
Steed didn't really impress at the combine, which is part of the reason he's available here. He's also a poor tackler and not a strong zone-cover man.
So why would the Lions want him, in the fourth or any other round? Simple. Steed has dominant skills in tight man coverage, which is pretty much the only thing the Lions will ask him to do.
Steed ran a linebacker-like 4.69 40 at the combine, which is going to raise some flags when combined with his small school background. Scouts will wonder if the tight coverage they see on film will still happen against speedy, 4.3-running wide receivers, like the kind he didn't play against at Furman?
That's a fair question, but in the fourth round, that's a risk that will be worth it.
Verdict: Buy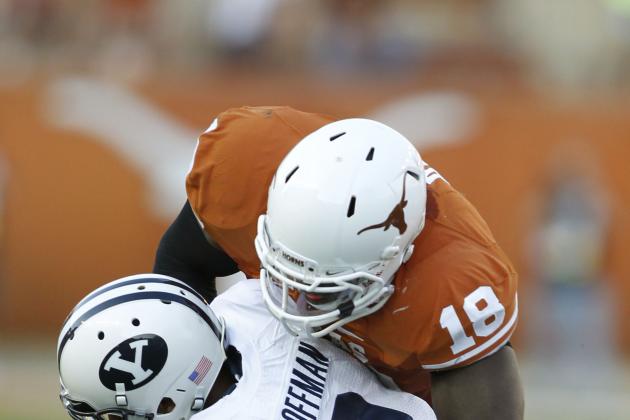 Erich Schlegel/Getty Images

This is an interesting pick, but I'm not sure it makes sense for Detroit.
Acho is a scheme-versatile player who could theoretically play inside or outside linebacker, but that's really more a function of his exact skill set not translating particularly well to any one position.
In other words, he's not really big enough to play dominantly in the middle, and not really fast enough to play outside.
I don't discount the possibility that Acho is still growing into his somewhat lanky frame, and in that sense, he could have great upside to go with already strong instincts.
But if Acho is a project pick with upside, isn't this just Doug Hogue again? I get that each of the Lions' current starting linebackers could need replacement by 2013, but can they rebuild that entire unit with Day 3 picks?
If they can, and Acho is part of that, this is a great pick. But I'm skeptical about it.
Verdict: Sell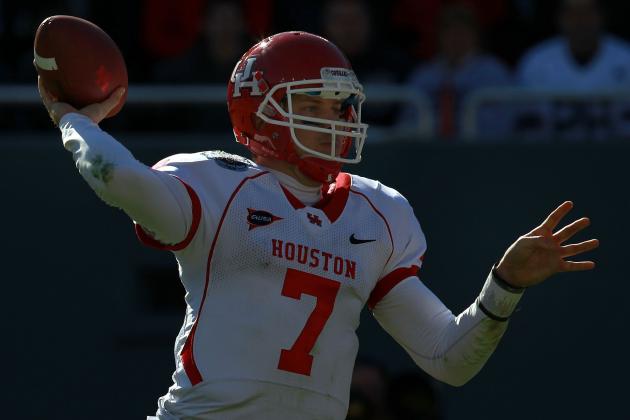 Ronald Martinez/Getty Images

I can't begin to describe how much I love this pick.
With this pick, Miller nails what I've been trying to do in my mock drafts for months: Get the Lions the perfect project quarterback to fill the third spot on the depth chart.
Now, Case Keenum isn't going to come to camp and push Matthew Stafford for the starting job. But he's not supposed to. He's supposed to sit on the bench and learn how to play quarterback in the NFL.
The knocks on the prolific Keenum are well-documented: too small, system quarterback, can't play under center, average arm strength.
Maybe that shows up at the next level, maybe not. But if nothing else, one thing you have to like about the kid is his attitude.
Via Pete Prisco at CBSSports.com, here's Keenum talking about proving his critics wrong.
I try to play to prove people right, not prove them wrong. I had one scholarship offer. That was Houston. I proved to everyone else that Houston was right. There were 119 teams in college that missed out. There will be 31 teams (that miss out) on the next step.
There's something decidedly Brady-esque about that defiance. It's reminiscent of the former Michigan quarterback going to owner Robert Kraft after being taken in the sixth round of the 2000 NFL Draft and brashly saying, "I'm the best decision this organization has ever made," before going on to prove that true over the course of the next decade.
Now, before this gets out of control, Keenum is not the next Brady, and likely never will be. The skill sets, backgrounds, college situations and circumstances are completely different.
But frankly, the Lions don't need him to be Brady. If Keenum has to show up and play the role of franchise savior for the Lions, something has gone terribly, terribly wrong.
But if the Lions could coach this kid up, and get him enough reps to make him the next Kevin Kolb? It would be hard to argue with that outcome. The kid was successful in college, and has the work ethic and intangibles to figure things out on the next level.
Of course, if none of this happens, which is really the most likely outcome, the result is a sixth-round pick spent on a third-string quarterback, to little effect or interest to anyone. So what's the problem?
Verdict: Buy
Christian Petersen/Getty Images

I would have been skeptical about this pick under normal circumstances.
The Lions have drafted plenty of tackle prospects late in the draft, and to this point, not one of them has produced anything. In fact, the Lions have gotten value out of just about every non-OT seventh-round pick under the current regime.
The Lions already have Johnny Culbreath and Jason Fox, they don't need another 300-pound question mark mucking up the depth chart.
Of course, that was what I thought before the combine. Marcus Zusevics was roughly considered a sixth-round pick, which would have made him reasonable value here.
And then Zusevics tore his pectoral muscle doing bench press reps in Indianapolis, making him questionable for perhaps the entire 2012 season.
Now, Zusevics wouldn't likely have played in 2012 anyway, so maybe that's a non-issue. But it's not just that he can't play in 2012. With a torn pec, he can't work out, he can't lift weight, he can't practice, nothing.
If the Lions drafted Zusevics, they'd be drafting a project player who would probably go on IR the day after the draft and they wouldn't even be able to start developing him until 2013. By then, they could just draft a different project lineman.
It would be different if Zusevics was falling from the fourth round here, but he doesn't have incredible value even when fully healthy. I would have given the pick a maybe if Zusevics was healthy and had a decent combine.
Neither is true, so the only positive I can give here is that I like Iowa linemen. But I like them to be functional.
Verdict: Sell/Give Away