2012 NFL Mock Draft: How Do the First Two Rounds Shape After the Combine?
March 1, 2012

Joe Robbins/Getty Images
Now that we've digested everything the NFL combine has to offer, it's time to regurgitate the information in an obnoxious amount of mock drafts. 
The front-end of the first round is beginning to take shape, with one of the highest rated QB tandems we've ever seen. However, how has the rest of Round One been affected.
Some players impressed the masses, while others like Arizona State's Vontaze Burfict saw his stock take a massive hit in 40 yards. 
It was a great weekend for NFL teams, future players and sports media alike, so I ask you this?
Who will your favorite team select?
Take a look here, as I've compiled a detailed two-round mock draft including write ups explaining every pick. 
1) Indianapolis Colts: Andrew Luck, Quarterback, Stanford 
Even though Luck didn't throw at the combine, his running and workout drills reiterated the fact that he's not just a smart pocket passer. The guy is an athlete and further solidified himself as the future No. 1 overall draft pick come April, if that was even possible. 
2) TRADE! Washington Redskins: Robert Griffin III, Quarterback, Baylor 
The Rams have already expressed interest in trading this pick to the highest bidder. That team will be the Washington Redskins at the price of at least five or more picks in the next two drafts. Griffin is a rare combination of athleticism, discipline and intelligence that will be a future Pro Bowl player at his position. He's not Luck, but he's worked himself into the argument. 
3) Minnesota Vikings: Matt Kalil, Offensive Tackle, Southern California 
The Rams could certainly use Kalil's services at No. 2, but that pick is too valuable to hold onto. With that, he drops to three and a Minnesota team who desperately needs an improvement over current starter Charlie Johnson. The Vikings drafted their future quarterback last season, now it's time to protect him. 
4) Cleveland Browns: Trent Richardson, Running Back, Alabama 
The NFL is turning into a passing league, so the need to draft a running back in the top 10 is becoming obsolete. But Richardson is a special talent that is durable enough to be effective on all three downs, which is something we haven't seen since Adrian Peterson. The Browns have a lot of holes, and Richardson fills one of them.
5) Tampa Bay Buccaneers: Morris Claiborne, Cornerback, Louisiana State
This has been the most consistent pick among all mock drafts thus far, and it's warranted because of Claiborne's skill and Tampa Bay's need for help on defense. Claiborne had a fantastic combine, running a 4.5 40-yard dash, and really showed off his explosiveness as an athlete and ability to run with his back to the football. 
6) TRADE! St. Louis Rams: Justin Blackmon, Wide Receiver, Oklahoma State
This is a case of a team trading down and still getting their guy. The Rams desperately need to find weapons for Sam Bradford and Blackmon is a physical guy that simply makes plays. St. Louis will likely part ways with Brandon Lloyd, and Danny Amendola is a free agent as well, so Blackmon is the obvious choice here. 
7) Jacksonville Jaguars: Quinton Coples, Defensive End, North Carolina
Quinton Coples has the potential and natural athleticism to warrant a top-10 pick, but his attitude and inconsistent motor raise some questions. However, I think he's too talented a player to slide, and a team in the top 10 will scoop him up. The Jaguars would like some talent to place around Blaine Gabbert, but there just isn't anyone in that elite level that qualifies at this juncture. Coples will be a sack-master in Jacksonville for years. 
8) Miami Dolphins: Riley Reiff, Offensive Tackle, Iowa
Miami is going through some major changes on offense and defense this offseason, and could go either way with this pick. I see them addressing the offensive line and setting up whoever their new quarterback is with two solid bookend tackles for protection. Riley Reiff isn't a well-known commodity like some of the other draftees, but he's smart, physical and will get the job done in the NFL. 
9) Carolina Panthers: Michael Brockers, Defensive Tackle, Louisiana State
Michael Brockers is a versatile defensive tackle that can play both inside and outside in both run defense and on passing downs. Carolina head coach Ron Rivera is a great defensive coach who will find a way to exploit the skills in Brockers for the Panthers defense. Brockers is the best player available at this point and the Panthers will draft him upon that belief. 
10) Buffalo Bills: Nick Perry, Defensive End, Southern California 
Nick Perry is one of the most talented athletes in this year's draft. He will come in from day one and provide instant pass rush for a Buffalo defense that is making a switch from the 3-4 defense to a 4-3. Perry has the ability to set the edge and get up field with a powerful rush, and should play nicely off the current skill the Bills have on the defensive line. 
11) Kansas City Chiefs: Dontari Poe, Defensive Tackle, Memphis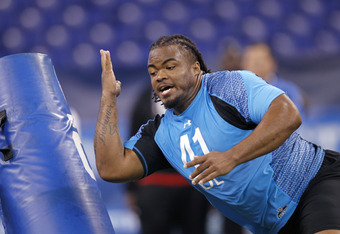 Joe Robbins/Getty Images
I'm confident in saying that no other player had a more impressive combine workout than Dontari Poe. As a relatively unknown talent out of Memphis, Poe bench pressed an impressive 44 times, all while placing as a top performer in all of his running drills. He showed quick feet and aggressive hands in his position drills, all being the reason for his rise up draft boards. If this pre-draft production keeps up from Poe, he may not even fall to Kansas City. 
12) Seattle Seahawks: Melvin Ingram, Defensive End, South Carolina
OK Seattle fans, let's be real here. There is NO quarterback for you to take here at No. 12. So it's time to either trade the pick or draft the most complete defensive end to provide you with a consistent pass rush opposite Chris Clemons. I like the latter. 
13) Arizona Cardinals: Jonathan Martin, Offensive Tackle, Stanford
Current Arizona Cardinals left tackle Levi Brown is bad. And that's putting it delicately. It's time to find a replacement to provide some protection for Kevin Kolb and company. Martin is a talented offensive-line prospect with remarkable size at 6'5" 312 pounds that will prove to be a great pick that fills an important team need. 
14) Dallas Cowboys: Dre Kirkpatrick, Cornerback, Alabama
There is no question that the Dallas Cowboys need to address their defensive secondary, but with Morris Claiborne off the board, who is the guy for the 'Boys? I think it's between Dre Kirkpatrick from Alabama and Janoris Jenkins from North Alabama. Both have multiple off-the-field issues, but the risk/reward factor with Kirkpatrick is what gives him the edge for me. I think that the Alabama product has the ability to be a stud in the NFL for years to come. 
15) Philadelphia Eagles: Luke Kuechly, Inside Linebacker, Boston College
It's hard to knock a guy who was in the top two in terms of total tackles in three different years during his college career. The Eagles are desperate for help in their linebacking corps, and Luke Kuechly is the best tackler this draft has to offer. He presents some issues around the line of scrimmage, where he sometimes plays small, but Philadelphia is in need of a guy who can tackle. That's what Kuechly does, tackle. 
16) New York Jets: Michael Floyd, Wide Receiver, Notre Dame 
Everyone thinks of Michael Floyd as this physical red-zone presence who uses his long arms and big hands to make the majority of his plays. Now, while all that may be true, Floyd proved at the combine that he can be a speed guy by running an impressive 4.47 40-yard dash. If the Jets lose Plaxico Burress—which is likely—they'll be in need of a red-zone threat, as well as a guy who can run simple routes for Mark Sanchez. 
17) Cincinnati Bengals (via Oakland): David DeCastro, Offensive Guard, Stanford
The Cincinnati Bengals have a solid group of offensive tackles, but their core of interior lineman were none too impressive last season. David DeCastro is very quick off the snap and is strong in his ground once engaged with a defender. Cincinnati will love a guy with DeCastro's natural ability here at 17, and even though guards aren't a hot commodity in the draft, the Stanford product will be one of 2012's steals.
18) San Diego Chargers: Cordy Glenn, Offensive Guard, Georgia
Cordy Glenn is a nice blend of size and athleticism that can play offensive tackle, despite guard being his more natural position. It was announced today that four-time pro bowler Kris Dielman would retire this offseason so a player like Cordy Glenn could come in and provide instant production on the Chargers offensive line. 
19) Chicago Bears: Alshon Jeffery, Wide Receiver, South Carolina
Address the offensive line or find Jay Cutler a weapon to throw to? That's the question buzzing around Chicago this offseason, and it's one they will take struggle to fully answer. On one hand, the Bears have an offensive line that, at times, looked like the worst ever, but on the other, they employ a receiving corps headlined by a kick returner with stone hands and Johnny Knox, who may not even be ready for the 2012 season after a nasty back injury. The answer looks to be a target for Chicago, and Jeffery could very well be the answer. 
20) Tennessee Titans: Courtney Upshaw, Defensive End, Alabama
Most people see Courtney Upshaw as an outside linebacker. I see him purely as a pass-rushing freak whose only objective is to annihilate opposing quarterbacks. The Titans haven't had a solid pass rush to replace Jason Babin, and Upshaw will do just that. 
21) Cincinnati Bengals: Fletcher Cox, Defensive Tackle, Mississippi State
Running back may be the biggest team need for the Bengals overall, but I don't think Lamar Miller or Chris Polk fill the need for the value of the No. 21 overall pick. The Bengals have three defensive lineman headed for free agency, and Cox was very impressive at the combine. He's raw right now with a lot of room for improvement, but he'd be a solid pick for the Bengals here at 21. 
22) Cleveland Browns (via Atlanta): Stephen Hill, Wide Receiver, Georgia Tech
Stephen Hill is a classic example of a guy who made a name for himself at the combine by running an exceptional 40-yard dash and looking uncharacteristically impressive in his position drills. With the fall of Kendall Wright and the rise of Stephen Hill, the Browns can select a deep-threat for Colt McCoy to throw to. Hill didn't get much recognition at Georgia Tech because he never got thrown to in the triple option, but the kid has skill. A lot of it. 
23) Detroit Lions: Stephon Gilmore, Cornerback, South Carolina
With Janoris Jenkins still on the board here at 23, you may be questioning why the Lions would select Stephon Gilmore instead. Well, it's no secret that the Lions have a bit of a sour reputation around the league and Jenkins has had his share of off-the-field issues. It may not be fair to characterize a guy in such way, but the NFL is a business and Stephon Gilmore has more than enough skill for the Lions to get their value at this pick. Gilmore is a rising star in this draft. 
24) Pittsburgh Steelers: Dont'a Hightower, Inside Linebacker, Alabama
Yes, that's correct, that's another Alabama player being drafted in the first round. Truthfully, the first team that comes to mind when I think of Dont'a Hightower is the Pittsburgh Steelers and, with more than a few backers rising in age, Hightower will be a solid pick here for Mike Tomlin's crew. I love this pick. 
25) Denver Broncos: Janoris Jenkins, Cornerback, North Alabama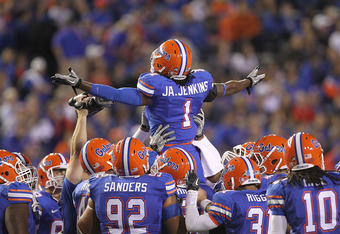 Mike Ehrmann/Getty Images
Janoris Jenkins has all the skill in the world, but he has some extra baggage that may cause his stock to drop a bit. However, dropping into a situation like the one brewing in Denver would be great for his career. One of the all-time greats, Champ Bailey, is rising in age and will be hanging the cleats up in the coming years. Jenkins will have the opportunity to be coached and mentored by a reputable veteran like Bailey and walk into a defensive situation that is already littered with young talent like Von Miller. 
26) Houston Texans: Kendall Wright, Wide Receiver, Baylor
Kendall Wright's poor combine performance that saw him run a slower-than-expected 4.61 40 won't drop him from the first round. When you put on the tape, you see a much different player and one that certainly is faster than the 4.61 indicated. The Texans need to sure up two positions, if that, and one of them is wide receiver. I believe that if Wright drops to the Texans at 26, he'll be theirs for the taking, but if he doesn't, it will be another receiver from the picking pool.
27) New England Patriots (via New Orleans): Whitney Mercilus, Defensive End, Illinois
The Patriots need someone who can put pressure on the quarterback, seeing as that was the root of their horrendous pass defense last season. The NCAA leader in sacks, Whitney Mercilus, will do just that. And not to mention, both Andre Carter and Mark Anderson are both free agents this season, so whether or not the Patriots retain one, both, or none of them, they'll need to add depth to the position. 
28) Green Bay Packers: Lamar Miller, Running Back, Miami
Ryan Grant is a free agent and has a history of injuries. Factor in his 29 years of age, and it's unlikely the Packers throw him much money to stay in Green Bay. James Starks is a solid situational guy, but he's in no way a No. 1 back in the NFL. So where does that leave Green Bay? Lamar Miller. And they'll be stoked to watch him fall all the way to No. 28 after he showed off his burners at the combine. 
29) Baltimore Ravens: Peter Konz, Center, Wisconsin
Peter Konz is yet another stellar product from the University of Wisconsin offensive-lineman pool. Konz is extremely intelligent and has experience making calls at the line of scrimmage. He's the Ravens' center of the future and has the ability to play anywhere on the interior line of scrimmage. Ravens fans will be happy with this pickup late in the first round. 
30) San Francisco 49ers: Jamell Flemming, Cornerback, Oklahoma
I originally had the 49ers selecting a target for Alex Smith to throw to, but with the emergence of Michael Crabree and the news of Carlos Rodgers preparing to hit free agency, it became clear that a solid cornerback was the way to go. Jamell Flemming is an underrated player, who excels by using his physicality to jam receivers at the line of scrimmage. Running a solid 4.53 certainly helped his cause. 
31) New England Patriots: Jerel Worthy, Defensive Tackle, Michigan State
Jerel Worthy has the potential to be an extremely dangerous player playing alongside Vince Wilfork. The Patriots defense had too many holes to count last season, but with Worthy and Wilfork in the middle of the defensive line, opposong offenses won't be opening up too many holes. Good luck running on that. 
32) New York Giants: Zach Brown, Outside Linebacker, North Carolina
The sexy pick for the Giants coming out of the combine has been tight end because of Tom Coughlin's remarks regarding the team's need at the position. However, I don't think there's a tight end in this class worthy of a first-round grade, leaving the Giants at a crossroads. Based on the best player available philosophy, I foresee the Giants scooping up Zach Brown. Brown is one of the fastest linebackers in this class and will add to an already scary defensive front seven for the Super Bowl champions.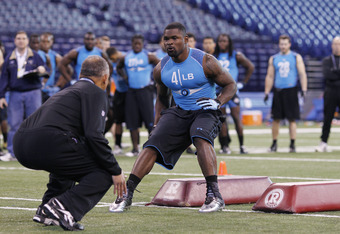 Joe Robbins/Getty Images
Round 2
33) St. Louis Rams: Chris Polk, Running Back, Washington
The Cadillac Williams and Jerious Norwood experiment didn't quite work out in St. Louis, and with Steven Jackson aging with the miles he already has, a running back is the way to go here. 
34) Indianapolis Colts: Rueben Randall, Wide Receiver, Louisiana State
If Peyton Manning is gone, it's likely that Reggie Wayne and even Pierre Garcon are gone too. The Colts will need someone for Andrew Luck to throw to.
35) Minnesota Vikings: Devon Still, Defensive Tackle, Penn State
The Vikings draft Still here based upon best player available. Still has a good motor and a very high ceiling, and will be a good run stuffer for years to come. 
36) Tampa Bay Buccaneers: Andre Branch, Defensive End, Clemson
The Bucs were horrid on defense in 2011, and Andre Branch is an athletic defensive end who can tackle and get after the quarterback. He's big and physical and can also be used as an outside linebacker.
37) Cleveland Browns: Ryan Tannehill, Quarterback, Texas A&M
Ryan Tannehill didn't participate in combine drills because of a foot injury, but he's widely considered the third best quarterback in this class, and if the Browns don't want to trade for Robert Griffin III, Tannehill could be their insurance in case Colt McCoy flops again.
38) Jacksonville Jaguars: Mohamad Sanu, Wide Receiver, Rutgers
Sanu isn't a first-round prospect and doesn't have the speed to be a true deep threat, but he has the size and smarts to play the wide receiver position for the Jaguars, who desperately need someone for Blaine Gabbert to throw to. 
39) St. Louis Rams (via Washington): Kelechi Osemele, Offensive Tackle, Iowa State
The Rams passed up on the possibility of drafting Matt Kalil in the first round, but will pick up a solid offensive lineman with good athleticism in the second round to help protect Sam Bradford. 
40) Carolina Panthers: Casey Hayward, Cornerback, Vanderbilt 
Carolina was horrid against the pass last year, and a lot of the reason was because they didn't have a corner to play opposite Chris Gamble. 
41) Buffalo Bills: Coby Fleener, Tight End, Stanford
Scott Chandler is a free agent this offseason and, should he walk, the Bills will need to fill his void because he was one of Ryan Fitzpatrick's favorite targets in 2011. 
42) Miami Dolphins: Kirk Cousins, Quarterback, Michigan State
It's likely that the Dolphins will address their quarterback issue through free agency but, no matter what, drafting a solid backup like Kirk Cousins won't hurt at all. 
43) Seattle Seahawks: David Wilson, Running Back, Virginia Tech
The Seahawks need to evaluate the running back position whether they franchise Marshawn Lynch or not. WIlson is shifty and knows how to move the ball down field to get tough yardage. 
44) Kansas City Chiefs: Mike Adams, Offensive Tackle, Ohio State
Adams had a horrendous combine after being tabbed as a potential top-20 pick prior to Indianapolis. His slide ends at No. 44 overall, where the Chiefs will look to wring out the problems he has. 
45) Dallas Cowboys: Mark Barron, Safety, Alabama
Mark Barron is another guy who has first round-potential, but his injury issues have caused him to miss the combine and potentially miss his pro day. The Cowboys will be thrilled to pick him up here to shore up their secondary. 
46) Philadelphia Eagles: Juron Criner, Wide Receiver, Arizona
The Eagles are always looking for targets for Michael Vick to throw to and, although he's not the speediest guy, Juron Criner is a solid 6' 3", 225 pounds and has massive 10 1/2" hands. 
47) New York Jets: Brandon Weeden, Quarterback, Oklahoma State
Even though he's 28 years old, Brandon Weeden will get drafted, and with the Jets reoccurring quarterback struggles, he could be a solid second rounder that ends up seeing some playing time. 
48) New England Patriots: Chandler Jones, Defensive End, Syracuse
If you're the Patriots, you can't get enough pass rushers because of the issues that are looming in free agency and how bad the defense was a year ago. 
49) San Diego Chargers: Zebrie Sanders, Offensive Tackle, Florida State
The Chargers handled the need for a guard to replace Kris Dielman in the first round, so rightfully, it's time to address Marcus McNeill and Jared Gaither departing in the second round. 
50) Chicago Bears: Alfonzo Dennard, Cornerback, Nebraska
Many will expect the Bears to continue building up the offensive line around Jay Cutler, but one of their main issues a season ago was their pass defense, and it went largely overlooked. They'll appreciate a guy with Dennard's skill at No. 50 overall. 
51) Philadelphia Eagles (via Arizona): Billy Winn, Defensive Tackle, Boise State
The Eagles drafted an inside linebacker in the first round, and now they need to get a guy who can eat up blockers for Kuechly so he can get into the backfield. Winn impressed at the combine, and his consistency and motor at the college level will be useful somewhere in the NFL. 
52) Tennessee Titans: Brandon Boykin, Cornerback, Georgia
Brandon Boykin is a true athlete at the corner position and has experience playing elite opponents in the SEC. The Titans are said to be parting ways with Cortland Finnegan and they'll need someone to fill the role in the secondary. 
53) Cincinnati Bengals: Doug Martin, Running Back, Boise State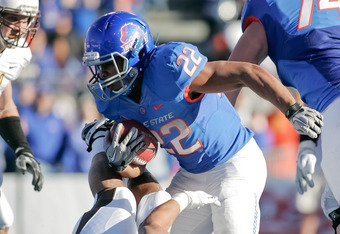 Otto Kitsinger III/Getty Images
After passing on a running back with both of their first-round picks, the Bengals snag their back of the future with Doug Martin in the second round. 
54) Detroit Lions: Mychal Kendricks, Inside Linebacker, California
Mychael Kendricks boosted his draft stock as much as anyone at the combine by performing astronomically well in the athletic drills. The Lions will get a good one here to replace Stephen Tulloch. 
55) Atlanta Falcons: Vinny Curry, Defensive End, Marshall
This pick is based on the assumption that the Falcons aren't going to retain John Abraham because of his age and outrageous price demand, and the fact that they don't go after a big name on the free-agent market. 
56) Pittsburgh Steelers: Kevin Zietler, Offensive Guard, Wisconsin
The Steelers are in huge need of help on the offensive line, and seeing how the team is cutting costs to keep Mike Wallace around, it won't be through free agency. Zietler is from the Wisconsin offensive line pool and will start from day one as a rookie. 
57) Denver Broncos: Dwayne Allen, Tight End, Clemson
You can never give Tim Tebow enough weapons over the middle, and seeing as Dwayne Allen was looked at once as a late first rounder, the Broncos will like him here.
58) Houston Texans: Brandon Washington, Offensive Guard, Miami
The Texans don't have many team needs, but bolstering their interior offensive line wouldn't hurt. I also wouldn't be surprised to see them draft another wide receiver in this position.
59) New Orleans Saints: Brandon Thompson, Defensive Tackle, Clemson
Thompson provides the Saints with a guy who can stuff the run and get up the field without needing elaborate blitz schemes to do so.
60) Green Bay Packers: Ronnell Lewis, Outside Linebacker, Oklahoma
Erik Walden is a free agent, and it's no question that the Packers' defense could stand to improve their pass rush anyway, so a guy like Ronnell Lewis could come in handy to play opposite Clay Matthews. 
61) Baltimore Ravens: Bruce Irvin, Defensive End, West Virginia
It's not clear yet whether or not Sergio Kindle will be able to fully come back from his neck injury, and with one guy who can consistently get after the quarterback, someone who stood out at the combine like Bruce Irvin that can play a hybrid between DE or OLB will be put to good use. 
62) San Francisco 49ers: Brian Quick, Wide Receiver, Appalachian State
After passing up on a chance to draft a receiver in the first round, the 49ers get a guy in Brian Quick with good size and route-running ability. He'll be a solid third option behind Michael Crabtree and Vernon Davis for Alex Smith.
63) New England Patriots: Josh Robinson, Cornerback, Central Florida
Who knows just how high Josh Robinson will jump after running the fastest 40-yard dash at the combine, but one thing I do know is that he can add depth to Patriots lackluster secondary as well as becoming a viable option on special teams because of his speed. 
64) New York Giants: Jayron Hosely, Cornerback, Virginia Tech
The Giants currently have a secondary full of free agents, so drafting one seems pretty sure at this point. Hosely is probably the best player available at this point in the draft, and he fits a need the Giants are sure to have.